Interview by: Ilana Altman

The Toronto Public Art Commission (TPAC) is a panel of citizen volunteers that advises City Planning on public art projects and policies. Michael Macaulay was a member of TPAC for ten years, including the time he spent as the Commission's Chair. Since Michael's departure in 2010 David Anselmi has assumed this leadership role.
The following interview with Michael Macaulay explores TPAC's evolution and the role it plays the public art review process.
Ilana Altman: Can you explain the role and responsibilities of the Toronto Public Art Commission (TPAC)? How does the committee contribute to the Percent for Public Art commissioning process?
Michael Macaulay: TPAC is comprised of a group of volunteers who offer informed peer review advising the City on public art projects and policies. As an organization, it acts as a buffer, a filter or an enhancement.
Jane Perdue, who runs the City's Percent for Public Art Program, works every day with developers and public art facilitators. Sometimes she needs a bit of help to go back to the basics and question whether the work is appropriate in a public forum? Is this a piece of public art or simply decoration? How is this piece achieving the goals of the Percent for Public Art Program?
TPAC doesn't deal with the minutia. As a committee, it is there to offer a series of perspectives. The perspective of an artist, of a resident, of an art expert. Collectively, we inform the proposal by looking at it from a broader perspective.
IA: How many times does a project come before TPAC? Is the committee involved in structuring the selection processes or guiding the implementation of the plan?
MM: TPAC isn't involved in the selection of the artist or the work. Its role is implementation review. The jury process is something separate and that's coordinated through the developer.
Usually a project will only come through the commission once, unless there are requests for additions, modifications and changes. It's not seen as a positive if the project comes back again, because that means it's taking longer for the development to get through, and that equates to money for the developers.
IA: In 2005, under your leadership, the role of TPAC was expanded, to assist in implementing the Percent for Public Art program throughout the entire city. Membership also grew at this time. Can you speak to the expanded role?
MM: It was great to have a focus beyond the downtown area, to see the program expand beyond the core. Though, it presented some challenges for the administration of public art pieces with developers who hadn't worked within the Percent for Public Art program before. They hadn't thought about public art in that way before. Some engaged immediately with the possibilities of public art to enhance the success of their projects, and some were more reluctant.
The expanded commission also meant the committee could include a broader representation of the public, with more members on the commission who had different backgrounds, which was great. There could be different voices coming forward.
IA: Do you think the expanded program helped to reach a broader segment of the public? One of the challenges of the Percent for Public Art program is that it is tied to new buildings, so it tends to concentrate public art in parts of the city that are seeing increased development. How does the City address those areas that are not experiencing the same concentration of real estate investment?
MM: The expanded program is still tied to development. Developers can choose to transfer the benefit, so if they have a project in one part of the city, they can transfer it to another part, but generally they want the public art to be a part of their building, part of their "pitch". In my opinion smart developers invest in public art and use the project to enhance their sales materials. This helps to communicate that they are engaged in the city. The program always works best when public art is treated as a benefit rather than an obligation.
IA: When reviewing projects what attributes does the commission look for?
MM: Well, first of all it has to be publicly accessible. We had a number of debates about the nature of accessibility, whether the pieces were to be physically accessible versus visually accessible. Because many of the pieces we were involved with are on private property, not all are physically accessible to the general public
There's a piece at the Prince Arthur Condominiums (Untitled by Susan Schelle and Mark Gomes). It's a granite sofa, positioned behind a gate. It is visually accessible, but not physically accessible, which has caused some controversy.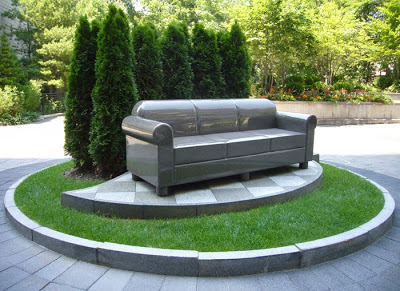 Yet Adrian Göllner's Warm By Night in CityPlace, the illumination of the tops of buildings, are clearly not physically accessible and they're not designed to be physically accessible. They're designed to be seen as a collection and united visually. To prescribe that a piece must be physically accessible would limit the artist's scope considerably.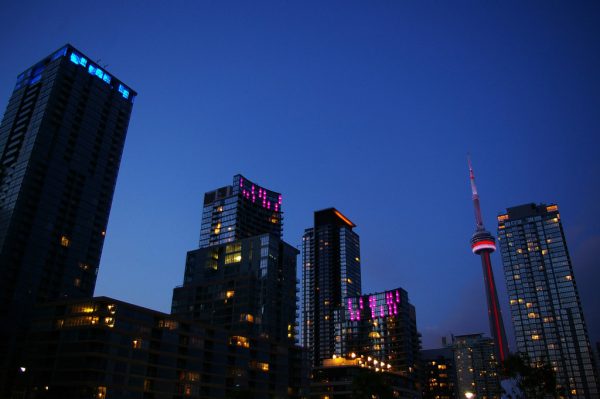 IA: Increasingly we see artistic practices moving away from the strictly visual. Public artists are engage in audio practices, olfactory practices and are engaging new media. I'm wondering if there's space for that type of experimentation within the Percent for Public Art program?
MM: There is a space for that, but the public art pieces through the Percent for Public Art program are designed to be permanent. You run into a problem with new media becoming out of date. For example, replacement of fluorescent light bulbs that are no longer available has been problematic.
Unfortunately, there was a video piece at Yonge-Dundas (Penex-Metropolis Video Wall) that was negotiated through the developer. This is on the northeast corner of the square. Amongst the mass of billboards there was a space designated for public art. It was designed to be a platform for rotating video presentation.
It was a great idea, a piece of public art in the dialogue with the advertising. It doesn't exist anymore, because the developers changed. The management companies changed. The artisans changed, so it just disappeared.
These pieces have to be monitored and maintained or they will simply disappear. If you have seen the pieces on Bay Street south of College on the west side, they are turbines that never turn. They look like exhaust from the garage. They're not. They're a piece of public art that never functioned.
That's the challenge with new media, with untested ideas going forward. If the work is designed to be ephemeral, to be up for a certain period of time, great, but the promise of forever doesn't work.
IA: Was there a specific project that particularly challenged the committee or that resulted in significant debate?
MM: The Trump Building.
I've never been in a public meeting where the developer held an image of the building in his arms and talked about how beautiful it was. He was very passionate about it, which is great, but he had a very distinct vision and that vision did not always match what was possible.
There is a light bar running up the side of the tower (Lightline by Micahel Snow and Jonathan Speirs) Yet, thought was not given as to how you replace the light bulbs on the pinnacle, because they extend beyond the building up the antenna. It was an ongoing debate. I'm not sure how that has been resolved, and management of the building may change even after a solution is achieved.
IA: Is there a specific project that are particularly proud of? That you believe has had an important impact on the city?
MM: Concord Adex and CityPlace, working with Karen Mills at Public Art Management. Partially because of the breadth of the project and partially, because of the vision of the client. They have been able to remarkable things. They've been able to combine budgets from different buildings to create a variety of pieces. They've been able to take up theme, to engage a Chilean sculptor (Francisco Gazitua) and run his pieces across a number of buildings, to do a Matt Mullican billboards (Combination of the Two), to do Adrian Göllner light pieces across the top of the towers, to do Douglas Coupland 's Canoe Landing park. The scale of it has been terrific. They're very interested and engaged with the process. That's been a huge success.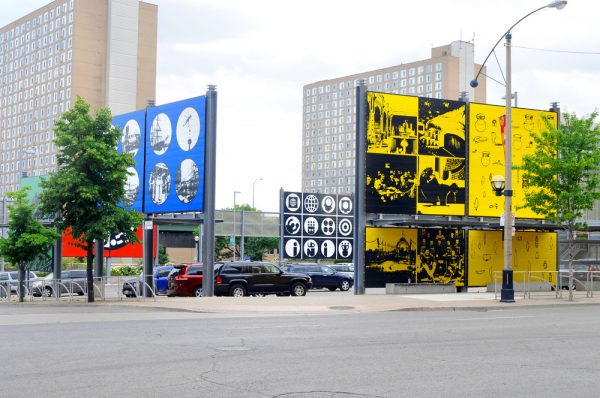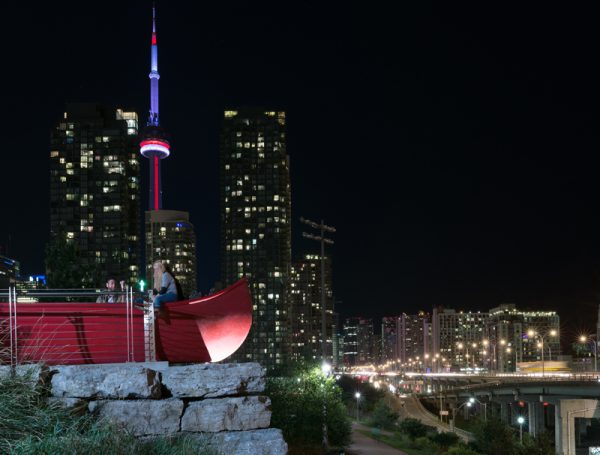 IA: What are the benefits of public-private partnerships in the development of public art?
MM: To get the art installed in places where it wouldn't otherwise be installed. Budgets are a big part of it as well. Developers have the money to do big things. A third benefit is multiple perspectives. The developer will have ideas about what art will work. The public art consultant would have other ideas. The artist will have ideas of their own and respond to the other thoughts, perspectives they wouldn't otherwise have access to.
IA: What more could the city do to support public art?
MM: If there was, as there is in other cities, a public art program for all public construction, making manhole covers and lamp posts part of the public art program, to address art and design considerations when looking at this type of infrastructure. It doesn't necessary have to cost more. Addressing aesthetic considerations in all we do will enrich people's lives and enliven what can otherwise be mundane experiences.
Michael Macaulay is Director, Brand & Creative for Porter Airlines, based at Billy Bishop Toronto City Airport. In addition to TPAC, Michael's other volunteer contributions in the city include the AIDS Committee of Toronto, AIDS Walk Toronto and Supporting Our Youth (SOY). His academic background includes a BA in Art History from Queen's University, a Post-Graduate Diploma in Art History and a BA in Jurisprudence from Oxford University.
Ilana Altman is a curator, designer and editor based in Toronto and founder of The Artful City initiative.
The Artful City is a bi-weekly blog series exploring the evolution of public art and its role in the transformation of Toronto, both the city fabric and the community it houses. For more information about The Artful City visit: www.theartfulcity.org