It seems to me that the act of adornment – indeed, the compulsion to adorn – is a fundamentally human impulse that speaks to our deep craving for individuality, beauty, recognition, and perhaps even provocation.
Like tattoos, wall murals are nothing new – humans have been decorating the surfaces of their bodies and their buildings for millennia, and across cultures. Whatever else you may think about sleeves and graffiti art, it is difficult to argue that the desire for such images represents some kind of aberration or passing fad.
Similarly, some of the more intellectually austere 20th century architectural paradigms – modernism, brutalism, International Style – have, to some extent, been eclipsed by contemporary design philosophies that rely on a far more varied visual, material and geometric vocabulary. The resurgent interest in the adornment of exterior walls with works of art acknowledges the vital social importance of the passerby, public space and protest art.
It's all about complex expression, which, of course, is the trait that distinguishes us from most other species.
Phlegm's mural, on the west side of the Slate Asset Management-owned office on the south-west corner of St. Clair and Yonge, is the latest piece of evidence to affirm the foregoing, but it is also one of the largest and certainly most detailed such works in Toronto to date. I've gone by it a few times now, and the experience of approaching this sitting, cosmopolitan figure is revelatory: the closer you get, the more you see.
While that Slate wall has no explicit connection to development patterns in the area per se, Phlegm's mural, interestingly, addresses itself directly to the future of the Yonge/St. Clair node, which is busy extending itself west towards Avenue Road thanks to the re-development of several office properties on the south side, plus the coming construction of a new condo behind the Deer Park United Church. The intersection itself has been conspicuously and stubbornly blah for years. The mural, however, has created a new vista and a magnet for the new residents of St. Clair West, who get to enjoy wider sidewalks, two cafes, a supermarket and a liquor store, all in one extended block.
Adornment, in short, matters, because in this case, it has produced a sense of place where there was once only a blank, well, slate.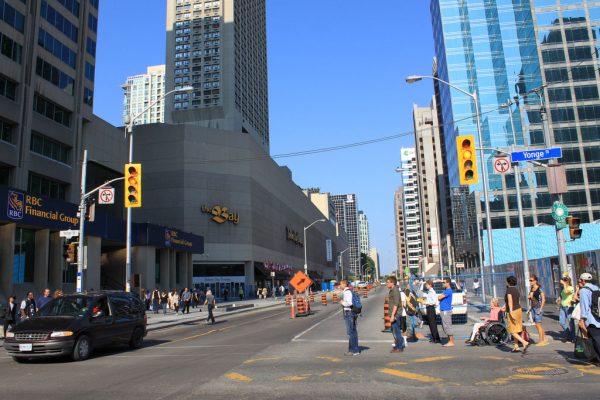 So what's next?
My nomination, for what it's worth: that block-long south wall of the Bay store at Yonge and Bloor, whose vast expressionless brow has faced mutely across Bloor Street for over two generations.
The building, which belongs to Brookfield, dates to a period when no planner or architect would have so much as peeped in protest against a design that so shamelessly offered up the middle finger to the street below.
For years, 2 Bloor East faced a dreary row of low-slung, dumpy retail buildings, which were later replaced by utterly inexpressive grey glass office towers. But the public and use context of that intersection is changing dramatically with the arrival of two gigantic condo towers – 1 Bloor East and then 1 Bloor West – that will produce north-and north-east facing picture windows for hundreds of apartment dwellers, whose costly views will consist of a vertical sheet of pebbly concrete.
Allowing for their gargantuan scale, both developers are using leading architects (Hariri Pontarini and Foster & Partners), who have designed textured exteriors that will be far more visually expressive and differentiated than either of the work-a-day office towers on the north-east and north-west corners. Both will demand to be seen.
And it also follows that the residents of both buildings – and by extension, the thousands of Torontonians who use that intersection daily – will come to expect something far more lively and urban from the north wall of Bloor.
A mural on The Bay's wall would also provide a theatrical backdrop for the city's two best attended parades – Santa Claus and Pride – as well as a visual anchor for the east end of the Mink Mile, which is still lacking verve despite the gazillion dollar black granite paving and all those lovely planters. In keeping with all that effort, a vivid large-scale mural would draw customers to The Bay and the area.
Mostly, the City, by leveraging the example of the Slate building and Phlegm, can offer Brookfield an opportunity to transform a deadening, self-involved, un-seeing external wall into a space to be visited, inspected, debated, and enjoyed.
A place, in short, befitting Toronto's single most important intersection, where east meets west.
Slate, Phlegm and the impressive crew at StreetArToronto have shown us how a stunning wall-sized piece of art can resurrect a public space that we long ago gave up for dead. They can, and should, perform their next act at Yonge and Bloor.