By Dave Colangelo
You put your left foot in, you take your left foot out. And yes, you shake it all about, as prompted by the screen in front of you. Soon enough your recorded image is projected for all of the people gathered around the Place Des Arts metro station in downtown Montreal who seem to performing their own dance of spectatorship themselves — watching intently or distractedly, snapping photos to post online, or cueing up for their turn.
You have just participated in McLarena (2014), an interactive public artwork by the Montreal design firm daily tous les jours, that pays homage to Norman McLaren's work Cannon (1964) by teaching people to dance like the character in his film and displaying the results on the side of a building for everyone to see.
We are increasingly amongst public artworks and experiences like this in our cities — works that are large-scale, public, networked, interactive, participatory, and digital.
In fact, McLarena shows us that what we now expect from public art and public space is rapidly changing.
We are beginning to expect the same things from public art that we expect from almost anything in our world: that we can have a conversation with it.
In some way, shape, or form, we want public art that can talk and listen, public art that we can click on, swipe, share, capture, and converse with and about. Public art that tell us something about the place it is in, about ourselves and others as we engage with it, and that connects us to other people and times, both near and far.
A recent project that reflects these expectations of public art is Binoculars to… Binoculars from… (2013) by Varvara Guljajeva and Mar Canet Sola.
Part of the "Networked City 2013" program curated by Connecting Cities — a Berlin-based organization that seeks to coordinate the commissioning and circulation of artistic and social content across a primarily European (but increasingly worldwide) network of media façades, urban screens, and projection sites — Binoculars involved the installation of "binocular-like" kiosks in public squares around Europe that would provide a view of similarly equipped but otherwise unidentified remote locations.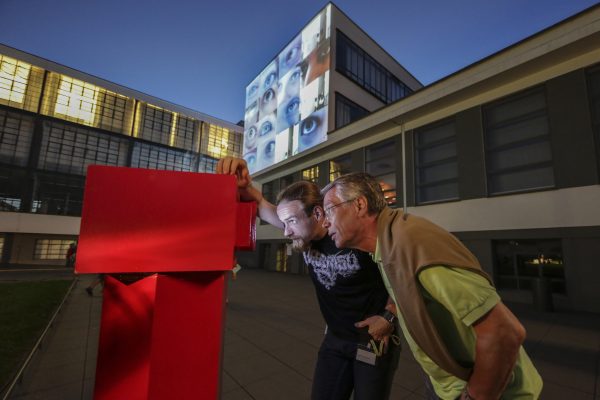 Binoculars… was inspired by the panorama binoculars one might find at lookout points in various cities. While observing other locations from the binoculars, viewers eyes are captured and displayed on the urban screen of the observed place in real-time.
Binoculars… makes an experimental proposition for public art, and it does so through a combination of technologies centred upon large urban screens. This project says that public art can, and perhaps should, be about trans-cultural and trans-local connection that demonstrates and constitutes a new way of "public" looking today, one that oscillates between surveillance, tracking, play, and telecommunication.
Via Binoculars…, Connecting Cities demonstrated that urban media art can create an engaged space of conversation, verbal and non-verbal, where the possibilities and perils of networked technologies, vision systems, global consciousness, and public displays are negotiated collectively.
There is more to urban media art than this. Other functions are explained in the aptly titled What Urban Media Art Can Do – Why When Where and How? (avedition, 2016) edited by Susa Pop, Tanya Toft, Nerea Calvillo, and Mark Wright.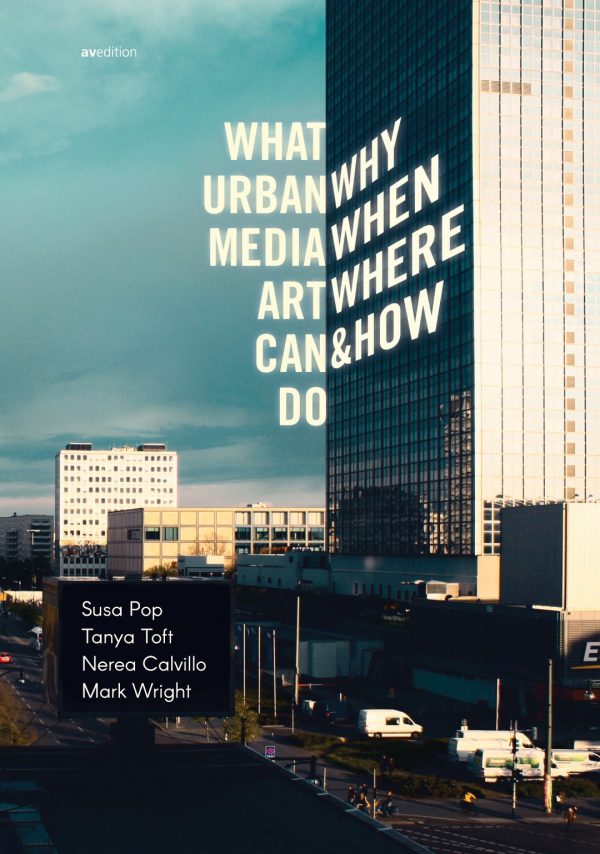 Susa Pop, the artistic director of Connecting Cities, argues that urban media art can bring us through a "networked city" to a "translocal city" (as exemplified by Binoculars…) — that is, from a city that acts like an interface to one that uses both physical and networked spaces to allow local-to-local perspectives and people to mingle, essentially changing what it means to be neighbours.
Urban media art can also transform basic and often heavily commercialized urban screens into more nuanced and open urban media environments (eg. Media Lab Prado), and it can even engage practices of "participatory city making" through community building projects like Smart Citizen Sentiment Dashboard.
Urban media art can also provide the means by which we can collectively sense the environment (eg. Particle Falls), urban life (eg. Urban Entropy), and the body (eg. McLarena).
More than this, public art of the urban media kind poses a direct challenge to the business as usual, one-size fits all approach to public art commissioning and maintenance (eg. Section 37 funding and percentage for public art programs), policy frameworks that are often time-limited, geared towards low- or no-maintenance physical assets, and tied to developers that have little interest in developing or supporting complex and nuanced public programming.
Sites that support urban media art (eg. Ars Electronica Center in Linz, Austra) require the careful planning of the spaces around the screen to make them more inviting and amenable to the kinds of interactions they can engage through things like benches and embedded speakers and sensors. This may be too much for our current development-centred public art funding policies.
They also require the development and maintenance of technical frameworks that allow artists and curatorial organizations to quickly and easily modify their work to suit the unique conditions at each site, as well as to interface with other sites (physical and virtual).
Finally, they require long-term capital planning, programming, and curatorial leadership to ensure that they never lose their lustre, and that diverse communities are engaged in both the making and experiencing of large-scale urban media art.
Connecting Cities remains an interesting model for overcoming or sidestepping some of these challenges in order to support high-quality urban media art. They focus on partnering with art-focused organizations with existing technical infrastructure and curatorial expertise.
Another successful model is Montreal's Quartiers des spectacles. More physical and organizational than curatorial, Quartiers des spectacles, a coordinated area of public spaces, lighting, and permanent architectural projection sites, commissions and supports urban media art installations year-round in Montreal's downtown arts district. With support from municipal and provincial governments, Quartiers des spectacles has been at the forefront of developing and presenting interactive art experiences (such as McLarena) in public space since 2003. Their success lies in the careful selection and treatment of urban spaces that encourage spectatorship and participation, as well as the development of an urban media art audience through consistent yet varied programming. Beyond the benefits this has for citizens, it also has broader financial implications for the tourism industry, the image of Montreal as a creative city, and creates platforms and opportunities for local creative firms like Moment Factory.
In the past year, I've been working on a smaller scale initiative at Ryerson University to actualize some of these principles and conditions for good urban media and, I would argue, public art more broadly. #RyeLights is a new program that allows members of the Ryerson community to propose changes to the colour of the media façade on the Ryerson Image Centre and Ryerson School of Image Arts building (RIC/IMA) to highlight important events and causes. At this basic level, it represents an opportunity for community engagement via light, architecture, and social media. Examples from this past year include lighting the building red in support of the Lifeline Syria Challenge, and more recently displaying rainbow colours for a 90s Roller Jam Night during welcome week.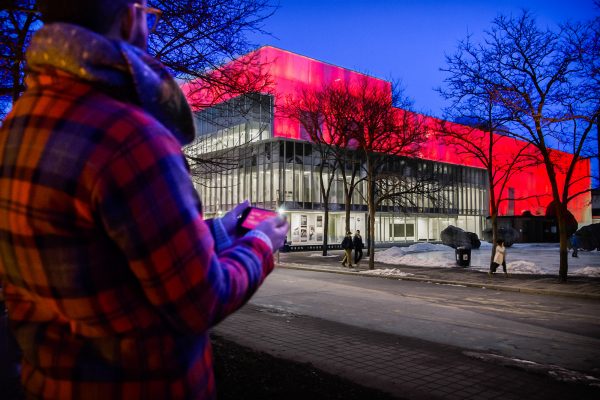 #RyeLights is the first step towards opening up this space, the only on-campus media façade of its kind, to creative and critical uses by students, staff, and invited artists. My colleagues at Public Visualization Studio attempted to demonstrate what this might look like with an installation called In The Air, Tonight. This project used the glowing building to draw attention to important social issues of housing, addiction, discrimination, and poverty by triggering colour changes based on tweets that contained the hashtag #homelessness.
To make works like In The Air, Tonight something that can appear more readily and more frequently, we are first establishing basic functional protocols with campus staff and management and developing audience familiarity with the site and its capabilities. We are also creating a technical framework that will help people quickly create more complex experiences with the building. Finally, we are planning ahead to think about how the space around this building can be augmented through interactive screens, sensors, speakers, and simple input devices (such as the perhaps now defunct audio jack), to allow for more diverse uses of this urban media site.
The continued presence of progressive venues, as well as curatorial groups and strategies, are required to open new scenarios of public urban media art to creative and critical use by artists and citizens.
As our cities become more like screens, and we start to expect the same from them as we do from our smart phones, these sites must be treated as a public good and as exhibition spaces for public art that can educate, delight, and challenge our changing identities and cultural practices.
If you'd like to know more about urban media art, check out the Media Architecture Summit 2016, Sept 29 – Oct 1 at the TIFF Bell Lightbox in Toronto. The summit explores the role of urban screens, interactive media, and large-scale public projections in architecture, public art, civic engagement, and urban renewal. Held for the first time in North America, it features presentations by media artist Rafael Lozano-Hemmer, architect Jan Edler, and curator Tania Toft, among others in the fields of art, architecture, planning, and academia.
Dave Colangelo is Assistant Professor of Digital Culture in the School of Theatre + Film at Portland State University, Director of the Media Architecture Institute (North America), and a Founding Member of Public Visualization Studio.
The Artful City is a bi-weekly blog series exploring the evolution of public art and its role in the transformation of Toronto, both the city fabric and the community it houses. For more information about The Artful City visit: www.theartfulcity.org