Interview by: Ilana Altman
Art Spin is a professional arts presenter, activating decommissioned venues and unique public spaces to produce large scale group exhibitions along with curated bicycle-led art tours, showcasing a wide range of newly commissioned art programing in unique site-specific settings. Art Spin is led by Layne Hinton and Rui Pimenta, artists and independent curators, driven by a strong sense of commitment and passion for presenting contemporary artworks in alternative, everyday spaces in order to make its audience's experiences with art more engaging and exciting.
We spoke with Hinton and Pimenta about Art Spin's curatorial evolution as well as their most ambitious project to date — in/future, the 11-day visual art and music festival at Ontario Place on view through September 25th.
Ilana Altman: Art Spin was created in 2009, originally under the name Gallery Spin, as a curated bicycle tour of Toronto's contemporary art galleries.  Over time Art Spin's audience and ambition has grown significantly and the organization is now a significant presenter of original site-specific work. When did you begin to commission work for the tours and what was your motivation?
Art Spin: We began commissioning original works or remounting existing ones specifically for our tours in 2010. The idea of presenting our own content rather than visiting existing exhibitions in galleries and museums became an obvious transition for us by the end of our first season. It was the only way that we saw ourselves remaining passionate about Art Spin and developing our roles as programmers and curators rather than simply functioning as art tour guides.
It's also important to note that by the end of our first season our tours had grown to over 200 people and it was proving difficult to find galleries that could accommodate such large groups. To deal with this we had to find spaces that could host large groups, a condition that opened up a whole new focus for us on programming in a highly site specific manner. It also seemed far more relevant and rewarding to work with artists and give them opportunities to create or workshop new work and to present it in front of the large, captive audiences we were building.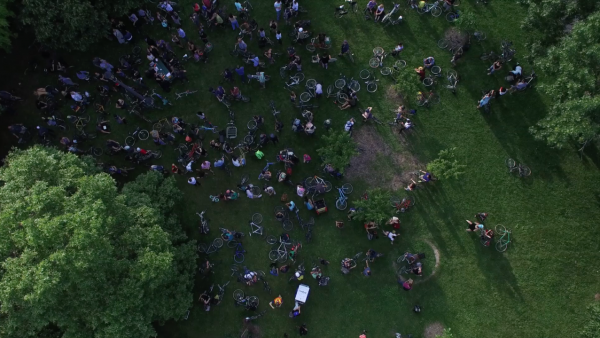 IA: Why has it remained important to you to present art in unconventional spaces, outside of the traditional gallery context?
AS: The context in which you present an artwork necessarily changes the way in which an individual is going to experience and interpret that work. Unconventional spaces typically lead to unconventional levels of engagement by the viewer. When you are freed from those predetermined expectations and modes of behavior, that traditional galleries and museums by nature seem to impose, the viewer seems to loosen up and feel more comfortable experiencing the work as opposed to feeling an obligation to "understand" or be enlightened. I've observed time and time again how people enjoy and are enriched by their interactions with art when they don't go into that exchange with the assumption that they need to understand its meaning. The dynamic of how people experience art in unusual spaces really contributes to lessened inhibitions and greater levels of engagement. This is a very rewarding  thing to observe in our audiences.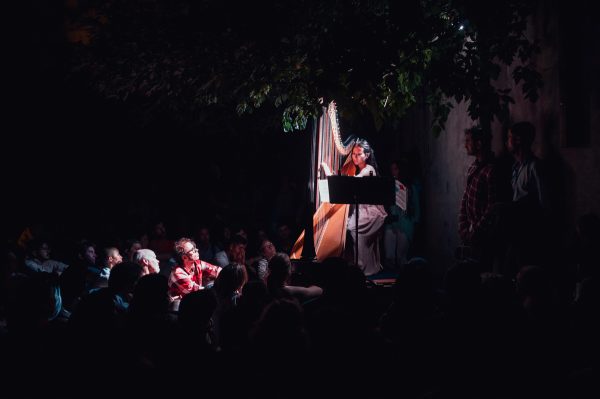 IA: Do you think that this type of temporary artistic occupation of decommissioned venues and underutilized spaces is particularly relevant to Toronto today, when the city is transforming at such a rapid pace?  Do these works help us to better understand sites in transition?
AS: The rapid pace of development in our city is both a blessing and a curse. On the upside there are many spaces that are in transition, and while they exist in the in-between phase of what they were and what they will become there are opportunities for us to activate them. The downside is that it is getting harder and harder to find the types of spaces that suit our purposes given the rapid rate of development.  In fact, many of the ones we've worked with in the past no longer exist — leveled to make way for the like of condos and such.
I'm not sure if our temporary activation of these spaces helps anyone better understand these sites in transition other than to underscore the somewhat unsettling and manic pace of development in this city.  All we as Art Spin can do is provide a small window of time in which our ephemeral activations give people who experience them and opportunity to re-imagine these spaces and perhaps ask themselves questions about what they would like the city they live in to look like.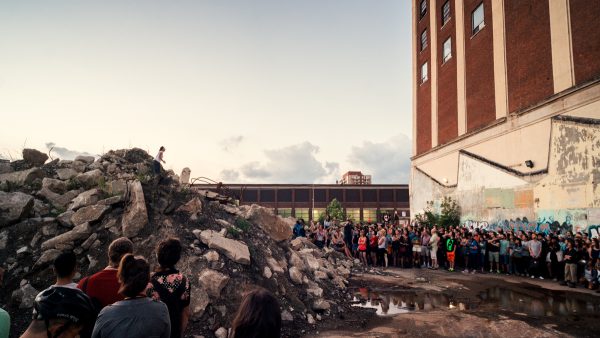 IA: in/future is your largest project to date — an 11-day festival that reignites Ontario Place with artistic programming, and opens the vacant park to the public for the first time in nearly five years.  What was the impetus for this project? Why was Ontario Place an important site to revisit?
AS: The opportunity presented itself as a result of an Art Spin tour stop we did on the west island of Ontario Place in June 2015 where we presented two installation based works to a group of 400 plus participants that we're incredibly excited to be back in Ontario Place. It was there and then that the seeds for in/future were sown.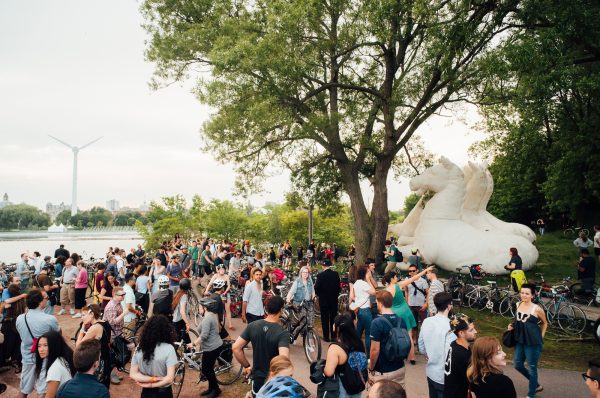 There was something very alluring about the possibility of reanimating this iconic venue and making it accessible once again to the public but to do it in way that respected the space by not putting to heavy a footprint on it. The challenge we gave ourselves was to find an appropriate balance between the enchanting, albeit overgrown and slightly dystopian characteristics of Ontario Place's west island, and the works we wanted to place there.
Using this venue in particular was important to us because it allowed us the opportunity to do what many have either been wanting to do or desiring to happen for some time now, namely to make Ontario Place accessible to the public once again. Although it might only be for 11 days perhaps in/future might plant a seed and trigger new and interesting ideas to introduce art and culture based programming to Ontario Place on a more committed level.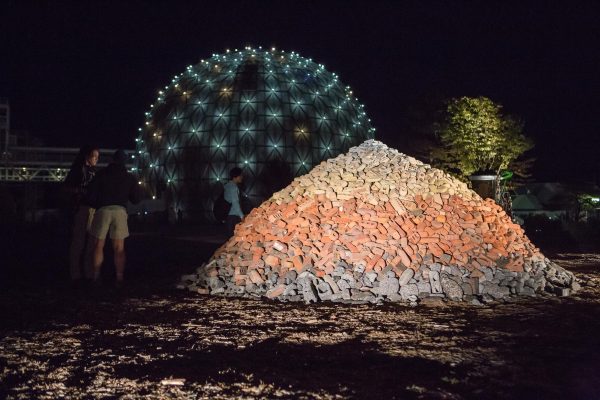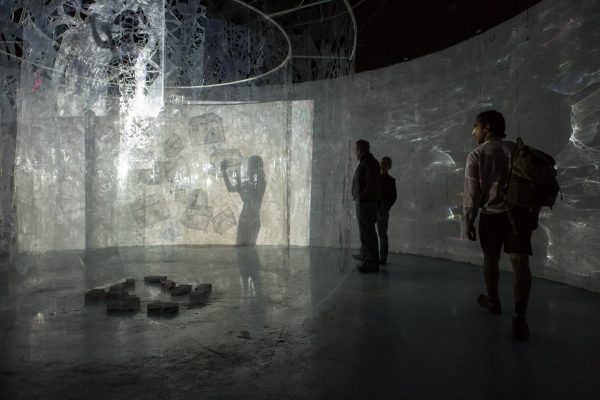 IA: At in/future you pose a single question to both artists and visitors: What do we learn about ourselves in the present when we look to the past to see how we imagined the future? Can you describe the range of responses you received?
AS: This is difficult to answer since the question we proposed to our artists and creative partners was more for the purpose of peaking curiosity and stimulating imagination than it was with the expectation of any sort of response. As of the writing of this answer we're still very much processing the works in this exhibition, a sign that they have inspired thoughtfulness, the most important thing one can ask from art. I have no doubt that we will live with these works in our hearts and minds for sometime after in/future is over. So for now the answer to this question is better left to the future.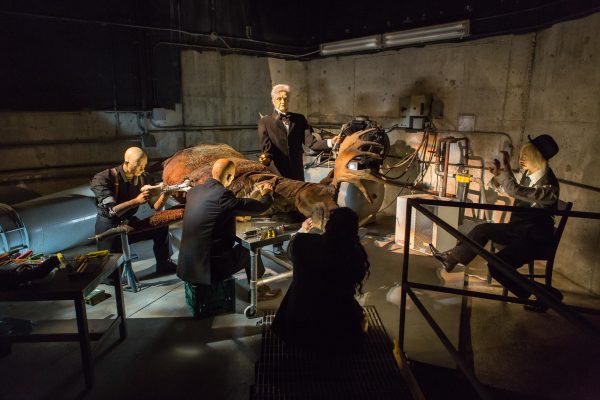 IA: Many of the City's existing programs and policies supporting public art privilege the permanent.  The work that Art Spin presents, including the work exhibited at in/future, is ephemeral.  Why is temporary public art important? What is its lasting value?
AS: There is something about temporary art that strikes me as more honest, more representative of the very impermanence that is at the heart of being human. Perhaps this is a reason why permanent art is privileged overall, through it we indulge our collective denial of our own mortality.  Ironically we quickly come to ignore the permanent, which in turn leads us to crave and create even more "permanent" things and along with it a growing sense of apathy and indifference. There is something precious about ephemeral things and in the case of the tours and exhibitions Art Spin has presented in the past this seems to breed a heightened level of appreciation and curiosity in our audiences. People seem more inclined to give themselves over to something they know they are about to lose, and when they experience the temporal in a group environment it quickly becomes about the collective experience, the act of sharing and witnessing something together, that is ultimately all you have.
It is here that I encounter the most significant and lasting value that art brings into people's lives.  Although in/future occupies a larger footprint both in scale and time frame than anything our organization has done in the past this only presents a grander context for celebrating the ephemeral.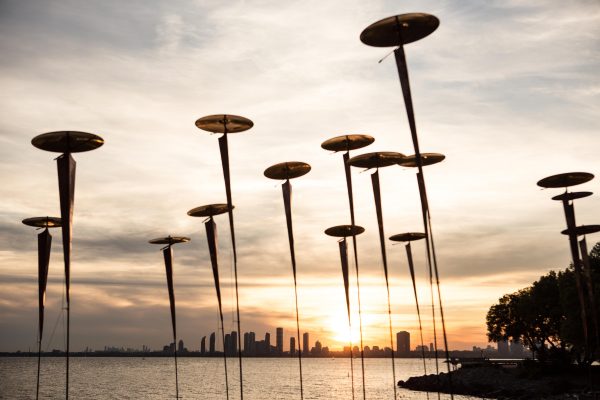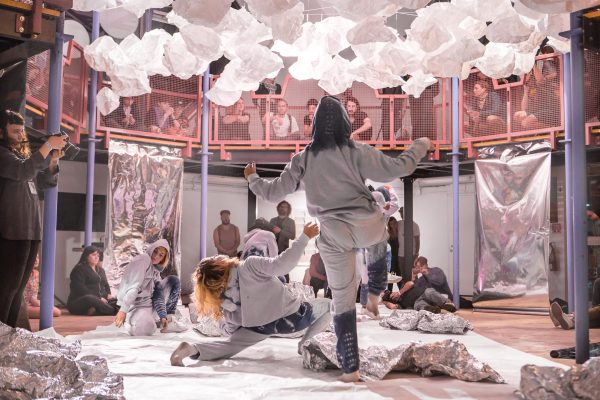 IA: Has your experience with in/future changed your ambitions for Art Spin? What is next for the organization?
AS: We try not to think too much about what's next for Art Spin and are very weary of the temptation of trapping ourselves, or to let the expectations of others trap us into the corner of doing something even bigger and more ambitious the next time around. What's next will depend largely on the space and people that present themselves to us and we will  take our lead from that opportunity.
in/future is allowing us to build all sorts of new relationships with an exciting range of creative entities. I'm optimistic that these new relationships along with the strengthening of existing ones will set the path to our next project.
in/future remains open to the public through September 25th at Ontario Place.  Upcoming performances and events include: Waterfront Toronto's Future Cities Talks on Sunday Sept 25th, 2:30 – 5:00pm; a screening of the iconic and quintessentially Canadian IMAX film North of Superior followed by a Q&A with the film's director Graeme Ferguson on Sunday Sept 25th, 7:00 – 8:40pm; and a durational performance by the TH&B Collective in which they stage an urban camping expedition on the south shore of the west island, from Sept 23rd – 25th.
Ilana Altman is a curator, designer and editor based in Toronto and founder of The Artful City initiative.
The Artful City is a bi-weekly blog series exploring the evolution of public art and its role in the transformation of Toronto, both the city fabric and the community it houses. For more information about The Artful City visit: www.theartfulcity.org.