Tucked behind shelves holding books on suicide, financial literacy, and farming, on the third floor of the Toronto Reference Library, I see an arch. A piece of moss (yes, real moss) rounds its corner, connecting the worn red carpet to a V-shaped path that cuts through the groundcover. On the wall above is a QR code, leading to "A Soundtrack for Your Memories" – four ambient songs for the journey ahead.
I walk on into what feels like a comforting darkness, needing only a few steps to escape the bright yellow lights of the library. Earthy scents now fill the air, which is noticeably cooler the deeper I go. Above me is a webbed canopy of dried Spanish moss and darker ferns, in the centre of which hang the fuzzy buds of green amaranthus flowers. About ten steps in, where the two sides of the path meet, is a stone bench big enough for two. Blue and pink lights sit behind it, reflecting off the sea-green tulle that drapes the walls.
Though I was hesitant in experiencing this journey within an institutional space such as the library, my doubts were quick to pass. Arriving at the bench, I feel compelled to stay awhile.
As someone who has spent the past five years researching how city-building can respond to the loneliness epidemic – an emotional state that is deeply entangled with grief – I was thrilled when I came across "Space for Grief." Comprised of two experiential "nooks," this interactive and immersive public art installation looks to understand how we can destigmatize and heal from grief as individuals, local communities, and a society. Given how much I wished for public spaces like this during difficult moments in my past, I knew immediately that I would connect with the themes and intents of the exhibit. But I didn't expect to be as moved by the physical space as I was.
Sitting down, I face a stone birdbath filled with that same Spanish moss and notice another bench on the other side of it amongst a thin bed of soil – cold stones surrounded by soft matter that offer a space to just be. I sit and listen to the soundtrack repeat, twice, until a group of teenage girls walks in and brings me out of thought. Walking toward a second archway back toward the bookshelves, a ray of light catches my eye. It peeks through the canopy, illuminating the longest strands of moss just as the sun would in a dense forest. I'm reminded of a line from Leonard Cohen's "Anthem," which is inspired by Sufi philosopher and poet Rumi's saying, "The wound is the place where the Light enters you".
I take this thought with me through the second archway, which lines up with a third on the other side of the library – about 40 steps apart. An aisle leads me there through the bookshelves, with little clue about what I'm walking toward except for the faint outline of branches, their shadow magnified on the wall behind them by a magenta and chartreuse hue light.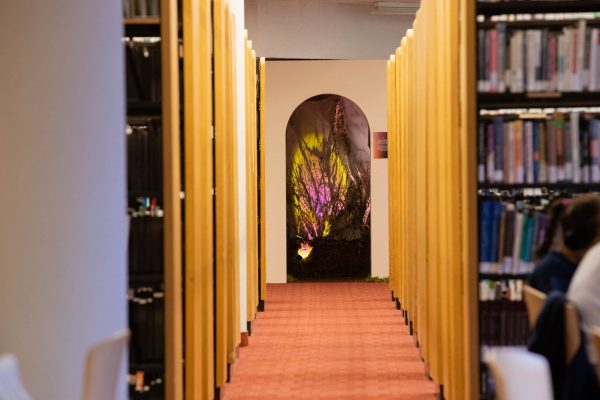 I arrive at a moss-lined room, bare branches extruding from the mounds. In it awaits a fire made of orange and red tulle that draws up to the black fabric ceiling. The fire is illuminated by lights from within and flickers the way a flame would. Two wooden benches create a semi-circle around it, an invitation to sit in the company of others. Though alone, memories of the countless nights I've spent around a fire with loved ones, under the watch of a starry sky, come to mind. With nothing else to do but sit, observe, and be with one another, conversations around the fire tend to take a different, more intimate, shape.
When it's time to leave, a final arch frames my departure. A sign suggests I write a note to my grief on a bird-shaped cut-out, which is to hang amongst the notes of other visitors from a metal frame crowned with a cloud made of baby breath flowers. Being one of the first to walk the exhibit, these birds hang with no writing on them, which leaves me both eager and nervous to see how they are filled (and honestly, to see if they are even filled) in the week ahead.
Let's face it, grief has become taboo. Especially within Western culture.
It's an emotion we are often only comfortable expressing behind closed doors and feel the need to conceal otherwise. However, by doing so, not only are we hiding a part of our experience of daily life from the world – one that is universal for all living beings – but we are also losing touch with how we can be there for our loved ones and communities during these times.
"We've all been the person googling what to write in a sympathy card," shared Fran Quintero Rawlings, an artist, researcher, and facilitator with Method Collective –  trio of OCAD alum who work with clients to explore the way humans behave and interact with systems, environments, technology, and each other. I talked with her, Ziyan Hossain, and Calla Lee (the other members of the Collective) to discuss how the installation came to be.
It was in part inspired by Fran's graduate thesis, as well as the Collective's work with health-based organizations such as the National Initiative for Care for the Elderly, the Institute for Life Course & Aging, and the Health Commons Solutions Lab. But another source of inspiration came from their experiences at Burning Man – a temporary city that's built up for a week each year in Nevada's Black Rock Desert. Dedicated to community, art, and self-expression, this metropolis comes with a set of values that shape the experiences and spaces that are created for it. The space most inspiring for the Collective is a nondenominational temple located centrally, which is treated as a solemn and special place by all.
"What would that look like if we brought it to Toronto?" Fran thought. "A city so multicultural, where we all come from different backgrounds with their own customs and practices around grief. In light of this, how can we help each other through difficult times? There's no discourse on that, anywhere."
So, the Collective decided to ignite the discourse themselves, bringing together an interdisciplinary team – including a floral artist, a sound designer, construction and fabrication experts, and more – to build a dedicated public space in support of the conversation. Using art as a conduit, the goal was to develop a collective vernacular around grief, healing, and wellbeing. And just as Burning Man is driven by a set of values, so too were the artistic choices in this installation.
Some included:
The library – an inclusive, dynamic, and accessible public space that already has a solemn and reflective nature to it, conducive to conversations about grief;
Forests and fires – natural elements commonly associated with grief in other cultures, whether being places for reflection or burial grounds, or for purification, transformation, and connection to the spiritual realm; and,
The creation of separate spaces to reflect and connect – a partition that attempts to hold space for the colourful and multifaceted experience of grief, which is not solely introspective and mournful but also brings with it joy, anger, laughter, and the spectrum of emotions in between.
Fran also pointed out some outcomes from the installation were not planned. "One thing that's evolved is the language around placemaking."
This is what excites me the most about the exhibit, as I believe space for grief will be vital for placemaking within today's world. One that's filled with so much grief, beyond just the loss of loved ones. There's the loss of our past lives, pre-pandemic. Of places, spaces, and neighbours within communities that are changing rapidly in the face of growth, and the negative outcomes of gentrification and displacement which it can bring. And there's the connection of grief to various ongoing epidemics, such as loneliness, homelessness, addiction, and more. We need spaces to mourn, heal, and connect with each other throughout all of these experiences. And there is so much that can be learned from this exhibit as a starting point for creating them.
The Collective shared some of these takeaways at their sold-out opening reception, which was held in the Library's Hinton Learning Theatre (also located on the third floor, opposite the exhibit).
"All of the infrastructures that we've built around grief need change," Ziyan urged.
Fran added, "I think the most important thing for me is that we've planted a seed."
And Calla, whilst holding back tears, shared that her hope was "for everyone to be able to find community through this."
Looking around, I noticed that the Theatre was filled with a truly representative cross-section of Toronto's population. Some were even sitting on stairs or pausing to listen as they passed by. It was clear that this need for creating space for grief was important to more than just the Collective and their project partners. The energy in the room was palpable. And within 24 hours of the reception, all the bird-shaped cut-outs were filled with messages to loved ones and about grief.
Let's not let this fire burn out.
Space for Grief will be open on the third floor of the Toronto Reference Library until May 9th, with a Jane's Walk event scheduled for May 7th. Check them out on Instagram or Twitter for more details: @space_for_grief.
Photos Jessica Blaine Smith