Chinatown has always reimagined. Rooted in a history of racialized exclusion, Chinatown communities dared to reimagine who gets to belong within Canadian society and defied the status quo of who has the right to cultural expression and civic participation within the city. When Chinese migrant workers first arrived in Canada in the late 19th century, they were not allowed to live in "white" neighbourhoods and were relegated to what eventually became Chinatown. In Toronto, the earliest Chinese neighbourhood was located on York Street south of Wellington. Following the 1904 Great Toronto Fire, and the redevelopment of the neighbourhood for Union Station in the 1910s-1920s these residents were displaced to what would eventually become Old Chinatown along Elizabeth Street. Today this is where Toronto's New City Hall is located. To make way for this New City Hall, two-thirds of Old Chinatown was expropriated in 1947, paradoxically the same year that the Canadian Parliament repealed the Chinese Exclusion Act (1923-1947). The displaced residents, workers, and businesses would eventually find their way to Chinatown West (Spadina Ave and Dundas St) in the 1960s and Chinatown East (Gerrard St E and Broadview Ave) in the 1970s. In the face of continued displacement and exclusion, Chinatown persisted, carving spaces for belonging, networks of mutual aid, and resilience within a society that initially could not imagine it. Reimagination in Chinatown intertwines memory and new possibilities to ensure Toronto's Chinatown remains an affordable, safe and culturally meaningful home for all.
As the world grappled with the constraints of a pandemic, Reimagining Chinatown in 2050 emerged as a collective act of resistance. In the throes of news narratives and rising anti-Asian sentiment, Chinatown youth held counter-narrative writing workshops, where ten facilitators and fifty Chinatown storytellers embarked on a journey through speculative fiction. Inspired by the wisdom of visionary women of colour like Walidah Imarisha and adrienne maree brown, who proclaim that "all organizing is science fiction," the stories generated within these workshops wielded transformational social imagination.  Breaking free from the present moment, their stories embarked on flights of fantasy and science fiction, reimagining new worlds where Chinatown could be otherwise, could be more generative, could be more expansive. The stories within Chinatown 2050 evoke futures that are at once familiar and groundbreaking, inviting us to explore the intersection of collective and personal narratives, embracing the struggle, resilience, mutual aid and thriving that define Toronto's Chinatown communities.
In the wake of the turmoil brought to light by the pandemic, the all too familiar spectre of anti-Asian sentiment came back to the surface. This spectre moves in both direct and indirect ways, and one of the lingering spectres of racial-colonial displacement in Chinatown today is situated with in cultural development and speculative real estate. Chinatown's history is a mirror for those who know how to see it, reflecting larger narratives of diasporas, resilience, and advocacy. Its architecture, urban fabric and place within the city speak to the relationships between its people and the city, its people and this country, this so-called home. These histories of negotiation, struggle and displacement intertwine with narratives of preservation and resistance to etch a profound understanding of the complexities that define place and community.
Amidst these challenges, the Toronto Chinatown Land Trust (TCLT) is rising—a testament to collective reimagination, action and hope. Formed in 2023, the TCLT envisions a Chinatown where community power prevails, assets remain beyond the speculative real estate market, and economic and racial justice flourish. The TCLT is a community-controlled nonprofit initiative to hold assets for community benefit. Their vision is to build community power in Chinatown by taking properties off the speculative real estate market and holding resources and assets for working-class people, towards economic and racial justice. Through their guiding principles, the TCLT works to ensure that Chinatown will remain anti-colonial, Chinatown-centred, multilingual and culturally competent, tenants and workers first, and community controlled.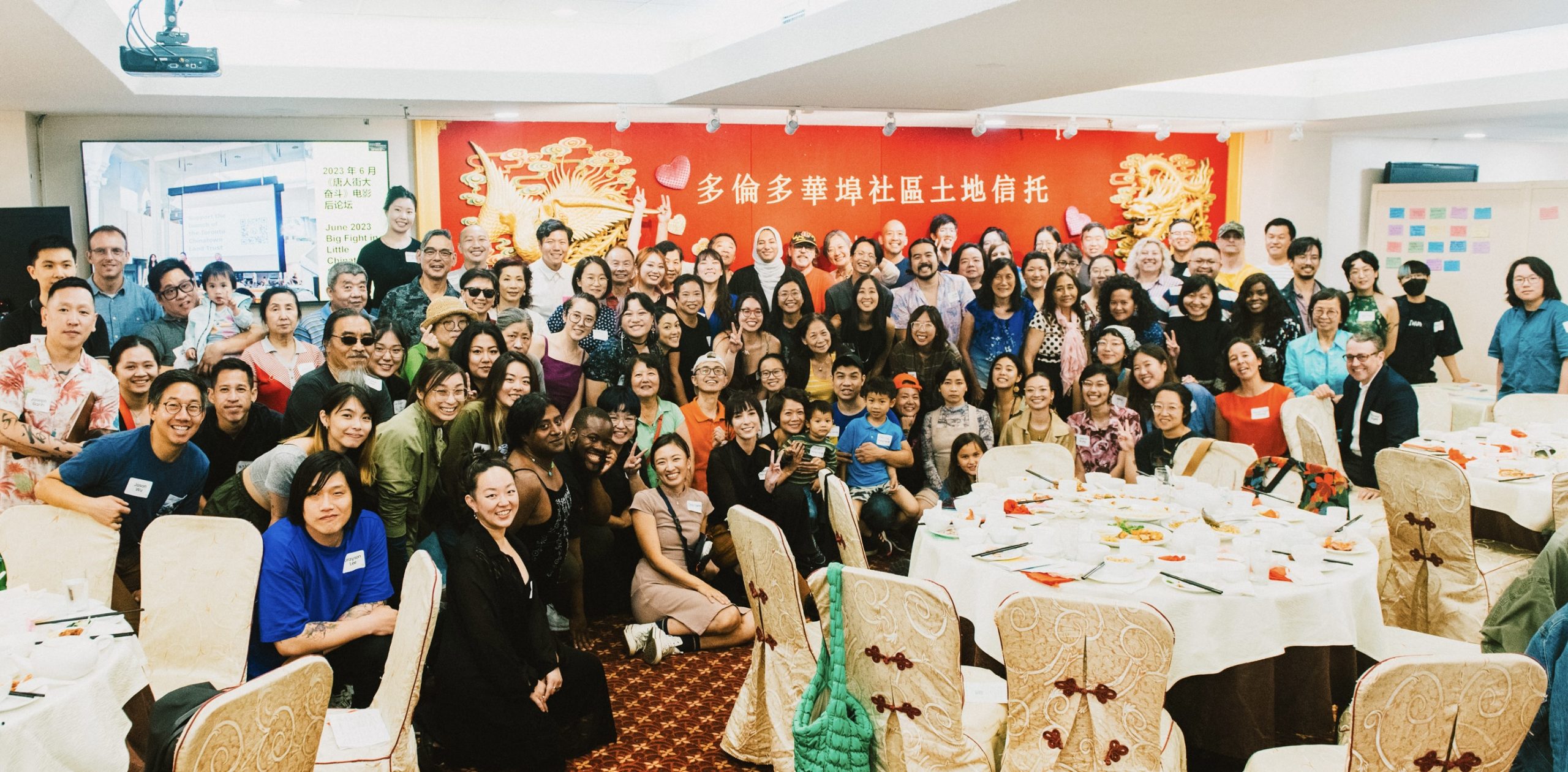 On August 23rd, join the authors of Chinatown 2050 in conversation with the Toronto Chinatown Land Trust (TCLT) to drive transformation through reimagination. As we delve into the narratives, we unearth parallel realities—where stories spark change and imagination births reality. Guided by these stories and the TCLT's vision, you are invited to co-create a Chinatown that stands as a beacon of resistance, empowerment, and re-imagination to ensure a Chinatown for all. In the overlap of fiction and reality, we are catalysts for change. Join us in reimagining and reshaping Toronto's Chinatown future.
Join us for the Chinatown 2050 book launch and film screening on August 23rd and the Big Fight in Little Chinatown film screening on August 30th at Hot Docs Cinema. Both events will be followed by a panel discussion with the Toronto Chinatown Land Trust.
Top image: Hot Pot Politics by Helen Ngo in Chinatown 2050. Image still from film courtesy of Linda Zhang @lindayzhang and Maxim Gertler-Jaffe @maxim.gj