In the fall of 2022, I spent three months studying public transportation in Spain, mainly the metro in Madrid. I came away extremely impressed by the technical aspects, and also by the way in which Spanish cities build good public space in and through their transportation systems.
Toronto and Madrid are similarly sized cities both in land area and in population, and there is a lot Toronto could learn about strengthening public transportation from the Spanish capital.
Toronto has almost 3 million people over 630 square kilometers; Madrid has just over 3 million people over 604 square kilometers.
Toronto has two metro lines and sort of a third one in the Sheppard line, with a total of 70 stations. We used to have a few more stops with the Scarborough RT, but it has just been closed, with bus replacement. One line has two stops beyond the city limits. The three lines intersect at four points. They intersect with commuter rail at or near around half a dozen stations.
Madrid has 12 metro lines, four light rail lines, and one "spur" metro line that is a shuttle between two stations, with a total of 276 stations. A third of the system extends beyond the city itself into the metropolitan region. The stations intersect at 40 points. They also intersect with suburban commuter trains at more than 20 stations.
Toronto's ridership has recovered pretty well from the pandemic and the entire TTC (subway, bus, streetcar) carries over 2 million riders every day.
Madrid's metro alone carries 2.4 million riders every day.
But the size and scale of the system is only the first difference. Among the many strengths of the metro system in Madrid is that it is understood and designed as a valued public service and as public space.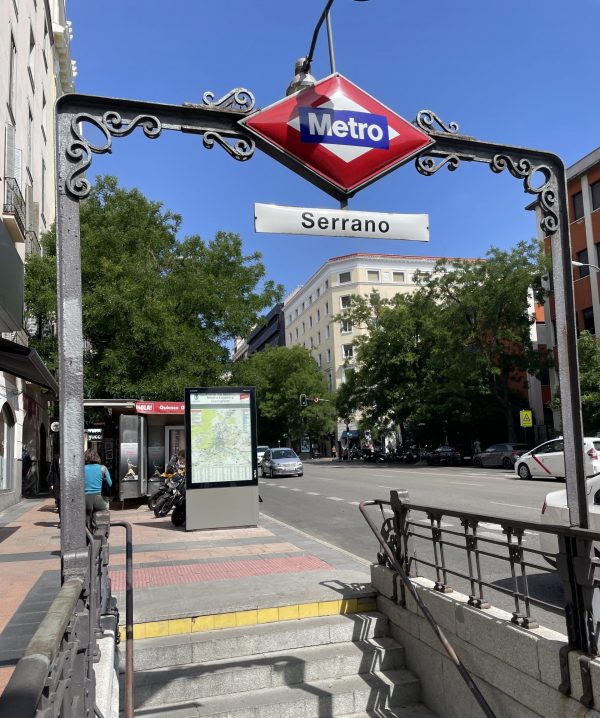 The basic technical aspects of the rider experience are simply excellent. The trains are comfortable, quiet, smooth, and fast. In the dozens and dozens of hours that I rode, I encountered just one or two minor delays. I was never on a train that went out of service.
There are staff and multiple machines in stations to sell you your fare, which is about half of Toronto's. A (reloadable) 10-ride fare card for Zone A (the city of Madrid) is discounted by law by 50% (a recent increase from a 30% discount) and a monthly pass by 60%.
Digital signs on the platform tell you when the next TWO trains are coming. They do not share space with advertising and they are clearly visible along the entire platform. And they are always accurate. The wait is usually less than three minutes, even off-peak.
At many stations, the doors don't open unless you lift a latch or push a button, which improves safety and saves a little bit of energy.
Madrid has stops on curves in the line, and the platform curves accordingly — something I had elsewhere been told was impossible!
The wayfinding is a dream. There is useful signage everywhere. In large busy stations where several lines intersect, there are giant signs with the colour and number of the line that can be seen above a crowd, from 50 metres away. As you approach a platform, you will see a map of the stations in that direction so you can double-check you are going the right way. The wall of each platform has a stripe along the top that is the colour of the line.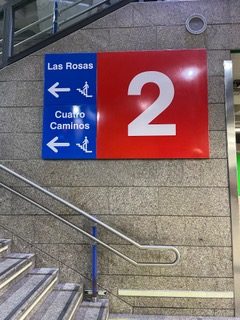 The stations and trains are clean, clean, clean, especially within Madrid. Inside the stations, there are regularly shops and services. Many stations have extensive murals that are often informative as well as beautiful. Even more brilliantly, inside 12 stations there are mini public libraries. These places look like they are important and cared for.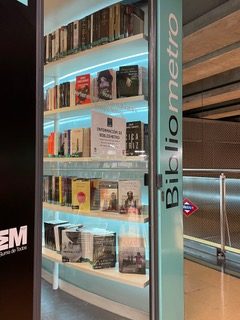 There is much less disconnect between the metro system and the rest of the city in Madrid than in Toronto. When you exit stations, you commonly step out into public space safe for pedestrians with places to sit, to eat, and to play.
You can use your cell phone throughout the system, even in the deepest of tunnels. And you can charge that phone on the platform and on the train.
On the train there is a little sign beside the charger that says "Este tren es tu cargador" — "this train is your charger." That little sign stayed with me because, in addition to providing a very helpful service, a train-as-charger struck me as an excellent metaphor for public transportation and the city as the Spanish see it.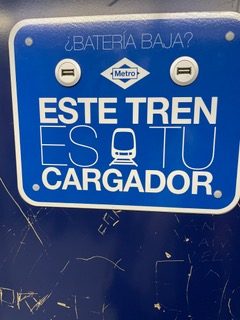 Public transit, especially a metro system, is regularly thought of as the "circulatory system" of a city. It makes so much mobility possible, for the greatest diversity of people, which brings a city to life. Thinking about public transit as a source of energy for us all is perfect.
Interestingly, despite its many excellent qualities, Madrid doesn't settle. In conversations in person and on social media, I found that residents continue to push for more and better service, more and better pedestrianization throughout the city.
This is a sharp contrast with the complacency I find in Toronto. There are wonderful transit advocacy organizations in this city, doing good and important work. But most conversations I have with people about taking the TTC is that they have given up on it getting better. Some have reduced how often they take transit, or stopped entirely.
The worst complacency, though, is that of governments. We can be rightfully proud of the TTC being the most extensive transit system, with the largest ridership, in Canada. And should the Eglinton Crosstown LRT project ever open, it will be a substantial expansion of the system. But we should not think for a moment that what we have is good enough. City Council's commitment to the TTC is maintain-the-status-quo at best, and the province's occasional, uneven interest in it is such a ideological mess, I hardly know where to begin.
North American cities — even Toronto and New York — are so, so far behind European and Asian cities in their development of public transit and active transportation infrastructure. It's not the weather, it's not the geography, it's not that we don't have enough people or density, and it's not a lack of knowledge or resources. Our governments lack the political vision and spine to give us the level and quality of public transportation service we deserve.
As a result, the experience of Toronto's transit these days is often a frustrating and draining one. There is no good reason Toronto can't have a system as energizing for its residents and the city as Madrid's is. We should do more to demand it.