Civic elections typically have the lowest voter turnout, especially amongst the under-35 set. In other words, good luck in getting them to show up to an all-candidates debate unless you can change the dull, predictable format.
The Vancouver Public Space Network realized this several years ago when it launched Last Candidate Standing, an election debate unlike any other in Vancouver's municipal campaign. In a reality show-style challenge, all candidates running for mayor and council are invited to take part to take part in three lightening rounds of questions, where the winners and finalist are decided by audience applause.
"Issue of public democracy are central to the work we do. We organize this event because we want to change up what is often a tired debate format, and have a bit of fun with it," said Paola Qualizza, Chair of the VPSN. "We invite every candidate who is running for Mayor or Council to take part because we believe that all candidates should have a chance to share the stage and show us what they've got."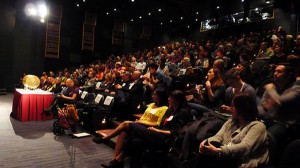 The third edition of the event was held on Sunday, November 3, 2014 (previous editions were held in the 2008 and 2011 municipal elections), with 27 of the 49 candidates running for 
Mayor
 and 
Council
 in attendance. The decision to open the event up to all candidates rather than focus on the big players meant more fun and unusual antics.
Independent mayoral candidate 
Meynard Aubichon
 chose to beatbox his answers and 
Cherryse Kaiser
 attended the event topless, entreating people to "live in the utter udder bliss of my Milky Way Universal breast vortex." In an effort to garner more applause, the Cedar Party's Nicolas Chernen ordered a pizza and handed it out members of the audience.
The event was MC'd by 
Mark Busse
, Industrial Brand partner & managing director. Music was also an important part of the day's activities, with professional gong player 
Kathy Cameron
 letting candidates know when they had run overtime and  
The New Shackletons
 playing music during the five minute breaks between rounds.
Candidates were asked a variety of questions on Vancouver's future, posed by a Panel of Inquisition: 
Emily Jackson
 of Metro News, CTV News reporter 
Jon Woodward
, and 
Jackie Wong
, UBC/Megaphone Magazine. These questions covered a diverse range of topics often debated in the media, including how Vancouver can shake its 'no fun city' title, public transit, housing affordability and City Hall's engagement with local neighbourhoods (you can watch the full video of the debate
here
).
When asked what her favourite moments of the debate were, VPSN Spokesperson Jessica Hum said there were "too many to name", but she did mention three highlights, including  RJ Aquino and Nicholas Chernan share a selfie
moment
; Keith "I've forgotten, what was the question again?" Higgins, who was thrown off his game when Cherryse Kaiser (independent) exuberantly answered a question just before his turn. And, in the final showdown between Andrea Reimer and Pete Fry. In response to Pete Fry's numerous comparisons of Vancouver to Portland, Andrea said "I feel like I'm on the Pete Fry drinking game. Where every time he mentions 'Portland' we all have to take a drink… "
After nearly three hours of debate, the 2014 Last Candidate winner was declared: Andrea Reimer (Vision Vancouver) who won against runner up  Pete Fry (Green Party) based on her answer to a question about how to address social isolation in Vancouver. She spoke of when she was sick in the hospital and saw the contrast between people there who had friends or family visiting them versus those who did not.
"I saw how the people who had a steady stream of loved ones coming to visit them would perk up and even walk. As soon as could get out of the hospital bed and got back to City Hall, I brought forth a motion for an
Engaged City Task Force
 to develop ways to help people get to know their neighbours better and improve engagement with City Hall."
With a full house of attendees at the Last Candidate Standing event, the VPSN hopes that the audience was left with an understanding that participating in politics can be fun and, as Hum states, "Your vote is important! Make it count."
***
Jillian Glover is a communications advisor who specializes in urban issues and transportation. She is a former Vancouver City Planning Commissioner and holds a Master of Urban Studies degree from Simon Fraser University. She was born and raised in Vancouver and is very interested in how people in urban environments engage in their cities. In her spare time, she writes about urban issues at her blog, This City Life – which you can visit at www.thiscitylife.tumblr.com.