CITIES FOR FAMILIES: LOCAL GOVERNMENT
I am writing a short, three-part series, "Cities for Families" to showcase how local governments, non-profits and developers are working to create a family friendly city. This first edition spotlights local government, examining how the City of North Vancouver is achieving this goal.
As a public health nurse, Linda Buchanan has been an advocate for children and families her entire career. But it was only a few years ago when she was elected to Council with the City of North Vancouver, that she was able to bring their issues to the forefront of her community and motivate the City to develop it's first Child, Youth and Family-Friendly Strategy.
"It all started when I was first elected to the Board of Education and had to make some tough decisions about closing schools due to declining enrolment. We are facing an aging population in the City of North Vancouver and I wanted to know: how can we allow families to stay and attract new ones to the city?"
Linda was familiar with the work of Dr. Paul Kershaw, founder of Generation Squeeze, and the late Dr. Clyde Hertzman, founder of the Human Early Learning Partnership. Their ideas inspired her to develop a charter encouraging the City of North Vancouver to examine how it supports early childhood development and working families.
"Dr. Kershaw and Dr. Hertzman's research looks at the demands placed on families in modern society. It demonstrates that the environments in which young children develop, especially from 0-6 years old, impact the rest of their lives," said Linda. "As a working mother of four, I am very familiar with the demands and the need for social support. In cities, we have many tools at our disposal to support children and families in those early years and onwards."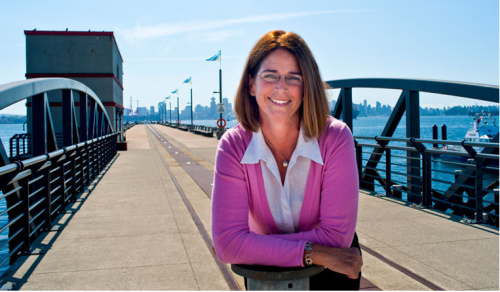 CN4Me – City's First Child, Youth + Family Friendly Strategy
With a clear goal of improving childhood wellbeing, Linda was elected to City Council and put forward a series of motions that led to the CN4Me Strategy,  a new Child, Youth + Family Friendly Strategy for the City of North Vancouver. The strategy, developed after surveying over 1000 residents, places families at the heart of all City decisions.
"I wanted to know how we, as a local government, could work together to address the needs of children and families, so we looked at the developmental milestones for children as they go from infancy to childhood to adulthood. We then examined how we can engage them and build a city that meets their unique needs."
According to the Strategy, 25% of residents in the City of North Vancouver are under the age of 25. This suggests that focusing on their wellbeing can lead to exciting opportunities to enhance community cohesion, nurture future leaders and grow their sense of community ownership.
The strategy also focuses on the role that other organizations play in supporting healthy development. As a result, a CNV4ME Task Force formed with members from the library, RCMP, parks and recreation, and other groups that will ensure the action points of the strategy are implemented.
Bringing Children and Families into the Community Planning Process
The CN4Me Strategy has five themes: community engagement, community spaces, housing, programming and services, and community partnerships. The first goal of "community engagement" focuses on increasing opportunities for children and families to become involved in shaping their community.
In order to achieve this, the City began working with the Society for Children and Youth Society of BC on a tool that allows its departments to look at all of their programs through a child's lens.
"Children have opinions that matter. It is important for us to listen. We sometimes forget this as we get older," said Linda. "Now, City staff go to the kids and engage them in schools to talk about planning issues and we have included them on ad-hoc committees."
When the City was working on the Green Necklace, a walking and cycling path that encircles the urban centre, they invited children to get out on the proposed path with cameras to take pictures and develop potential ideas for what it could look like. The City has done similar work with its housing strategy, where children were asked to participate and draw what they love about their home.
Making the City Fun, Safe…and Affordable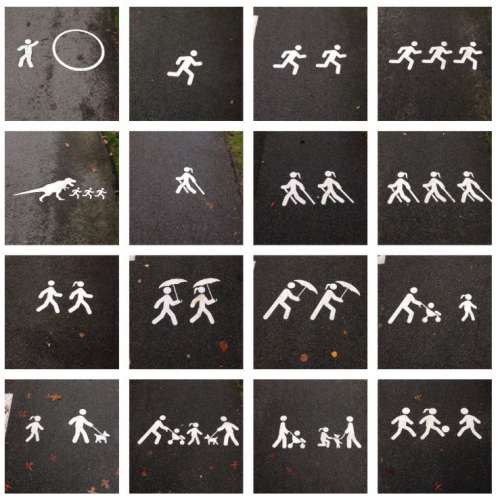 Bringing children and families into the planning process has led to several projects aimed at making North Vancouver fun, safe and even affordable.
Playful public art is appearing along the City's sidewalks. I discovered this while walking along the Green Necklace and seeing some of the 200 funny figures painted on the asphalt. The work, called "Whatever the Weather" by Mia Weinberg, borrows images from the familiar vernacular of figures in circles seen in street signage.
There are other whimsical additions, including the Lost Cows of Lillooet, by Nathan Lee and Matthew Thomson installed along Lonsdale Ave. that are  part of the city's stormwater management.
Last summer, the City produced a KidCity Map which was an invitation to it's youngest citizens to get out and explore the City by foot, bike or transit.
"I saw one of those old fashioned town maps at a restaurant in Kamloops and wanted to develop one for kids," said Linda. "The map went home with every elementary student in the City. Not only was it a map that showed distances in terms of time, it includes a search and find; and is educational. Feedback was unbelievable, locally and internationally. Kids use it to plan safe routes to school and plan their day."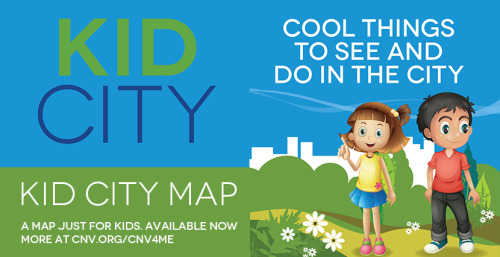 Safe routes to schools are another city priority initiated by Linda's motions to council, including the "Look, Think, Go" campaign for sharing the road. The City has an official Memorandum of Understanding with the School District and educational materials have been developed to support safe routes to school. When planning new sections of pedestrian networks, City staff are moving beyond consulting with adult citizens and are engaging with the elementary and secondary students whose walk or ride to school would be along potential new routes.
Future Family Planning
The challenge ahead in the City of North Vancouver's agenda to support families and children is an issue facing every Metro Vancouver municipality – maintaining housing affordability. I asked Linda what her next priority is with the CNV4Me Strategy:
"We need to engage parents further and hear what they need in order to stay. It is disheartening to hear families are leaving cities like North Vancouver. One bright light that we are hoping will retain and attract new families is revitalizing Moodyville."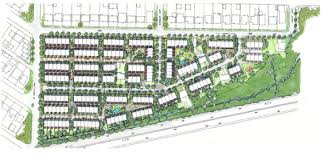 The City of North Vancouver is planning a major area-wide rezoning for the neighbourhood, a predominantly single family and duplex area east of Lower Lonsdale that is targeted for new growth.
"Moodyville will be a family-friendly community. It is pre-zoned and master planned to include parks and is connected to the Spirit Trail. It will include compact developments like rowhomes,townhomes, low-rise condos, and even woonerfs, which create living streets as shared social spaces that are used by pedestrians, cyclists and cars," said Linda.
According to Brent Toderian of Toderian Urbanworks, who has been closely involved with the project, this is a once in a lifetime opportunity for the City.
"As a city planner I've referred to this kind of opportunity as a unicorn because it almost doesn't exist…… it's going to be a very interesting opportunity that other jurisdictions will look to. The common narrative is that you can't do this type of thing (assemble detached lots). The City of North Vancouver may be the first municipality to prove that suggestion wrong."
Beyond Moodyville, the City  is already making headways by proving to local governments that it's advantageous to support families, particularly to live in walkable urban communities. Families who can forgo driving and access a range of amenities will stay invested in their communities to ensure that their children grow up healthy and happy.
The old proverb is that "it takes a village to raise a child." But, that village often needs a champion and the City has one in Councillor Linda Buchanan. Together, they have created a progressive agenda that supports families and the healthy development of the City's youngest citizens.