Author's Note:I am writing a short series, "Cities for Families" to showcase how local governments, non-profits and the private sector are working to create a family friendly city. This third edition spotlights the private sector, examining how Wesgroup Properties is achieving this goal with its latest project, River District.
Several months ago, I took my son to birthday party at my friend's new home in River District, a recently developed community along the Fraser River in the south-east corner of Vancouver. The day started with Halloween crafts offered at River District's community centre, which is operated by the developer, Wesgroup. Within five minutes walking distance, we then visited the local farmer's market (hosted by Wesgroup) and the playground, strolled along the seawall, and went back to their two-bedroom condo to celebrate with drinks and cake. Later that evening, we went to a Halloween drive-in movie (also hosted by the Wesgroup).
This is how you experience a community where the developer prioritizes the needs of families and children.
The goal of the series, Cities for Families, is to provide examples of how the public, private and non-profit sectors are creating family-friendly cities. It is my hope that these sectors continue to join forces to build homes that are affordable and appeal to families like yours and mine.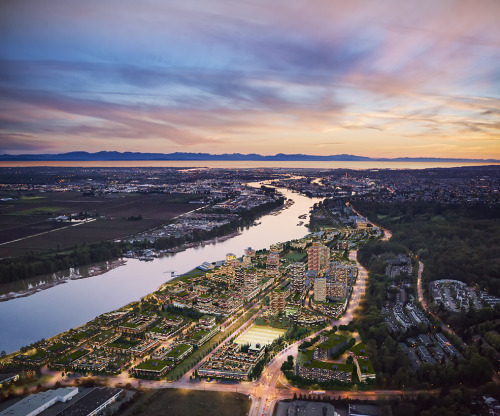 A Master Plan for Families
River District was a product of this type of collaboration. Wesgroup worked closely with the City of Vancouver and community groups to bring to life the vision of a master-planned, walkable community for all ages.
"We have invested a great deal of time in building a pedestrian-oriented community where families can live, work and play. Our vision is starting to unfold," said Beau Jarvis, Senior Vice President of Wesgroup.
It took 10 years of community consultation to produce an Official Development Plan for River District, currently the largest master planned community in Vancouver. From the beginning, the City of Vancouver's goal was to work with the developer and local community to make it appealing to families. Public engagement was paramount in creating the Official Development Plan, which requires that 35% of all units to be suitable for families with children.
"Through multiple levels of consultation including social community gatherings, neighbour hood and public open houses, third party telephone surveys and polls, a committee, design charrettes and direct feedback, we were able to better understand what the community wants and needs from River District," said Beau. "We are committed to continuing to offer these touch points throughout the development of this project."
Design + Amenities = Family-Friendly
In order to provide housing options for families, River District offers one, two and three-bedroom suites. There is also a selection of four-bedroom suites, two-level townhomes and lock-off units that can covert from a three-bedroom home to a two-bedroom with a nanny suite or a mortgage helper.  In addition to market homes, a rental building is currently under construction.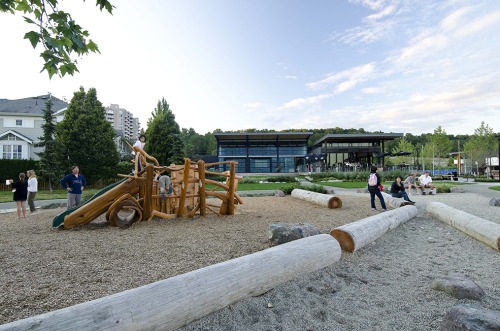 Functional home design is only part of the package. Beyond the front door, River District will provide over 25 acres of planned parkland, an elementary school, community centre, daycare facilities, and local businesses (including banks, a grocery store, coffee shop and a liquor store), all in a walkable community. Residents can also head outside to a private park, community garden plots, a children's play area, or go for a walk, jog, or cycle on paths along the Fraser River.
"Through a series of touch points we identified the need for walkable amenities, safety and green space for families," said Beau.
Thinking "Outside the Box"
Unlike most master-planned communities, Wesgroup has gone beyond the requirements of the Official Development Plan to offer creative, fun activities for residents. Before any residential towers were built, they added a restaurant and community centre, which they own and operate. They also support a weekly farmers market, drive-in movies, co-ed sports leagues, fitness and community classes. According to Beau:
"We approached the use of the land from a different perspective.  Rather than allowing the lot to sit vacant, we created engaging public spaces throughout the community. From our community centre that has something for everyone; from social events like movie nights and knitting clubs, to fitness classes, to our weekly summer farmers market and drive in movies, or restaurants and a grocery store; we want to build community and ensure that residents have everything they need at their fingertips."
Wesgroup has worked closely with non-profits and small businesses to offer activities in River District that promote community and support families. Non-for-profit organizations such as South Vancouver Family Place have been a part of the River District Community Centre since it opened its doors, five years ago. They offer a family drop-in program and children's activities twice a week.
The developer's initiative and creativity led the Urban Development Institute to give the Community Centre an Award for Excellence for 'Best Outside the Box.'
"The 6,200-square-foot centre engages the surrounding community through a variety of partnerships, activities and events that bring both the young and the young-at-heart to the area," reads the UDI press release.
In most cases, we expect local governments to set the requirements for master-planned communities while developers do the minimum to meet those requirements. River District shows how developers can raise the bar on family-friendly housing by working with the community and using imagination to build a neighbourhood that is fun for all ages.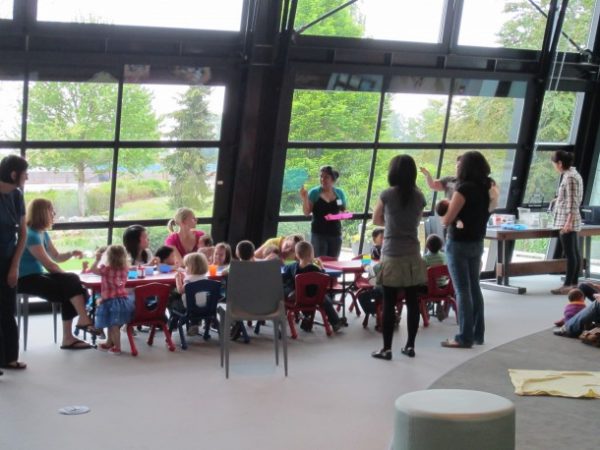 ***
For Part One of the Cities for Families series, click here.
For Part Two of the Cities for Families series, click here.

**
Jillian Glover is a communications specialist in urban issues. She is a former Vancouver City Planning Commissioner and holds a Master of Urban Studies degree from Simon Fraser University. She was born and raised in Vancouver and writes about urban issues at her blog, This City Life, named one of the best city blogs in the world by The Guardian.