UNINTERRUPTED takes audiences on the extraordinary journey of Pacific salmon by projecting breathtaking cinematography right across False Creek, five nights a week on the Cambie Bridge.
Now audiences can also follow the migration via an interactive feature on
uninterrupted.ca
. The
journey
follows the iconic Pacific salmon down rivers to the ocean and back again, and explores the hazards they face during the four year trip. The online version takes less than 10 minutes by contrast – and when participants complete it they can have their name projected onto the Cambie Bridge evenings before the live event.
Also on the website is a calendar of
public events
that feature and support wild salmon, plus a list of community organizations in Vancouver and across the Lower Mainland that welcome volunteers in their efforts to restore and protect salmon habitat. Visitors to the website can also win their spot on the Cambie Bridge by connecting with an organization to find out more or to volunteer.
​It's all part of UNINTERRUPTED's commitment to create additional public awareness about the beauty and importance of wild Pacific salmon and to highlight the work that is done year-round in communities throughout BC to restore and protect salmon habitat, while offering people ways they can make a difference too.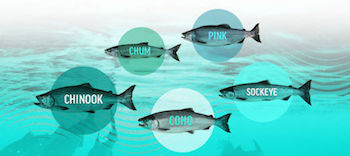 Three Vancouver companies, Agentic Communications, Denman Digital and Mika Creative worked with UNINTERRUPTED producer Rae Hull to design and produce the website and interactive elements.
For organizations active in conservation and salmon throughout the Lower Mainland and BC, the spotlight is a welcome one: "UNINTERRUPTED is reinvigorating a relationship with salmon for thousands of people by letting them experience Pacific salmon face to face. It's an experience that should inspire people to want to make a difference and the Pacific Salmon Foundation is very proud to have been one of the original supporters." – Dr. Brian Riddell, President & CEO, Pacific Salmon Foundation
From August 15 – September 24, UNINTERRUPTED will begin at the new time of 9PM Tuesdays – Saturdays. There's only 6 weeks left to see it!
This world-first cinematic event is a Canada WIld production, conceived and directed by Nettie Wild and produced by Betsy Carson and Rae Hull. UNINTERRUPTED is made possible through the generous participation and support of presenting partners Vancity and the Gordon and Betty Moore Foundation, community partners the Pacific Salmon Foundation, City of Vancouver, Vancouver Park Board and Tides Canada, and a network of contributing organizations and donors.
**