By Jim Wolf for Vancouver Heritage Foundation
The Arts and Crafts movement in Vancouver has left a rich legacy that is expressed in some of our most beautiful and valued buildings. Inspired by the Pre-Raphaelites of England and its leader William Morris, generations of young English architects were immersed in the ideology of 'art for art's sake'. Patrons commissioned these engaged designers to create homes that integrated inspired design and the intrinsic beauty of craft into everyday living. Morris advocated: 'Have nothing in your house that you do not know to be useful, or believe to be beautiful.'
The movement, initiated on the West Coast in the 1890s, came to its zenith in the city prior to World War I and lingered on until the Great Depression. Vancouver's Arts and Crafts sensibilities can be tied directly to its architects who were trained by notable British or Scottish design leaders. The innovations of the Californian bungalow aesthetic and American architects who advocated for this style were also a very significant influence.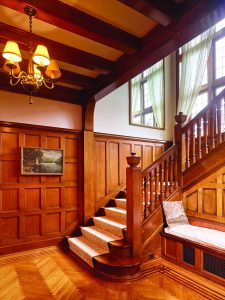 The design of homes that met the movement's ideals, or appropriated them, came to dominate the charac­ter of both exclusive and working-class neighbour­hoods as a widely-adopted design form. Mansions and cottages were executed with sublime design features incorporating true artistic craftsmanship in stone sculpture, woodwork, fireplace tiles, stained glass and wrought iron. Alongside these artistic homes were many more shingled and bracketed "Craftsman" styled homes that were executed with much loved design features such as built-in furniture, sleeping porches and window seats that made living in these homes a pleasure for their occupants.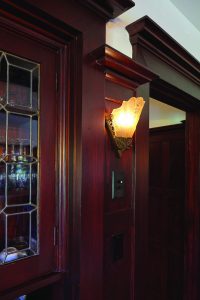 Much of the beauty and craftsmanship of Vancouver's homes was due to the skills of many talented craftsmen and craftswomen. However, their skills and products were produced on a limited basis as they could not compete directly with cheaper imported products manufactured in other North American locales that had robust and well-funded craft-based industries. Nonetheless, the sale and popularity of high-quality Arts and Crafts pro­duction from American and English sources was made widely available by Vancouver retailers and contributed immensely to the creation of a successful artistic home design.
Today the legacy of the Arts and Crafts era can be seen across the city, including in several homes featured on the 2018 Heritage House Tour. The movement continues to inspire new generations to embrace the importance of celebrating craft and integrating art into one's home and life.
See beautiful examples of Arts and Crafts design and architecture on the 2018 Heritage House Tour on June 3rd, 2018.
Jim Wolf is a heritage planner, consultant and historian committed to preserving heritage for the past 30 years. He is the author of "Royal City – A Photographic History of New Westminster" and is currently the Senior Long Range Planner for the City of Burnaby.