HALIFAX – Steele Auto Group has started the demolition of 19 homes to expand a Honda dealership in the core of the Halifax peninsula. Many residents may feel that the issue is a lost cause now that the homes are coming down.
Possibly the highest priority house to save is still standing, however, and it should still be possible to convince Steele Auto Group to do right by the community and sell this one building intact. Meet the Purple House.
This house, at the corner of May and Robie, is in good condition (except some siding that the company recently removed). It includes two homes and one commercial space. This is no slum: until recently a jeweller occupied the ground floor. After demolition, just six cars will sit where it once stood. According to Colonial Honda's project website, the property will then look like this: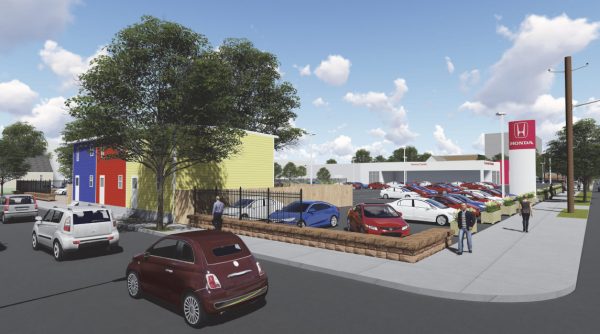 This building is the entrance of May Street and frames the visual character of this attractive residential street. This is exactly the kind of two-story, wooden housing that best defines Halifax.
It can be hard to appreciate how much impact losing a corner-house can have on a street, but I hope the following diagram will help. The blue represents what you can see.
Imagine yourself standing at the corner of Robie and May—maybe because you are walking to Agricola from the Coastal Cafe, Good Robot, Mary's Place, the barber shop or the mosque. From that perspective, the dealership is barely visible and there is no evidence of the 5 demolished homes on nearby Fern Lane. Despite the destruction, this could remain an attractive street where people would want to walk and spend time.

Without the purple house, two thirds of the parking lot becomes visible. Instead of feeling like a close-knit residential street, it would feel like the grey extension of a parking lot. This one house constitutes the difference between this project having only minimal impact on this street, or totally undermining what it feels like to be there.
"Visual character" can seem abstract and fuzzy in print, but in reality, it has a quantifiable impact on commercial activity, land value and more. Consider Colonial Honda's claim that their expanded dealership will be the "best looking commercial property on Robie Street". If that claim were true, it would increase the property values of the buildings around it, and of course, no one has suggested that will happen.
Objectively, parking lots are an eye sore. Bland open-spaces are consistently rated low in visual preference surveys. A study of people's physiology on real city streets found boring streets "make pedestrians feel stressed and unhappy." The negative visual impact of parking lots is not a matter of subjective preference; increasingly, it's a measured fact.
Steele Auto Group Should do the Right Thing
It is too late to convince Steele Auto Group not to demolish 19 homes to expand their Honda dealership. Surely, however, it is not too late to convince them to save just one building.
If Steele Auto Group sells the purple house so two homes and a business can come back to the street, it would do much to show they care about the community. For a relatively small sacrifice on their part—a mere six parking spots—they could make a disproportionately large positive change that would save the visual character of a beautiful residential street.
This one choice would go a long ways towards mending their relationship with the community and restoring their brand after these many months of protests. I believe they can, and should, make that choice.