In Alberta's recent dynasty ending election, a 44 year old Tory dynasty went down in defeat to Rachel Notley's New Democrats. While the NDP had support throughout the province, it was particularly concentrated in the cities. The NDP swept Edmonton and did very well in Calgary. Even Alberta's smaller cities (Red Deer, Medicine Hat, and Lethbridge) were noticeably NDP orange.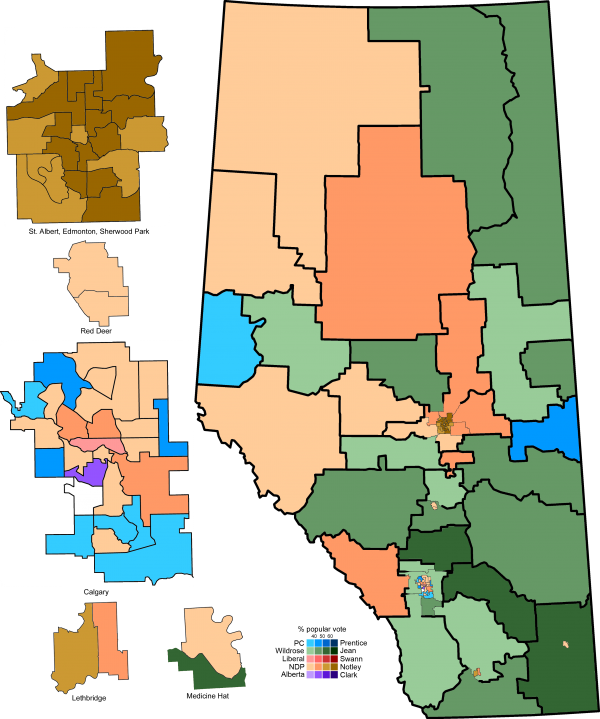 Contrast this to the 2012 Alberta election where Calgary looked very Tory blue and, even in Edmonton, the blue was very noticeable. Calgary even had some green for the right-wing Wildrose Party. Alberta's smaller cities were either Tory blue or Wildrose green.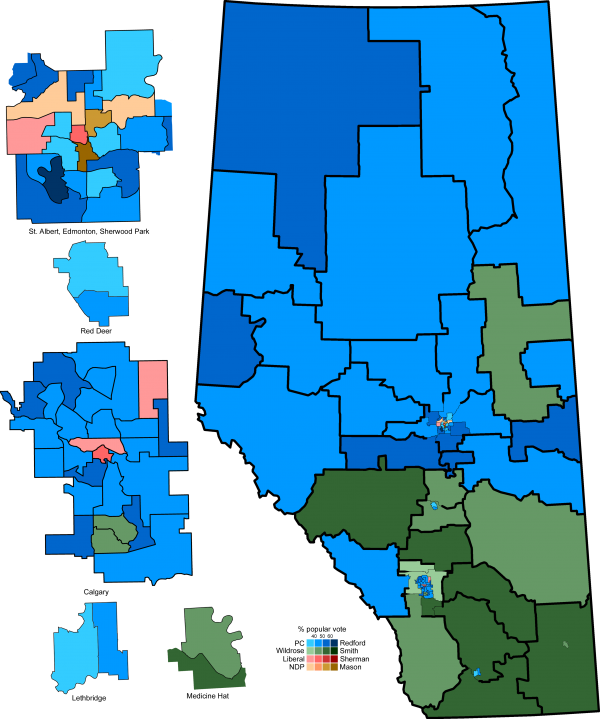 Now, let's take a look at the 2011 federal election. While Harper's federal Conservatives won their majority, in part through breaching the Liberal fortress in Greater Toronto (including ridings with large immigrant and visible minority populations where the Liberal Party had traditionally been strong) the vote in and near city centres in Vancouver and Toronto was notably NDP orange and Liberal red. By contrast, note the Conservative blue of Edmonton (only one NDP seat) and Calgary (all blue).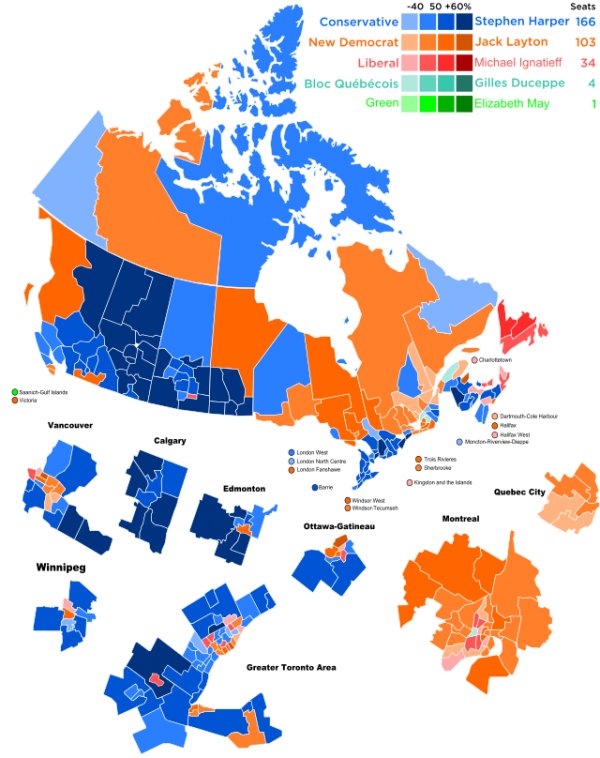 So why should Harper and the Conservatives be worried about the Alberta election? Calgary and Edmonton (growing and increasingly multicultural urban centres) may now electorally start looking more like Toronto and Vancouver, with an urban (and even suburban) vote decidedly less tied to the Conservatives. Even smaller cities like Medicine Hat, Lethbridge, and Red Deer now look less secure for the Conservatives. This is good news for the federal NDP but it is also good news for the federal Liberals. In the Alberta election, the provincial Liberal Party lacked organization and even a leader (David Swann was an interim leader). Federally, with a more organized party, the Liberals could find themselves competitive in Alberta's cities.
Of course, federal and provincial politics contain their own dynamics and personalities. One can note that Alberta NDP leader Rachel Notley kept her distance from federal NDP leader Thomas Mulcair. Nonetheless, if voting patterns in Calgary and Edmonton start looking more like Toronto and Vancouver, and if Alberta's smaller cities start looking more at centre-left options, the Conservative fortress in Alberta suddenly looks less secure.
Notley photo by Dave Cournoyer; All maps and images are from Wikipedia
Hassan Arif is a PhD candidate in Sociology at the University of New Brunswick. You can follow him on Twitter: @HassanNB