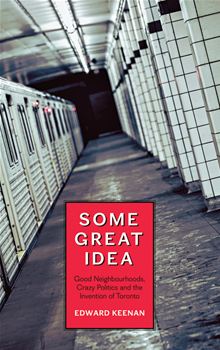 "I'm writing here about Toronto, an interesting case and a city that's sometimes defined as much by the brevity of its backstory and its hazy character traits as by its pre-eminence among Canadian urban areas or its agreeable nature. It's a Gatsby among municipalities. And I'm writing about a time – the decade and a half following the 1998 creation of the Toronto 'megacity' – in which the stories Toronto tells itself, and the various subplots lived by the people in it, have refused to converge into a coherent narrative." – Edward Keenan, Some Great Idea
You've probably read and appreciated Edward Keenan's analysis of Toronto politics in The Grid. Nominated eight times for a National Magazine award, Keenan is a voice of reason, an advocate for transit, accountability, and a more thoughtful citizenry.
Tonight, Keenan launches his new book, Some Great Idea: Good Neighbourhoods, Crazy Politics, and the Invention of Toronto at Lee's Palace (529 Bloor St. W). The evening will start off with a one-on-one discussion between Keenan and former Toronto mayor David Crombie, and DJs Track Meet will make sure it doesn't end too soon (see full event details here).
The event is free, and doors open at 8:30.