Brewery: The Indie Ale House
Location: The Junction (2876 Dundas St W)
The Indie Ale House is not your typical brewery. The edgy and modern architecture blends together with the atmosphere to create a unique ambiance that is dark and flavorful similar to their beer.
"We are always brewing something new," said brew master Jason Fisher. "After I did some traveling in the US and Europe, it led to my beer-making style with funky ingredients and independent food being served by independent staff."
Since the building the brewery now occupies opened in 1918, its occupants have always been changing. The building's original tenant, Reitmans, was one of the few chain stores to ever open up in the area. During the 1950s the depot in the back of the building caught on fire and was rebuilt in 1958. A junk/antique store was one of the tenants during the post-war years.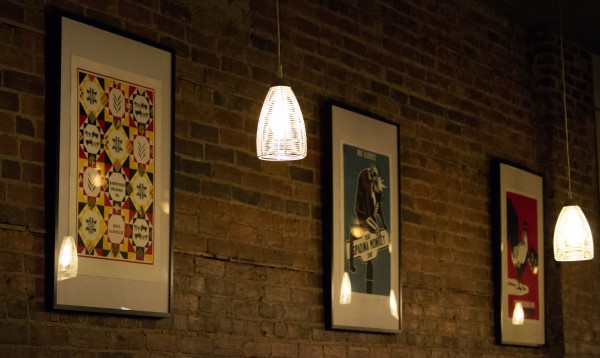 Inside the Indie Ale House, the original brick wall is complemented by creative artwork from OCAD students commissioned by Fisher. Customers gather over shiny wood tables, re-purposed from a church, unique chairs and benches line the bar. The most notable piece of architecture in the brewery is thee chest freezer — a 1920s Argentinian icebox — located behind the bar.
"We got it at SMASH two doors down from us," says Fisher. "They have some amazing stuff and a lot of places in town go to them to find great, unique pieces. We took the icebox and gutted it and use it for our draft lines. It's so well built that it keeps the lines cold without any electrical refrigeration," explained Fisher.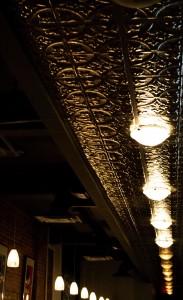 The reflective tin ceilings are custom made from Texas. "I arranged to get someone I knew a roll of tin and had the tiles custom pressed for me, otherwise they would have been too expensive to buy from any place I could find," he said.
This contemporary brewery could easily fit in at Yonge and Dundas, but the Junction will stay home to the Indie Ale House and their beer barrels. The brewery produces 12 beers, with three to five beers that are always available and up to 10 brews that rotate through the seasons. If you time your visit right, you may be able to taste one of their special occasion beers. So far they have created 60 batches of 28 different types of beer.
A mix of modern inspiration and vintage architecture sets the tone for this distinct brewery in the heart of the Junction.
Cheers!
View more photos of the Indie Ale House.