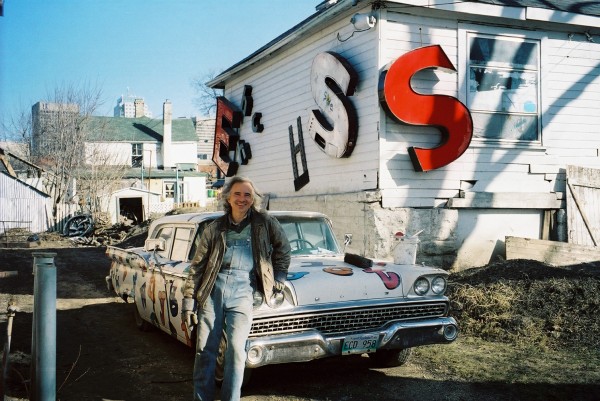 With his wild hair, child-like grin, and obsession with letters, words, and their etymology, Ed Ackerman is special. An award-winning animator who's worked extensively for the NFB, Ed's labours of love bring letters to life on the screen, giving them a personality and a sense of adventure.
Ed's own personality and sense of adventure are the backbone of Special Ed, which follows Ackerman over three years as he attempts to renovate the derelict Winnipeg houses he's purchased and plans to leave as his children's inheritance. Zoning by-laws be damned, he'll work at his own pace, and often pause to take on another project. Ed's other endeavors (real and imagined) include building a spa and brewery serving only products developed from the Winnipeg water table, creating a living burdock sweater, and running for mayor.
"Winnipeg," Ed declares, "is a place where you can start from nothing…you can't go very far, but you can start from nothing." His houses, purchased for between three and thirty-thousand dollars,are virtually uninhabitable (though that doesn't stop his good friend Pinhead from setting up camp).  Watching Ed and his son renovate induces both cringing (a serious injury seems imminent) and laughter, while his tenacity and willingness to fight the system encourages a mixture of awe and annoyance. Ed's family history, meanwhile, puts his projects and his fight against the city in a more complicated light.
Special Ed screens tonight at 6 PM, Tuesday, April 30 at 10:30 AM, and Saturday, May 4 at 9:15 PM. More information and tickets are available here.