I was in Ottawa last weekend and strolled along Bank St. in the Glebe neighbourhood, which was recently re-done with new street furniture, art and paving (last time I was there, 2 years ago, it was under construction).
Bank St. is a narrow and busy road and sidewalk, so it's an area where you have to make the best use of space. The new public art made use of the extra space created by sidestreets, often with sidewalk bulb-outs.
The metal artwork was all done by artist Tim desClouds. My favourite part was the painted metal chairs bolted into the pavement at intervals — both attractive and useful.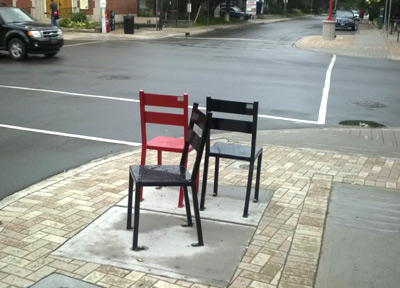 Several City benches has also been added, with an intriguing design in which rather than being in the middle, the armrest is set to one side, creating a double and a single set of seating. Sometimes, if two people are on a bench together, no-one will want to sit at the edge like a third wheel, but this creates a bit of separation to make it more inviting. It's a thoughtful piece of design for a bench that size.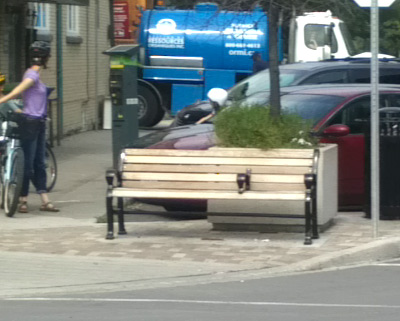 The bike posts are also specific to the area, monogrammed with a "G" for the Glebe.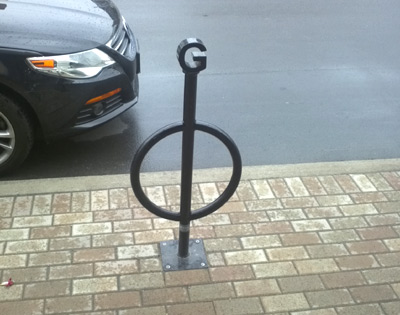 There were also some multiple-bike racks in various sizes in the same style, fitted in where there was space at the sides of buildings.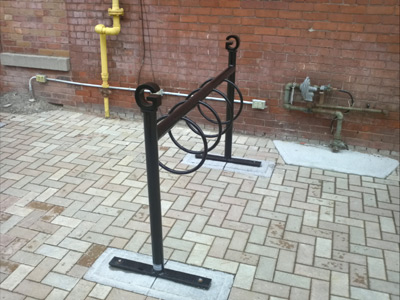 The "G" monogram was also visible on the tree-protection fences. These were illustrated with symbols cut into the metal representing the various stores on the street.
A nice touch was the decorative wrap created for the dull grey traffic signal boxes (I'm not sure if this is just for this area or for other parts of town too).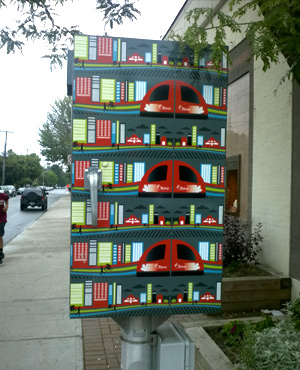 Another elegant piece of street furniture is the fish-decorated sewer grates, although these are city-wide.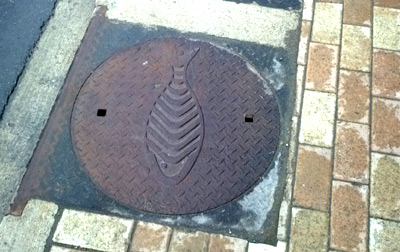 I remember, growing up in Ottawa, Bank St. sidewalks always felt cramped and a bit dingy, even though it had some busy stores and other destinations. The new sidewalk in the Glebe is still not that wide, but the attractive paving and furniture, and the systematic use of side-street areas to extend the treatment (see below), have made it an appealing place for a stroll.