Pedestrian crossing of GO Transit Stouffville Corridor, at Marilyn Avenue near Agincourt Station
The biggest barrier to pedestrians and cyclists in Toronto are the railways and freeways that criss-cross the city. These ribbons of steel and asphalt link the city and country together, but at the same time they divide neighbourhoods.
In the central City of Toronto, these barriers are relatively short. The Canadian Pacific Railway line north of Dupont Street has many crossings, including two grade crossings at Osler and Bartlett, making that railway line only a minor nuisance to get past on foot. Often thought of as a barrier to the Waterfront, the elevated Gardiner Expressway provides many opportunities to cross below, especially between the downtown core and Harbourfront. The Union Station Rail Corridor railway corridor is similarly easy to cross by foot (though it would have been nice if Church Street continued south under the tracks). Arguably, the biggest obstacle to pedestrians here is the heavy and at times dangerous traffic to and from the expressway and Lake Shore Boulevard.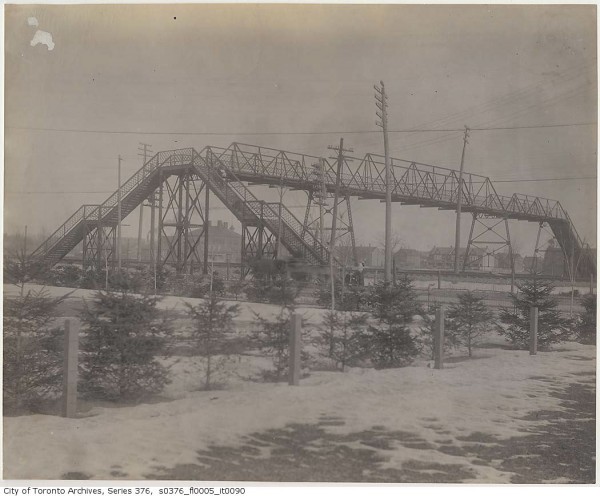 Historically, the first grade-separations of railways and city streets occurred where there was a significant difference in elevation between the street and railway, such as when a railway was built on an embankment or in a deep cut. It wasn't until the 1890s that overpasses and underpasses were built in Toronto for safety and convenience. The Queen Street Subway at Dufferin Street is one of Toronto's first major underpasses. The footbridge at Wallace Avenue, connecting that mixed industrial and residential street with Dundas Street, might be the first purpose-built pedestrian grade-separation in Toronto. The footbridge spanned the busy Grand Trunk and Canadian Pacific railways into the centre of the city; today 30 weekday GO Trains, 4 daily VIA trains and the occasional freight train pass underneath. (The number of trains passing through here will nearly quadruple when the Union Pearson Express rail service starts in 2015 and a few of the long-promised additional GO Trains to Brampton/Georgetown are introduced.) To this day it provides a connection (though not fully accessible) between the Junction Triangle and South Junction/High Park neighbourhoods and the nearby Dundas West Station.
Early plans for upgrades of the GO Georgetown/Kitchener corridor though Weston to accommodate the then-private proposal for the "Blue 22" airport rail link would have closed the John Street crossing completely. The intense community opposition to those early plans was partially due to the neighbourhood barrier that the upgraded rail corridor would have pushed through. The result is that Metrolinx, which is now responsible for GO Transit and the UP Express, is building a much less intrusive covered trench and keeping a pedestrian connection at John Street in place.
As traffic increased and railway collisions became a major concern, the various railways separated their rails from city streets, mostly by building embankments and overpasses; these included the Union Station tracks downtown, the Grand Trunk/CN tracks through Riverdale, and the Canadian Pacific North Toronto Subdivision which crossed busy city streets such as Yonge Street at grade. Suburban arterials were grade separated as traffic volumes or safety merited their construction.
By the 1950s, freeway construction was in high gear, with the Gardiner Expressway as well as Highways 400 and 401 underway. When Highway 401 was planned, crossings were only provided at the concession roads and a few other existing streets. As residential subdivisions were built in the 1950s onwards, railway crossings were only provided where they already existed, mostly the grid of concession and side roads which became suburban arterials. Hence freeways and railways became major obstacles for pedestrian and cyclist movements.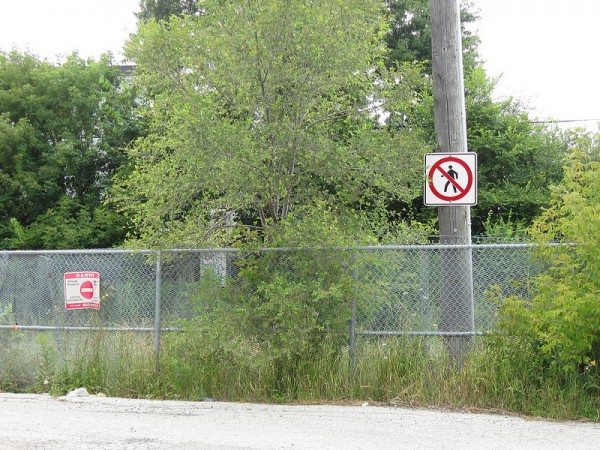 The worst of these many barriers is the CN Newmarket Subdivision (now owned and maintained by Metrolinx) in Wards 12 and 15. The railway hosts GO Transit's Barrie Corridor trains (5 round trips, or 10 trains a day) and the occasional freight and VIA train.
At Wallace Avenue, Castlefield Road, Downsview Park and the York University Busway/Multi-Use Trail, pedestrians and cyclists can cross at grade along with auto traffic — these crossings are protected with signs, lights, bells and gates. Most of the other crossings on the corridor in Toronto are grade-separated, including a tunnel at Dunraven Drive/Bert Robinson Park, and an overpass at Innes Avenue. Pedestrians can also cross the tracks legally at overpasses at Dundas and Eglinton, and underpasses at Bloor, Dupont, Davenport, St. Clair, Rogers, Lawrence, Wilson, Sheppard, Finch and Steeles.
To protect their property, and prevent trespassing and train collisions, CN and GO Transit have fenced much of the railway off, as is prudent. However, in several places, this leaves a major barrier between residential areas to the west and commercial/industrial areas to the east. There are no legal pedestrian crossings between Lawrence and Wilson Avenues, a distance of two kilometres. Highway 401 exacerbates this problem by posing an additional 2-kilometre obstacle between Keele and Dufferin Streets.
Nearby, Highway 401 poses a similar problem. The new Humber River Regional Hospital is under construction in the Ministry of Transportation lands on Wilson Avenue west of Keele Street. Unfortunately, there is no crossing of Highway 401 except at Keele and at Jane, two kilometres apart. A midway pedestrian/cyclist overpass between Culford Road and Ridge Road would be an ideal active route to the new hospital site and potentially reduce traffic around the new hospital. This is a prime example of two adjacent neighbourhoods split apart by a high-order transportation corridor.
Logically, there should be a crossing between Floral Parkway and Bridgeland Road. This would allow the residential neighbourhood immediately to the west to access the 47B Lansdowne/Caledonia bus, and even walk to local businesses and Yorkdale Mall. Instead, it's a 3.6 kilometre, 46 minute walk via Lawrence Avenue.
When I lived in the area several years ago, holes were frequently cut in the fence. It was not unusual for pedestrians to trespass here, even if they were otherwise law-abiding and reasonable people. The unreasonable distance by foot made it so. There were no incidents of trespassers being hit by the few trains that use the railway regularly as long as I lived in the area. But the official response? First GO Transit put up more no-trespassing and no-pedestrian signs, then later reinforced the fencing and even put up Alarmforce Security warnings.
Meanwhile, the CN Uxbridge Subdivision, now also owned by GO Transit and seeing a similar number of trains daily (15 revenue GO trains daily, 16 in total, plus the occasional freight) has two pedestrian crossings at grade. Like road crossings, they are protected by signs, lights, bells and gates, and by virtue of being at ground level, they are fully accessible and cheap to build and maintain. They are at Corvette Avenue and Marilyn Avenue (the photo at the top of this article). There are also seven road crossings at grade (as well as four bridges) on that line where pedestrians can also cross those tracks legally.
On the Lakeshore East line, there are several road crossings where GO, VIA and freight trains pass through more than 60 times a day, yet pedestrians are trusted to cross the tracks at Morningside Avenue or Scarborough Golf Club Road.

Pedestrian tunnel in Silverthorn
Both overpasses and underpasses have their drawbacks, but grade separations are necessary where there are very frequent train movements (such as near Union Station), high-speed train service (which doesn't really exist here in Canada), high-speed freeways, or where there is a significant difference in grade. The tunnel connecting Bert Robinson Park with Dunraven Drive on the Newmarket Subdivision mentioned above is one example of the latter; bored through a railway embankment in the hilly Silverthorn neighbourhood. This particular tunnel is in a bit of a secluded area, raising concerns about personal security, especially at night. But it is fully accessible. A tunnel further south at Paton Road was closed in the 1980s due to personal safety concerns, though other crossings at Bloor Street and Wallace Avenue are nearby. Footbridges can require many stairs or long ramp structures that can deter their use; the new Puente de Luz bridge connecting Cityplace with Front and Portland Streets has this problem.
I'm sure GO Transit has its reasons for being such an obstacle in North York and having more permissive, pedestrian friendly, crossings in Scarborough. However, logical and safe crossing should be built where practical to make active transportation a more viable option, especially in the suburbs. At least the Bridgeland/Floral Parkway crossing should be fixed, properly.