I took this photo of Gibraltar Point Beach on a long walk around Toronto Islands during the city's most recent cold snap. Because parts of the Island are exceedingly untamed, especially in the isolated winter, I was surprised to see Leslie Street Spit-style slabs of concrete and twisted rebar landfill breaking the otherwise undomesticated landscape of the Island's south-west beach.
As past posts have explored, the Toronto Islands were formed when land from the dramatic erosion of the Scarborough Bluffs dropped into Lake Ontario and was pushed by the lake's current to form a peninsular sand bar. Though always referred to as "The Islands", a powerful storm in 1858 pierced its thin connection to mainland Toronto, rendering them islands in the true sense.
Looking at a few historical Toronto maps (courtesy of the fantastic Historical Maps of Toronto blog), the shape of the sand bar changes dramatically. For its first hundreds of years, the form of the Toronto Islands changed every year and after every storm.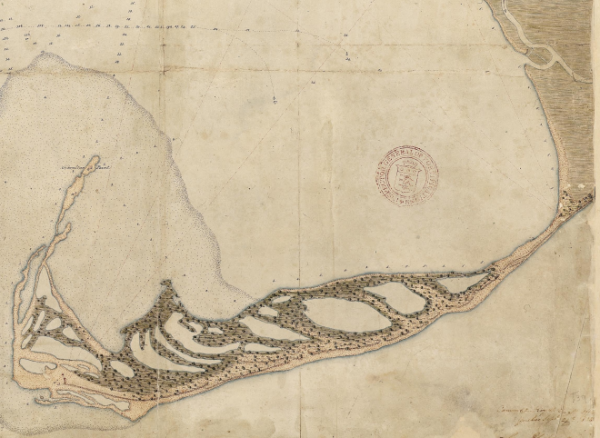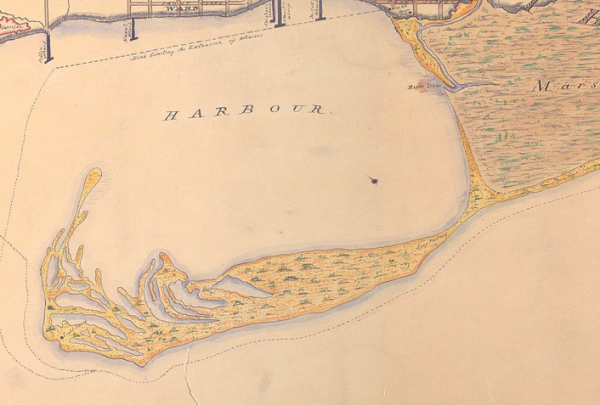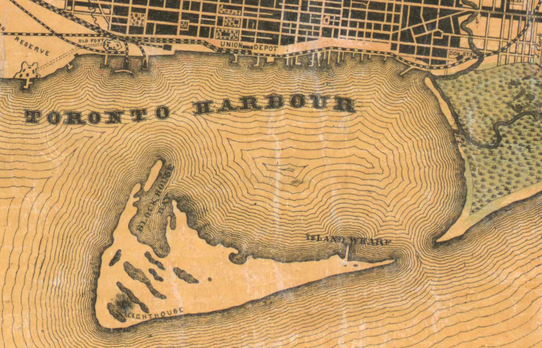 When the Leslie Street Spit peninsula made its final extension into the lake in the 1970s, the flow of sand from the Scarborough Bluffs was effectively blocked. Consequently, the Islands have been eroding, their sand pushed away by the lapping waves of Lake Ontario without the replenishing effect of the Bluffs' accumulative currents of land.
The city's response has been to dump landfill along the Island's south shore to curb erosion. In fact, the City has been doing this for more than a hundred years. In 1885, with the vision of Central Park style forests, lawns and meadows, the City decided to "parkify" the Islands and began dumping soil and infill to landscape and tame the wild, constantly changing landform (picture the French-style geometric gardens that lead from Centre Island to the pier, and the constantly mown fields just to their west). More recently, the City has embraced Michael Hough style "natural processes", and native plants are reclaiming their habitats.
In both cases — the historical parkification, and the current attempts to curb erosion — I can vividly see how this wild place is slowly being taken over by the deep urbanity across the Bay. As the Toronto Islands remain untamed in many senses, I hope that a delicate balance is maintained between the urbanity and wildness that characterizes Toronto's frontier shoreline as we continue to negotiate the Island's role in our cityscape.
Daniel Rotsztain is the Urban Geographer. After six years of formal and informal education in Montreal, Halifax and Amsterdam, he is happily back in his home-city of Toronto and ready to respond to it with words and art. Check out his website, or say hello on Twitter!