The NXT CITY PRIZE is all about vision to reimagine Toronto's public spaces and inject a sense of energy, dynamism and reflexivity. With a focus on ideas coming from the next generation of city builders, The NXT CITY PRIZE is an open invitation for all young people connected to Toronto to improve on the design of our city's open spaces. The NXT CITY PRIZE will be announced in mid-August, and the deadline for submissions is July 31st. Spacing has teamed up with the NXT CITY PRIZE to provide our readers with a series of Q&As with local and national city builders in the lead up to the announcement of the winning design.

TODAY: ANDREW STEWART, heritage consultant
What public space improvements have you made?
An amazing legacy of public open space was passed down to our generation from the people who, in the 1790s, established the idea of urban Toronto – the idea that a city could exist here making use of Toronto Bay – the best harbour on the north shore of Lake Ontario. Fort York is where that idea started and is today, arguably, our most important public space.
What is now Fort York National Historic Site began as a huge reserve of military lands, extending from Dufferin to Peter Streets and north from the waterfront to Queen Street. For a long time, beginning in about the 1850s, this place was neglected and overlooked. It was cut off and almost obliterated by the railways and the Gardiner Expressway. But today, it's here to stay, and being woven back into the fabric of the city. It's thanks largely to coordinated action by citizens who, starting in the 1880s and working right up to the present day, quite often against prevailing winds from City Council and corporate interests to develop this site, recognized Fort York's value. They fought to preserve it and to create a neighbourhood context  in which it could thrive.
The sense of public ownership over Fort York has strengthened over the years: the scope of assets being recognized, and protection for them, has grown. Today Fort York National Historic Site is associated with:
the birth of urban Toronto (1793);
the defence of the town and its harbour;
the political and military crises that occurred in the lower Great Lakes during the 1790s;
two major military actions during the War of 1812;
an internationally significant historic battlefield and cemetery;
valuable historic and archaeological collections relating to the site;
the economic and social growth of the Town of York which became Toronto; and
the beginning of the modern preservation movement.
This is not an exhaustive list. The national historic site's 43 acres include: a unique and authentic example of a War of 1812 fort; Victoria Memorial Square, which is being beautifully rehabilitated with the support of the Wellington Place Neighbourhood Association; Fort York Armoury operated by the Canadian Forces; and Garrison Common, which preserves part of an 1813 battlefield. This green common is now being enlarged and revitalized and its natural and cultural elements strengthened. The open space as a whole is being connected to surrounding new parks on all sides of the national historic site and the Waterfront Trail.
All of this is the product of vision acted upon by many citizens working in concert as volunteers over the past 130 years to: (a) preserve a unique and internationally significant historic site; and (b) expand the definition of the public realm around it. In the past 20 years, this agenda has been carried by The Friends of Fort York under inspired leadership by Joseph Gill and Stephen Otto. The Friends worked closely with the City of Toronto, which owns and operates Fort York, in building a case for expanding the boundaries of the national historic site, and in planning for capital expansion and neighbourhood open space design with published studies that were then endorsed by City Council. These studies influenced how the immediate neighbourhood was and continues to be built. The Friends' influence in expanding the public realm includes bringing an intellectual and programming dimension to bear on Fort York. Their quarterly newsletter, The Fife and Drum, with articles of substance, reaches 3000 people. Eighty percent of the budget for the Fort York Guard each year is privately raised and paid for by The Friends.
In 2006, the Friends of Fort York set up the Fort York Foundation to raise funds from the private sector, assisting city, provincial and federal government agencies in capital renewal at Fort York. A milestone on this path will be the opening of the site's first visitor orientation centre this fall.
As chair of the Fort York Foundation, I am one person in this large network of volunteers. We work in close harmony with dedicated City of Toronto Culture staff, including Fort York Manager David O'Hara and City of Toronto Museum Services Chief Curator Wayne Reeves, who expertly run this site and manage and deploy its historic collections. Staff programming initiatives and partnerships in the past few years have led to a huge increase in the popularity of the site, seeing visitor levels tripling to more than 100,000 people per year.
What public space improvements would you like to see in Toronto?
Since I can basically only do one thing at a time, and being focused on Fort York for the moment, I will speak to that. A lot of people have been involved in planning and thinking about this part of the city for a long time. Their vision (and I share it) includes more and better connected green space in this densely developing part of Toronto. Fort York National Historic Site is a unique and, given its structural and archaeological assets, relatively delicate green space requiring careful interventions to sustain and interpret these assets.
Thanks to a transformative grant from The W. Garfield Weston Foundation, Garrison Common is being enlarged and rehabilitated, and its history made more apparent, as plans by landscape architects DTAH are gradually carried out. It needs to be connected to a network of surrounding green spaces in the Niagara St. neighbourhood to the north, CityPlace to the east, Fort York Blvd neighbourhood to the south and Ordnance St. triangle to the northwest, and beyond, to allow people to discover and move through this area by foot and bike. The long-awaited pedestrian/cycling bridge connecting Garrison Common to an enlarged Stanley Park on the north side of the railway corridor is an important piece of this.
What sorts of places are solid examples of public space improvement in other cities around the world?
In keeping with the current theme, you can find lots of good examples of how historic and archaeological resources – and in particular, forts — have been used in other cities to improve public space. As Douglas Featherling observed in 1990, most Canadian cities, in fact, grew out of forts (both military and commercial). Toronto is lucky to have its fort and founding site preserved near the city's downtown core. Other cities, like Calgary, are discovering theirs. You just have to flip through Fort (published by the Fortress Study Group), which for all the world has the appearance of an urban design/architecture journal, to see how old defensive structures and fort precincts in cities around the world have become centerpieces of urban renewal, revitalized green spaces and pedestrian ways and prospects.
Your advice to young people as it relates to public space?
No advice necessary: just get involved in a group doing something interesting for public space in the city. Listen to, and learn from, the more experienced members of the group (the Joe Gills and Steve Ottos). It's a battlefield out there — in a good way.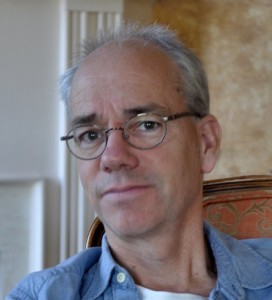 Andrew M. Stewart is a heritage consultant and an Associate of ASI (Archaeological Services, Inc.). He is chair of the volunteer board of the Fort York Foundation, which is fundraising within the private sector for capital improvements at Fort York National Historic Site, and vice-chair of The Friends of Fort York, which supports the fort, advocates for its interests, and is committed to the well-being of the neighbourhood. He has a Ph.D. in anthropology from the University of California, Santa Barbara. He has taught at universities, worked as an archaeological consultant with both government and aboriginal organizations in Canada, and has published mostly academic articles – most recently contributing a chapter to the book Before Ontario: the Archaeology of a Province. Together with Eva MacDonald, Senior Archaeologist at ASI, he has directed excavations at Fort York National Historic Site. Some of Andrew's blogs can be found in Toronto's Stories on the website of Heritage Toronto.
Top photo courtesy  of The City of Toronto, Looking south over Fort York, the Gardiner Expressway and the Toronto Island Airport