Basements are often unsung heroes of great cities. In new and old Regent Park the unseen basement hides both bottom-up and top-down initiatives to strengthen the community. Here they help achieve sustainable community design by offering spaces for people to gather and by incorporating leading energy practices.
Four-year-old Civic Salon aims to engage Torontonians in our largest salon, the city. They exist to ask more questions, not provide answers. On Tuesday, November 18, an unseasonal chill didn't scare group of 15 from meeting at the Painbox Bistro on Dundas and explored Regent Park with Barry Thomas, who led one of the best walking tours I've ever experienced
Barry Thomas is the Manager of Central-Parliament for Toronto Community Housing Corporation (TCHC). He manages the 1000s of units of Regent Park, old and new. His stories are peppered with the realities of Regent Park, and sometimes it's uncomfortable. He'll give you a casual yet chilling 30-second briefing of the Toronto Eaton Centre shooter Christopher Husbands' story. He motions toward where Husbands lived, and where he was found on the street repeatedly stabbed, tied up and left to die. Thomas relays these stories as he walks, smokes a cigarette, and ushers us down into the basement of one of the three storey buildings on Gerrard.
The unassuming basement in one of the old buildings on the south side of Gerrard is not randomly chosen. Thomas brings us into a formerly underutilized and closed off space that is now maintained as a mosque and community centre by the Regent Park Khadem Committee Centre (HiMY SYeD has an excellent detailed account of it on his 30 Masjids [mosques] in 30 days website.)
It's vast and exactly what you'd expect from an old basement. Low ceilings, mismatched furniture, and full of many rooms. But it's also teeming with life, community, and opportunity. Chandeliers and new carpeting join the custom built wudu washing station. This is Toronto the Good; new Canadians slowly building their lives and networks of mutual assistance. Thomas explains there are three mosques operating in basements of Toronto Community Housing's Regent Park buildings. It's an uneasy relationship for Thomas who prefers not having places of worship within city-owned buildings, but ultimately, it's a fair trade: eyes watching the street in exchange for a space that otherwise remained empty.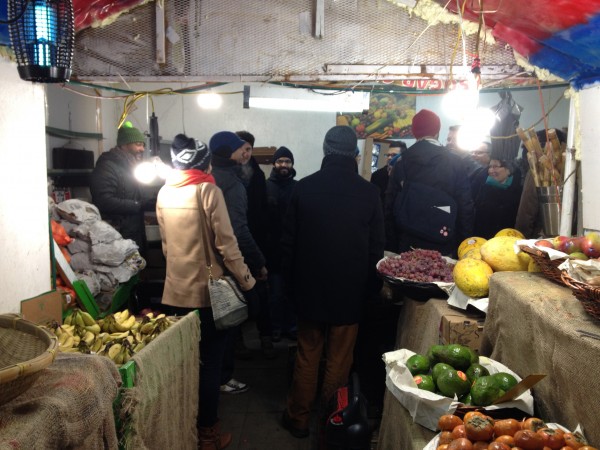 Our next stop is Wally's fruit and veg market that operates in greyest of grey legal areas. It's a glorified walk-in truck with Styrofoam ceilings camped out behind a building at Gerrard and Parliament. I'm distracted by the prices: 5 lemons for a dollar! Thomas recites the names of Wally's children who are slowly reuniting from Afghanistan. The market has been here (or nearby) for nine years now, selling his foods to his low-income neighbours gradually shifting from Caribbean to South Asian and Somali populations.
Wally's stand is in direct contrast to the commercial spaces in the rest of Regent Park. As with new development all over Toronto, the cost of new retail space prohibits smaller independent entrepreneurs. Sultan of Samosas on Parliament in the ground level of a new Regent Park building is easily four times the size the space needs to be, giving it the ambiance of eating in a cafeteria. A pharmacy, Tim Hortons, bank, and grocery store complete the retail offerings, making it indistinguishable from other new condo developments.
Rounding out the great basements of Regent Park is the much different from the community-led process of the mosques. A capital-intensive and long-term joint venture between TCHC and Corix Utilities is happening five levels below the sidewalk at the corner of Sackville and Dundas Streets. The Regent Park Community Energy System is a high-efficiency heating and cooling district energy system for the entire new neighbourhood. It will have the potential to generate electricity via cogeneration in the future. It's humbling to know that some of greatest and most elaborate public and private developments, this one costing $60M, are hidden away with nothing but occasional bit of steam visible from the roof.
If Civic Salon ever partner with Barry Thomas again to hosts a tour of Regent Park, don't miss it. The sentiment was unanimous. Follow Civic Salon on Facebook or check out www.thecivicsalon.org.
 Photos by Robert Ruggiero