EDITOR'S NOTE: Read part one of this series published yesterday
When private firms invest in new equipment, the managers must pay close attention to the all-in-cost and how those capital outlays impact the eventual price of the goods being produced. As every CFO knows, one determines the other.
But for reasons that I can't fathom, our political leaders blithely ignore this practical financial framework used by private investors when it comes to building costly rapid transit projects. They employ magical thinking ("build it and they will come!") or ignore sensible land-use planning advice in order to score political points. Later, we all pay, but the decision-makers by that point are long gone.
Even though transit doesn't operate at a profit, there are nonetheless approaches to mitigate those losses, which, as it happens, are also ways to maximize the broader social/economic benefit that flows from such huge public outlays.
By way of counter-example, consider the reported $400 million overrun on the $2.5 billion Spadina extension. When the line is finished and open, the fare for commuters who use it won't differ from anywhere else on the system, because that's not how we price transit. The TTC estimated that the annual operating cost is expected to run to $33.7 million, with a net figure of $14.2 million (i.e., expenditures less fare revenue), which will be shared between the City and York Region (thanks to Steve Munro for the reference). As for the capital overruns, residents across the City and York Region will have to absorb them in the form of higher debt charges, reduced services or increased taxes for years to come.
There are valuable lessons to be learned, as becomes crystal clear from a brilliant new report by University of Toronto geographers Andre Sorensen and Paul Hess. Their study looks at the implications of the rapid transit projects that have been proposed for the apparently neglected people of Scarborough.
Sorensen and Hess have carefully examined the various corridors proposed for the Scarborough subway, Smart Track, and the three LRT proposed routes (the approved Sheppard East LRT, and the proposed Eglinton-Morningside line as well as the ill-fated Scarborough RT replacement to Malvern) in terms of accessibility of stops to local communities as well as re-development potential.
In other words, they're doing what our planners and elected officials should have done all along, which is focus on how to make these massive investments as financially viable and effective as possible by situating the lines close to commuters as well as properties that can be intensified. City staff never delivered any of this kind of granular analysis to council when it made its ill-considered 2013 decision to go ahead with a $3.5 billion/three-stop subway and kill the Scarborough LRT.
"Building a high-capacity rapid transit line in an area with low or moderate intensity of land uses will make sense only if it is possible to redevelop and intensify lands within walking distance of the transit stops," Sorensen and Hess write. "Unfortunately, this consideration has not been a significant part of transit planning debates in the Toronto region."
Their key conclusions:
The three LRT lines would serve an area of 3,147 2,794 hectares in terms of access to transit stops on foot. This area is almost 10 times as large as that of the subway, which would serve only 332 hectares.
The prime potential redevelopment land within walking distance of stops is 541 458 hectares for the LRT lines, compared with 84 hectares for the subway.
The total population within walking distance of stops is more than 137,000 125,100 for the LRT lines, and for the subway is less than 11,000.
The number of jobs within walking distance of transit stops is more than 18,000 14,000 for the LRT lines, and less than 3,000 for the subway.
(Editor's Note: Due to a calculation error in the initial analysis, Prof. Sorensen has provided slightly revised figures, as noted above. The report's basic conclusions remain unchanged.)
Sorensen and Hess point out that many arterials in Scarborough were developed with rear-lot frontage, meaning they'll never be intensified. Another 19% of Scarborough is zoned for employment lands, they add. By running transit through those areas as a means of driving intensification, the city will lose valuable industrial land, and the speculative increase in land prices will make it more difficult for existing employers to remain where they are.
The most viable alternatives for rapid transit corridors, therefore, are those arterials currently lined by large commercial lots – e.g., gas stations, car dealerships, strip malls. They can be intensified to create a larger pool of commuters, and the redevelopment activity won't negatively impact the area's economy. As it happens, those arterials also tend to be the most accessible from a pedestrian perspective, in that they're well connected to adjoining residential neighbourhoods. And, not surprisingly, they coincide with the routes originally proposed for the LRT lines.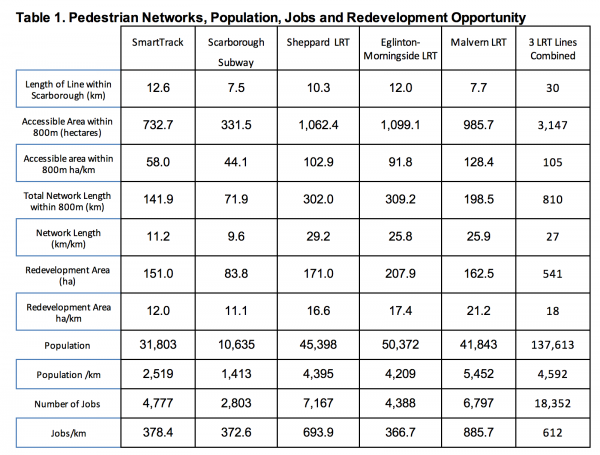 As Table 1 of their study shows, the three proposed subway stations are readily accessible to only about 331 ha of residential neighbourhoods (Sorensen/Hess rely on a long-standing assumption that most people are willing to walk up to 800 metres to a transit stop). The three LRTs combined would be accessible to ten times that area.
The redevelopment figures are just as stark. "SmartTrack has 151 hectares of re-developable land, the subway has 84 hectares, Sheppard LRT 171 hectares, Eglinton-Morningside 208 hectares, and Malvern 163 hectares."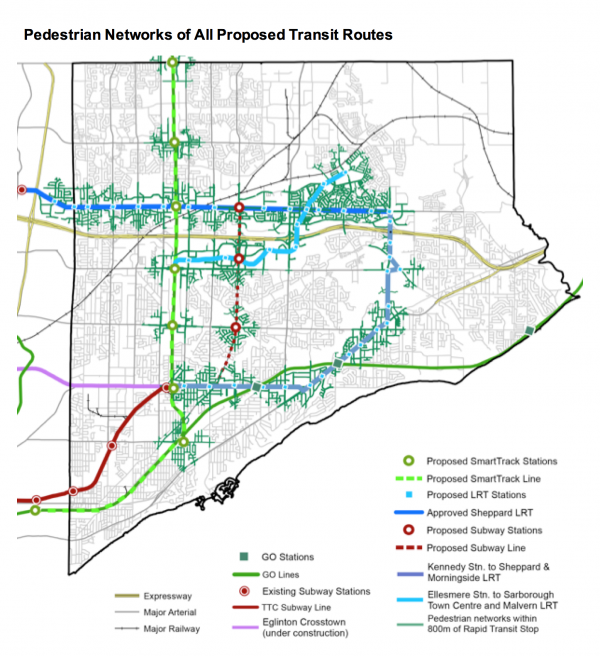 Given that the province is allowing the city to impose higher development charges and use the revenues to defray the cost of transit construction, as reported here yesterday, those numbers should lead to a no-brainer conclusion: that the Scarborough subway can never attract the kinds of development projects that will produce a return. In other words, the proposed $280 million in DC revenue for the Scarborough subway will have to come from elsewhere in the city.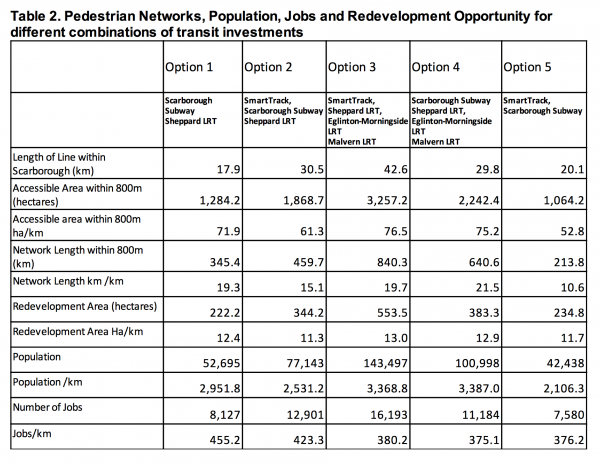 Without question, the most thought-provoking part of the study is Table 2, which examines the impact of five different permutations of the five lines proposed for Scarborough. They conclude that "Option 3" – Smart Track plus the three Transit City LRT routes – produces the longest network, but many other benefits:
"[It] creates by far the largest area accessible to rapid transit by walking: 3,257 hectares. It also generates by far the largest total pedestrian network within 800 metres of transit stations at 840 km, about four times the extent of option 5, which would cost more to build. It has by far the largest potential redevelopment area, at 554 hectares, and reaches the largest population within walking distance of stations (143,497 people)."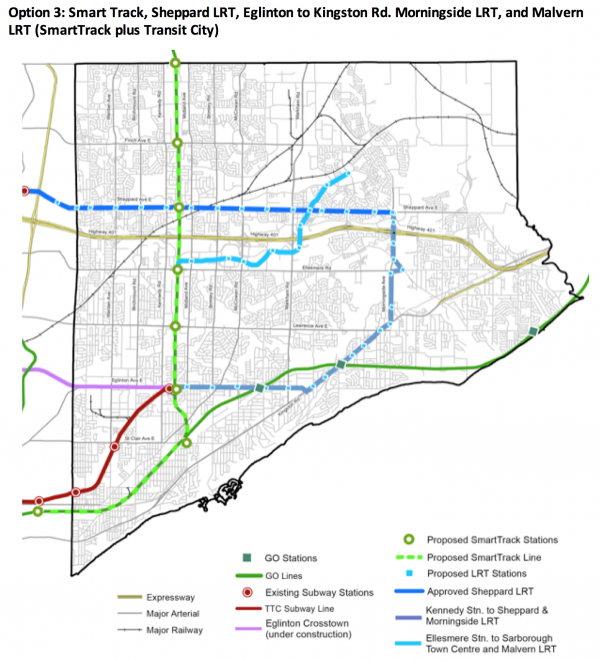 And if that's not enough to satisfy the sceptics, Option 3 "would be less expensive than any of the other options, even though we do not know what SmartTrack will cost, because all the other options include the subway, which by itself is more expensive than all the LRT lines combined."
Sorensen and Hess have written the report that city staff should have presented to council and the public in 2013. The current political regimes at City Hall and Queen's Park should take note: these academics are offering a solution for the financially catastrophic mess that is the proposed Scarborough subway – a mess that will utterly eclipse the Spadina subway's financial woes and bankrupt the city.
This time, our political leaders must not look away from the evidence.