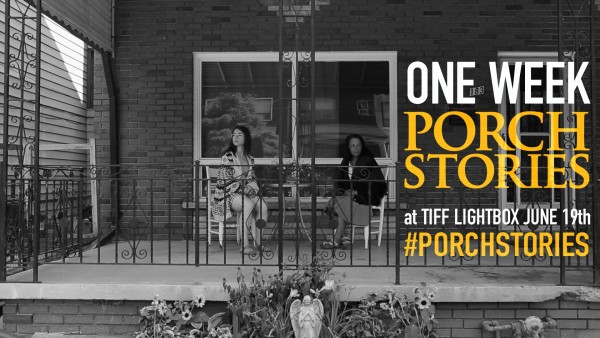 What: Porch Stories
When: Friday June 19th — Thursday June 25th 6:45PM
Tickets: Via the TIFF website
Toronto is (in)famous for being the stand-in for other films about other cities but on Friday a Made in Toronto film where Toronto plays itself premiers at the TIFF Lightbox. Porch Stories by Toronto filmmaker Sarah Goodman explores love and life on the porches of Toronto's Little Portugal neighbourhood. Take a peek at the trailer above and check it out later this week. Full disclosure, I make a brief cameo appearance in the film. The 20-30 seconds took over 3 hours to film. Rain, garbage trucks, and a prop "for rent" sign in the front yard continually attracting the attention of passerby made the location shoot a challenge, so I've a renewed appreciation for the effort that goes into independent films like this one. After the Friday premier the film runs all week at the Lightbox.
Porch Stories
A restless thirtysomething finds her carefully planned-out life slipping into utter confusion over the course of a single afternoon, in the award-winning feature debut by Toronto writer-director Sarah Goodman.
Packing to move to her new home with her workaholic fiancé, restless thirtysomething Emma (Toronto indie musician Laura Barrett) is suddenly confronted by a man from her past (José Miguel Contreras, lead singer of By Divine Right). As the day progresses, Emma begins the inevitable comparison of the two men, and as she uses the vantage of her porch to observe her neighbours — including an elderly Portuguese couple arguing about divorce, and a musical brother/sister duo who are pursuing their dreams without worrying about the consequences — her perceptions about love, her past, and her future radically shift. Making her narrative feature debut after the acclaimed documentaries Army of One and When We Were Boys, writer-director Sarah Goodman crafts a keenly observed portrait of both a neighbourhood and a young woman watching her carefully planned-out life slipping into utter confusion.