My inbox has been filling up all summer and into this balmy fall with the righteous indignation of two well-heeled neighbourhood groups whose members profess to be defending the ecological integrity of local parks in the face of municipal outrages.
In Ramsden Park, one group reared up over the evidently distressing prospect of a wheelchair accessible switchback ramp along the south slope, near Hillsboro Ave., to be installed as part of a $7 million revitalization. The project, a spokesperson says, is overly expensive, unnecessary, and will lead to the destruction of "countless" trees in a park that was, apparently, part of Toronto's ravine system. This last claim could be true, but, as the area's residents undoubtedly know, their park has been partially dominated by a municipal works yard since the 1920s.
Meanwhile, over in beleaguered Rosedale, another group has been demonstrating in recent days over the long-delayed construction of a switchback path linking Chorley Park and the Mud Creek/Evergreen Brickworks trail, a project they've known about for two years, and which has been subjected to all manner of public consultations, design tweaking, and engagement with municipal officials.
The Friends of Chorley Park is clearly a media savvy group, and their stagey protests are apparently meant to raise the profile of this latest species of incursion on environmentally sensitive ravine slopes.
Except, of course, their outrage – served up with a side of photos of placard-carrying Rosedalians — has nothing whatsoever to do with these ostensible concerns, any more than the Ramsden Park controversy is about a ravine park.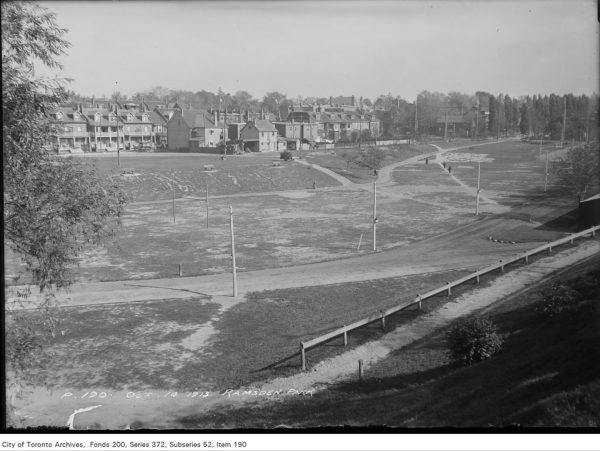 Indeed, ask yourself when was the last time you heard of groups in Rosedale or Moore Park or Cedarvale staging demonstrations about the long-standing practice of affluent ravine-lot owners fencing off parts of those same slopes for their own personal use. Never, that's when.
Let me offer a few brief observations about ravine slopes in Toronto, a great many of which would have been denuded and scruffy-looking in a previous era of the city's development.
As anyone who's strolled through the Mud Creek ravine will well know (Chorley Parkers, I'm looking at you), cleared areas rejuvenate remarkably quickly, as a recently completed path reconstruction project amply demonstrated. And of course, the Brickworks itself is a spectacular example of not only the ecological resilience of this particular ecosystem (Carolinian forest), but also the ways in which man-made (and accessible) paths can co-exist with re-naturalized spaces.
Exhibit B: a wheelchair/stroller accessible switchback trail built well over a generation ago from Blythwood Road down a slope and into Sherwood Park. When the City decided to replace a rickety old creosote-soaked railway-tie staircase with a properly inclined ramp, parks crews had to clear the slope.
And guess what? It all grew back, and then some, and did so quickly. Today, you can barely see the switchback.
In that case, there were no protests because the path provided Lawrence Park parents pushing strollers with more straightforward access to the park and the playground a few hundred metres away.
So if one is to take these gripes at face value, it's difficult to know what the big deal is. We can all reconvene in five or ten years and that apparently desecrated slope falling away from Chorley Park will look pretty much as it did earlier in the summer, before it was cleared, except that it will also contain a properly inclined and landscaped path linking one part of the city to its ravine system.
Of course, it's the prospect of that linkage – and fears of the foot traffic through this enclave – which puts the lie to all the local protestation, although I boldly predict that Rosedale's activists will be the first to use the path as a short-cut down to the Brickwork's farmer's market or a morning stroll in the ravine.
When I wrote about Chorley for the Globe and Mail almost two years ago, a local spokesperson teed up the classic NIMBY excuse – there's access to the ravine trail via the parking lot in front of the Brickworks (i.e., elsewhere), so why is this secondary entrance necessary? Similar objections have surfaced with the proposed Ramsden ramp.
If you navigate the city in a wheelchair or motorized scooter, you've surely heard that song before: there's an entrance around the back or through the loading dock. It'll have to do, and remember to contact the caretaker before you arrive, etc.
Yet for a whole range of people with a whole range of mobility issues – everyone from parents with strollers to active seniors with cranky knees – this infrastructure levels the accessibility playing field and makes the city's public spaces more democratic, more universal and less contingent on provisional solutions. That's the genius behind universal design.
Quite apart from the policy and design particulars, these two attempts to gum up the City's efforts to make parks and ravines more accessible raise tough questions about park-focused advocacy groups.
In recent years, Park People and other civic-minded organizations have advanced ideas such as parks conservancies and talked up the constructive role that "Friends of" groups can play in terms of advocating for vibrant public spaces.
I don't want to suggest that the animating principles behind such efforts aren't laudable: Jane Jacobs' 'eyes on the street' formulation applies to parks, and the notion of creating more opportunities for residents to engage with the city's public spaces is, of course, important.
But as the Ramsden and Chorley stories suggest, there's a blurry line between inclusive engagement and exclusion-minded lobbying. As is the case with many homeowners associations, the members of 'Friends' organizations may come to regard themselves as neighbourhood gatekeepers and arbiters.
A well-loved local park is an intimate refuge that prompts understandable feelings of ownership among those who use it regularly. But that subset of locals who have stepped up to raise funds for a conservancy or serve on the board of a Friends group may go one step further and conclude that they are therefore entitled to dictate to the City what should and should not pass muster in their parks.
Which is exactly what's happened with Chorley and Ramsden. And potentially other parks.
As the emails I've been receiving from the Ramsden group clearly indicate, their organizers drew encouragement and inspiration from the Chorley Park protesters. The narrative and techniques of oppositional, well-resourced advocacy are not only transferable; they are also readily concealed in the more benign guise of environmental and parks-oriented stewardship.
With Chorley Park, Kristyn Wong-Tam, the local councillor, knew the game and stood up to the neighbourhood's pressure tactics. Other councillors may have less backbone because they're more beholden to homeowner groups. So even though these switchbacks will be constructed, those who advocate for universal access should all be deeply concerned about the precedent that's been set.