Amidst the discussion of the potential and challenges of building new mid-rise buildings to increase density along Toronto's main streets outside the core, it might be worth paying attention to a modest type of new infill building that pops up here and there on main streets in the older parts of the city. These are generally 4-storey mixed-use buildings built quickly on one or two lots, replacing smaller previous buildings. They are often inserted beside existing, attached buildings.
I think of these as high low-rise buildings — Hi-Lo is maybe catchier — because they share more characteristics of low-rise buildings, stretching those characteristics to their practical limit.  They can be contrasted with low mid-rise buildings, which might be a similar height but are usually built as a single large, detached project over many lots (examples are visible, for example, along Kingston Road east and west of Victoria Park).
Many have pointed out that mid-rise buildings (5-11 storeys) present a variety of challenges. They share many cost elements (in money and time) of high-rise buildings but don't benefit from the same economies of scale. These costs include land assembly, underground parking, elevators, and re-zoning processes. The costs in time mean that they can take a long time to get built. The costs in money mean that, generally, the prices of their units are fairly high, and the retail at their base is mostly likely to end up as well-established chain stores. As former Chief Planner Jennifer Keesmaat noted at the Building Vibrant Main Streets event, there's a danger that extensive new mid-rise building along a main street could knock out the local, independent retail that gives a street its character, and keeps money circulating locally.
Hi-Lo rise building can help alleviate some of these issues, while still increasing density along a main street to some extent. They generally replace 1-3 storey buildings, and possibly add some extension towards the back of their lot, so they can increase square footage by anywhere from 33% to 300%. Since they generally replace the same size of storefront, they often maintain small floorplates better suited to independent businesses (Keesmaat, at the same event, said that the City does not at the moment have the tools to dictate floorplate size in new developments). The second floor is sometimes used for professional offices, creating local employment and daytime use. Upper floors will likely be residences, either condos or rental. (They can be thought of as the main street equivalent to walk-up apartments).
It wouldn't be accurate to say any of this is "affordable" — a new building still has costs to cover — but there is potential for costs to be lower than a mid-rise, and therefore accessible to a wider and more varied market. Some of the potential cost savings include:
No underground parking requirements, for various reasons.
Depending on how the interior is organized, no elevator required.
Wood frame construction rather than concrete (wood frame construction is now available up to 6 storeys or even more in some circumstances).
No re-zoning process required, saving money and time on lawyers, fees, etc. These buildings are generally as-of-right or only require minor variances that should pass easily.
These projects are more easily undertaken by the existing landowner (rather than a developer who has to assemble the land), in which case the cost of land may have already been paid off.
Another advantage for a city with strong demand for density along existing and new transit corridors is that these buildings can often be built more quickly. No long-term land assembly is necessary — just one lot or maybe two adjacent lots. There's no long rezoning and public consultation process to go through. There are fewer complicated construction issues to figure out. Wood framing can reduce construction times. They may not need to wait for a large number of units to be pre-sold before building.
These buildings are also more flexible, for example, they are easier to insert on shallow lots where larger projects could be challenging, such as some parts of the Danforth where shallow lots have apparently discouraged redevelopment.
Hi-Lo rise buildings are not glamorous — many are architecturally uninteresting, although that is true of some mid-rises as well. But by mixing potentially independent retail, employment, and housing, they contribute to main street vibrancy and may be a practical way of to create a rapid increase in density along main streets, especially in less in-demand parts of the city. As well, this kind of "incremental development" can encourage the maintenance, even after redevelopment, of the kind of variety and vitality that affordable old buildings bring to a main street. There may be some additional steps the City can take to encourage this kind of building.
I'm no expert on construction, so I'd be interested in any other insights about these buildings our readers have to share.
Below are some examples of Hi-Lo rise buildings I've collected, reflecting the variety of forms they can take.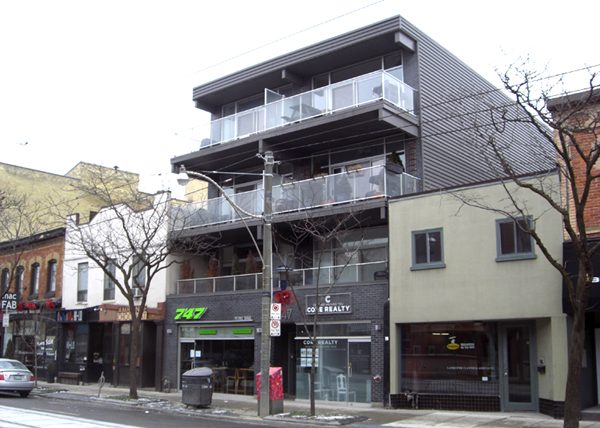 This building, at 747 Queen East, is a quite elegant example of the type. It adds two extra storeys of residences (with very nice balconies) compared to its neighbours, in a style that is modern but fits well with the older brick buildings near it. The two storefronts are both small and suitable for independent businesses.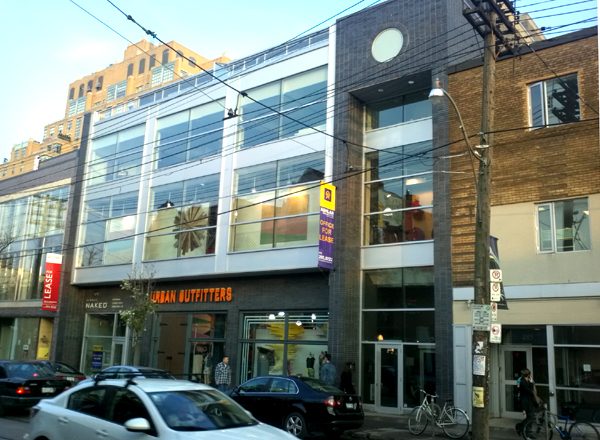 This building at 481 Queen West adds an extra, stepped-back floor at the top compared to its neighbours. The retail space includes both a larger space for a chain store, and a smaller space suitable for an independent store. The ground floor is set slightly back from the property line, which might not be consistent with its neighbours but creates a welcome opening of space on Queen West's narrow sidewalks.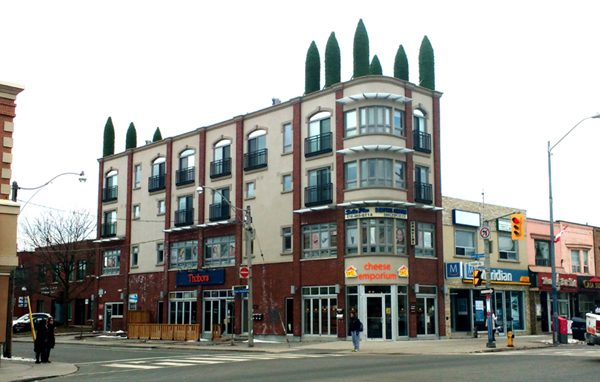 This peculiar building at 479 Danforth Ave. (at Logan) won't be winning any architectural awards. But it fulfills the needs of mixed-use density well, replacing a two-storey building on a narrow lot, creating space for two independent (although upscale) stores, with a dentist office on the second floor for added local employment and services and additional residential space on the upper floors.