Starting in the late 1940's after years of war and economic struggle, the appearance of the North American family home began to change. Post war architecture moved away from elegantly carved wood, and intricate details, and began focusing on "design for living"; practical choices in form and function. Influences from Bauhaus, Mies van de Rohe, and Frank Lloyd Wright migrated from neighbouring California and Oregon into our own corner of the world. Like all things Vancouver however, we did it a little differently.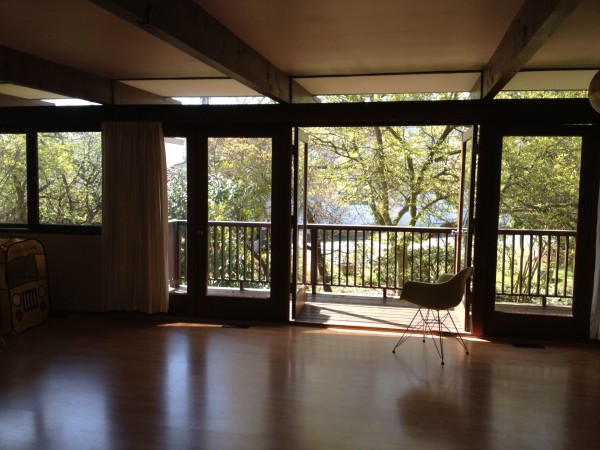 Mid-Century architecture played off of the earlier Modernist movement of clean lines, materials in their most basic form, and efficient use of space. West Coast Modernism takes all of those basic tenets and adds an association to nature and an emphasis on local materials, such as hard woods and stone. The resulting structures are functional with a high degree of connectivity to the outdoors. Our rugged terrain can be unforgiving and in many cases dictates how structures are built. West Coast Modernism embraces that challenge using our stormy climate and dense landscapes as inspiration.
West Coast Modern design is characterized by open floor plans, simple post and beam construction, flat roofs, and a heavy use of glass including floor to ceiling windows and expansive skylights. Glass is positioned to best utilize the surrounding elements including exterior plantings, landscape views, water features, and even the path of sunlight. These homes can be incredibly striking with summer sun casting long straight-edged shadows across stone floors, or entire walls of glass overlooking ocean front views.
A great example of this use of light and glass is Robert McKee's 1956 "Waroway-Stuart House" on the University Endowment Land. The U-shaped design wraps around a square central courtyard with full height glass walls on three sides. The center of the courtyard contains a shallow reflecting pool which bounces natural day light into the home. The north wall off the courtyard is a full 60-feet of glass giving an uninterrupted view of the landscape, and allowing an unbelievable amount of natural light into the home. The low roofline allows the natural forest and skyline to fully encompass the home, creating a private oasis.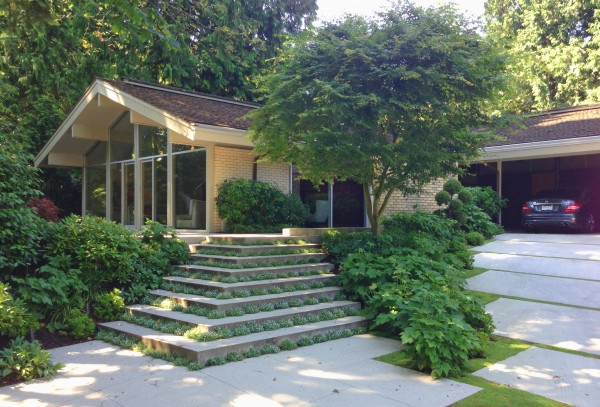 Space planning is another important element of West Coast Modernism and is well seen in Harold Semmens "McFetridge House". Built in 1960, the T-shaped floor plan cleverly positions the childrens' bedrooms and carport in the stem of the 'T' towards the street, while the living spaces and master suite run along the top of the 'T', allowing for privacy and full access to the gardens. The current homeowners purchased the 50 year-old house expecting to renovate, but were surprised at how easy the design was to live in. Their renovation plans quickly converted into restoration plans.
Our modern sensibilities push us to celebrate the shiny and new, however when sitting in one of these remarkably designed homes, the attention to detail, thought and connection to nature are hard to deny. Join VHF for the Mid-Century Modern Tour on August 17th as we explore the true beauty in simplicity. We tour inside these 2 homes plus 3 equally beautiful homes and take a look at how modern families are utilizing the open spaces, and making the most of their elegantly practical design.
Research Credit:
The Poetics of West Coast Modernism in West Vancouver Barry Downs, 2005. West Vancouver Cultural Services.
Melding Architecture with Landscape Barry Downs, 2013. West Vancouver Museum.
Atomic Ranch: Mid Century Interiors Michelle Gringeri-Brown, 2012. Gibbs Smith.