Laneway Living Rooms: Grandma's House
WHEN: 12pm – 9pm Saturday, July 29th, 2017
WHERE: 1027 Commercial Drive laneway (south of Venables St between Parker St and Napier St)
Kitsch, cookies and nostalgia with an East Van twist – Welcome to Grandma's House! Grandma's House is the first of the Vancouver Public Space Network's two Laneway Living Room activations taking place this summer. The intent of this tactical activation is to demonstrate the potential to rapidly and inexpensively transform unloved and underutilized laneways into people-friendly public spaces. We invite you to come hang out in Grandma's House!
Background:
Laneways take up a significant amount of land in Vancouver, and yet only a handful of these spaces are welcoming for people. In the early 2000s the City of Vancouver-led Country Lanes initiatives added substantial greenery to three laneways. From 2011-2014 the grassroots group Liveable Laneways programmed laneway spaces with events from markets to fashion shows. Last year the City committed $100,000 to fund the long-term, large-scale transformation of three laneways including (Alley Oop).
Details:
This summer the Vancouver Public Space Network, with a grant from VIVA Vancouver and support from great neighbours, is transforming two laneways (for one day each) into fun and friendly spaces using upcycled furniture, flea market finds, and pallets. East Van is the first neighbourhood up! Join us for Grandma's House – a laneway activation taking place south of Venables between Parker Street and Napier Street (address is 1027 Commercial Drive) on Saturday, July 29th. This activation will use some creatively upcycled materials to recreate Grandma's House (yours? mine? somebody's!) You can expect food, games, big band music, classic movies, and maybe even a spot of afternoon tea.
Isn't it time you paid your grandma a visit?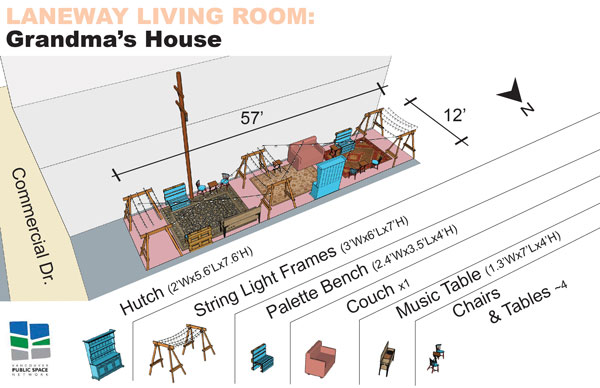 ***
For more information, visit the Vancouver Public Space Network website.