Editor's note: This essay was initially published in the Capital Modern catalogue from the Art Gallery of Alberta, 2007 . The author, Trevor Boddy, is a Architecture Critic/Curator and Consultant in Urban Design based in Vancouver. He will be presenting at the Society for the Study of Architecture in Canada annual conference in Edmonton this Friday and has agreed to repost his essay on Spacing Edmonton in a five part series.

"The bridge is a black iron tunnel in which patterns of parallel lines and acute angles are repeated and repeated until they knock at the senses like a film run too slowly; each picture is both separate from and like all others."
Robert Kroetsch
The Studhorse Man
As is true for each of us as people one by one, the best and worst qualities of cities dwell closely together.  The story of the rise of Modern architecture in Edmonton just before and after World War II demonstrates this city's latent strengths, its sense of possibilities as wide and shining as the horizon. At the same time, our architecture gives built evidence of Edmonton's cultural insecurities, its lack of a sense of identity and direction, the assorted urban neuroses of Alberta's capital city coming of age, perched as it was, at the very edge of the Western world.
Architecture is a cruel but accurate indicator of the spiritual and intellectual state of a city. Because assembled bricks, mortar, steel, concrete and glass endure for decades, sometimes centuries—if treated with respect and regular maintenance, all too often missing in Edmonton—architecture does not permit the quick shifts of cultural identity to be found in literature or the fine and media arts. This is why architecture can be more interesting than these other arts, as its profundity is earned and supported sparingly by clients, never invented in a bohemian vacuum. Architecture reveals, sometimes brutally, Edmonton as it really is—not how it imagines itself, not how others picture us—but this town-becoming-city, its values, it businesses, its personalities, its institutions, its politics, its talents, its ethnic mix, its sense of place, and sometimes, but very rarely, its sense of play.
The story of the rise of architectural modernism here is in large part a global story, played out at all latitudes and longitudes using the same well-worn script written by Wright, Gropius, Mies, Le Corbusier and the others listed elsewhere in this volume. Modern architecture congealed first in the bitter aftermath of World War I in Europe, then spread in altered forms to South America and the United States, then Canada, Oceania and the rest of the world. Recognizing this pattern—and my first book, Modern Architecture in Alberta, written as a 3rd year architecture student, may have recognized this pattern too much—the rise of modernism is simultaneously the most local and the most international of all possible stories. But the best Modern architects also deal in an immediate and honest way with how to live in a single place with infinite potential. Thus the best architectural Modernism inflected specifically to sites of its construction, exploited new local building materials (like composite wooden Glu-lam beams in Western Canada), even tried, in a tentative way, to deal with climates different from those of Northwest Europe.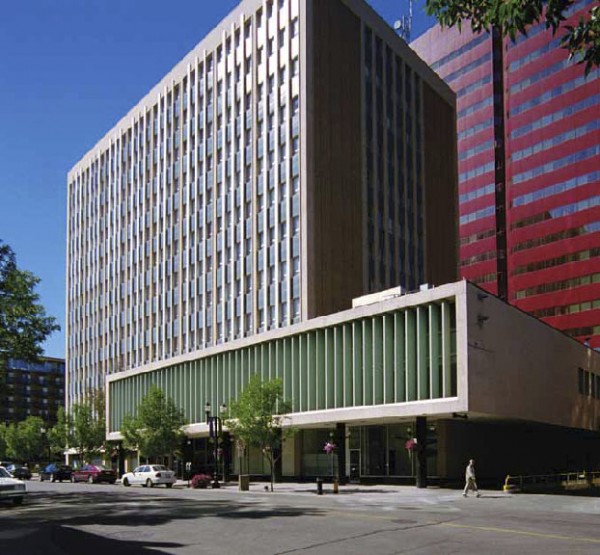 The ethos of modernism was key to the transition from our agrarian past to a natural resource-exploiting future, but this shift happened in as unique-to-Edmonton way as the wild horse chase across Edmonton's High Level Bridge, a complex and powerful image at the heart of Robert Kroetsch's 1970 novel The Studhorse Man. What better description is there of so-called "International Style" Modern architecture than, borrowing from my mentor Kroetsch, "Each building is separate from and yet like all the others," the optical effect of them being "patterns of parallel lines and acute angles repeated and repeated until they knock at the senses."
By way of introduction to the remarkable collection of Edmonton buildings assembled here for you to see, read about, and by far the most important, get out to tour for yourself, I hope to give you something to think about. This essay proposes four factors in Edmonton's urban psychology that have shaped our architectural culture. To the degree that this is an attempt to get below the surface and into the character of the city where I was born and educated through age 22, what follows is a psycho-analysis of Edmonton from an anti-Freudian.
The Virtues of Isolation = Autonomous Re-Invention
Speaking of age 22, Canada's most famous and influential public intellectual—Marshall McLuhan—spent his entire life in Edmonton and Winnipeg until departing for graduate studies at Cambridge at that age. Late in life, McLuhan reflected on his Edmonton birth, then Winnipeg education through an undergraduate studies at the University of Manitoba. McLuhan described as what was in the 1920s—and truth be told, is still now—the edge of the world, these prairie cities serving as the source of his innovative thinking about the power and modalities of communications media. Borrowing an idea from Harold Innis, McLuhan holds that empires are best understood from their edges, not amidst the splendours of London's Somerset House or Pall Mall, or Moscow's Red Square, but rather at the furthest extension of their influence.

Thus Canadian plains cities served as the perfect perch to understand the ways in which magazines, newspapers, radio and the cinema were transforming society, all the more so because geographic isolation and the nature of the information industry meant they were almost solely consumers of mass-media, not producers of it, being at the outer orbit of the empires of Madison Avenue and Hollywood. Proclaiming another Western Canadian virtue often thought to be a liability, McLuhan argued that the non-specialization of life on the prairies (a harsh landscape and extremely low populations densities forced farmers to be meteorologists, mechanics, accountants, botanists, veterinarians, builders, managers, politicians and poets), imparted an admirable independence of thinking amongst its residents. Prairie cities made McLuhan's mind, and it is high time that this city names a building or street after a man who is easily the famous Edmonton-born intellectual.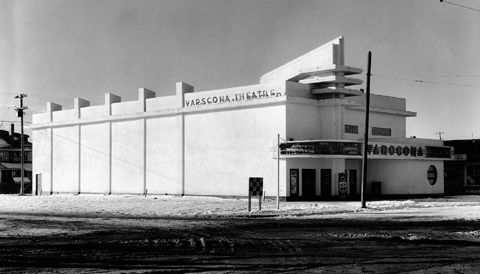 In their rush to appear cosmopolitan, Edmontonians tend to miss the advantages—such as McLuhan knew—of our city's isolation, often diminished by its own inhabitants with labels like "North America's northernmost major city," "The world's coldest provincial capital," or one current when my father was growing up in Thorsby, "Gateway to the muskeg." With a bow to our postmodern cultural theorists, it is no so much that Edmonton was actually isolated, but that we thought it was, revealed through phrases like these.
The architectural advantages of isolation are many. For one, no matter what other architectural ills this town may possess, fey metropolitan flummery is not one of them. Edmonton's isolation leads to strikingly advanced buildings like the Varscona Theatre, decades ahead of its time by expressing its rooftop air conditioning unit as an architectural element. By the same token, being out of the metropolitan loop sometimes means a substantial delay in architectural thinking.  Edmonton's Federal Building, not completed until the 1950s might well be the last major Stripped Classical/Art Deco public building to be completed in Canada, designed as it was in the 1930s by a politically-connected architect even then nearing the end of his career. Only a place as isolated as Edmonton would break the rules and innovate, as at for the Varscona; only a place as isolated as Edmonton would push ahead with a 20 year-old design simply to save on design fees.
Another positive feature of isolation is the freedom of a city such as Edmonton—like that enjoyed by an individual living out in the bush, or on an extended international trip—to re-invent themselves in an un-fettered way.  Paris has many wonderful qualities, but the millennia-old momentum of its urban form and culture means that it cannot re-invent itself on a whim. As will be seen in the next section, Edmonton can and has re-invented itself with every major commodity price boom/bust cycle.
TOMORROW (Part II): Discontinuous History of Boom/Bust = Messy Vitality