In countries like Canada, where the car is still king, highways and roads are perhaps the most ubiquitous form of infrastructure around. There are 900,000 kilometres of road in this country which, according to Transport Canada, is enough to circle the globe 22 times.
While highways have been a preoccupation in terms of maintenance, safety, and expanding the network, they haven't inspired a lot of creativity: they're there, they serve a purpose, they are quite literally a means to an end.
But Daan Roosegaarde, an award-winning artist and designer, saw these public spaces as an opportunity for innovation.
"I think it's interesting to consider the roads, not only as something which should be low maintenance and cheap, but actually explore the notion that it is an interface – of information, of experience," Roosegaarde tells Spacing. "Even when you drive in Toronto, I don't see the architecture, I see the road because of the grid and the narrow streets. So it's interesting to sort of infiltrate that quite conservative discipline."
Partnering his own Studio Roosegaarde with Dutch development firm Heijmans, Roosegaarde launched the Smart Highways project, which has reinvented a 500 metre stretch of highway in the province of North Brabant, Netherlands.
Currently, the Smart Highways pilot project uses a specially designed phosphorescent paint, in lieu of electronic lights, to illuminate highways and provide a stark replacement for traditional painted lines, improving visibility while saving energy. But Roosegaarde has a whole host of innovations which would improve the safety and sustainability of highways: weather sensitive markings which, when activated by cold weather for example, warns drivers of hazardous road conditions, interactive lights which only activate in advance of approaching cars, even an electric priority lane which would use induction to charge electric vehicles as they drive. These are all relatively low tech, and have to potential to be implemented quickly, and cheaply.
Roosegaarde says the idea for the project came to him while he was driving, and he began to wonder why people don't utilize design principles when it comes to highways. For better or worse, these roadways, he argues, determine what our landscapes look like, more than, say, a park.
"I'm a happy infiltrator," Roosegaarde says. "This is my job, to question things and come up with new proposals."
Roosegaarde has been bringing his ideas to Canada, speaking alongside Toronto's Chief Planner Jennifer Keesmaat at the MaRS Centre, and the Digifest Toronto festival last spring.
He says it's important for governments to allow for experimentation to happen – as it did in the Netherlands with Smart Highways – so that a new generation of ideas can help make a city, or country "future proof."
"Realize that the current way of doing [things] is failing. I mean, that's a simple conclusion in terms of economy, in terms of how we use energy, in terms of how we think the future should look like."
The Smart Highways project didn't begin as a government-funded program, Roosegarde says, but once the idea was out there, many in government took notice. Then they wanted it.
That, according to Stephen Buckley, general manager of transportation services in Toronto, is typically how municipalities adopt infrastructure innovations.
"It is challenging, even for a municipality of our size, to put a lot of resources into trying to develop innovation in-house," Buckley says. "Typically what you'll see is there will be combined research programs, or foundations who start testing new technologies, new innovations. Then, a few years down the road they get mainstreamed, and then large governments and municipalities and things will start adopting. So that's, historically, been the sort of model, in terms of how innovation occurs."
Roosegaarde says, while some of his interactive installations have been "techno-poetry statements," not designed with scalability in mind, Smart Highways and the Smog Project – which harvests the smog in Beijing to at once clear the air and create jewelry out of the compressed particulate – are definitely meant be spread wherever they are needed.
"They're definitely out there to be scaled-up, and they are definitely out there to update reality. This is way beyond the scale of a one-off, or an art work. It's hippie, but it's also business."
Photo: a Daan Roosegaarde design, used with permission. See Studio Roosegaarde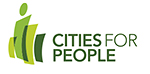 The Cities For People features are a project between Spacing and Cities For People