Author: Shannon Mattern (University of Minnesota Press, 2007)
"The legitimacy of the library is in question"  
— Rem Koolhaas during the design of the Seattle Central Library in 1999 (paraphrased).
In the digital age, the legitimacy of the library is in question.  The definition of the library's function in society is increasingly complex.  Libraries have always been places of learning, but they are also synonymous with books and physical media.   In a time where it is possible to access mass amount of media from any place at any time, having a physical space to house media can seem outmoded.
"The New Downtown Library" by Shannon Mattern introduces the struggles of what it means to be a library in the 21st century from an architectural perspective.  Mattern takes the reader through the design processes of several important new downtown libraries from across North America. With each one, the book explores the journeys taken by different cities to create some of the continent's most impressive new public buildings. The main theme of the book is the reinvention of the library for the future.  As part of this reinvention, new libraries must be designed to fit their evolving context. As Mattern shows us, successful library buildings not only challenge our preconceptions of what the library is supposed to be, but they challenge the user to interact with it in a new way.
Designing and building a new library is intensely political. There is a spectrum of preconceptions of what the library is supposed to be as well as those who challenge the need for a library at all.  The library is a public building like no other as it is one of the few places that is intended to be used by everyone. The weight of designing a building that works for everyone in a community is a monumental task, and many major cities have opted to hire world-class architects in hopes that new library buildings can stand as monuments of civic pride.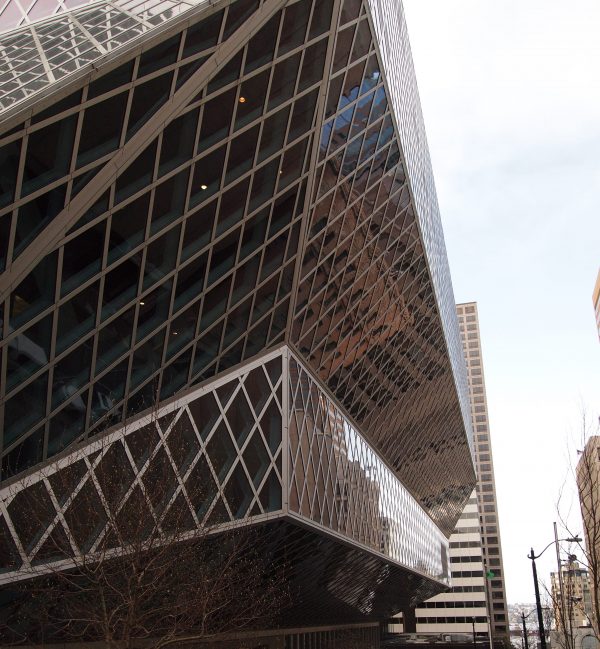 As Mattern shows, a library's functional success is greatly tied to its form.  Architects must fully understand how the building is used, by whom and for what purpose.  Depending on the city, libraries can take on different roles. In Phoenix, youth became an integral part of the library design process and helped to create an entire floor that has become a highly successful civic living room for teenagers. In San Francisco, however, the design team became overly excited with the integration of digital media and the resulting building did not have enough room to house its book collection.
Successful libraries come from processes that involve all users, including staff.  In Denver, the new library was reorganized in a way that eliminated many of the information desks and challenged the staff to think differently about their profession.  Now, the librarians are mobile and equipped with headsets so they can have more natural interactions with patrons.
Libraries must evolve to keep pace with changing media while respecting traditional forms.  New libraries have widened their suite of services to include digital media and online services, while also showcasing their vast collections of materials collected over time.  "The New Downtown Library" reminds us that the library is not just a place where people go to check out materials, but these are places where people can congregate and interact.  Libraries are still popular places for studying, reading and research. In our own city, the Vancouver Central library's Inspiration Lab has expanded the role of the building to include media creation.
The library is still legitimate. Mattern explains that media (books, movies, music, etc.) is not just content, but content that has been formed and presented a certain way.  The form the media takes, whether it is digital or physical, impacts how it impresses upon us, and libraries make these forms available to us.  New libraries are not obsolete book depositories draped in new architecture, they are evolving to meet the needs of the future from the inside out. Mattern successfully illustrates the complexity of library function and gives us hope for the institutions continued growth and legitimacy.
***
For more information on The New Downtown Library, visit the University of Minnesota Press website. 
**
Andrew Cuthbert works as a planner and has a love for everything to do with spatial data. When not working Andrew can most likely be found on his bike taking in the sights and fresh air.