Author: Frank Jacobus (ORO Editions, 2016)
Like so many wonderful facets of world that permeate our lives, colour is often taken for granted. More than a visual phenomenon, its references penetrate the language we use—think, "That came out of the blue" or "I'm tickled pink" or "He is green with envy"—and are infused with emotional content and meaning. As such, colour and culture are intimately interwoven, offering a rich area of research and knowledge.
With the growing pervasiveness of information, perhaps it was an inevitability that someone would attempt to meaningfully bring together both widespread phenomena—colour and data —in book form. And one can think of no better person to do so with wit and intelligence than Frank Jacobus, author of well-received and insightful Archi-graphic: An Infographic Look at Architecture. In his most recent work, The Visual Biography of Color, Jacobus uses his acuity and superb aesthetics sensibilities towards revealing the complexity of colour and its important cultural connections.
Cleverly structured, the book takes readers through the visible colour spectrum, starting with red and flowing seamlessly through orange, yellow, green and so on. On the way, readers are treated to beautiful information graphic spreads that speak to some aspect of their respective colour. The data visualized speaks to, in the words of Jacobus, "high-brow and low-brow culture, embracing colloquialisms and idioms that reveal how deeply embedded the idea of color is culturally." As such, one is treated to a variety of visuals and themes: everything from the Cultural Meanings of Colour….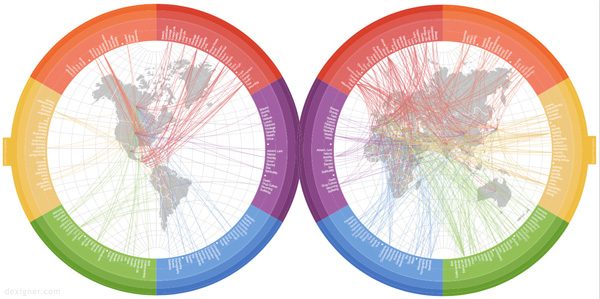 …..to the locations of movies with 'blue' in the title ….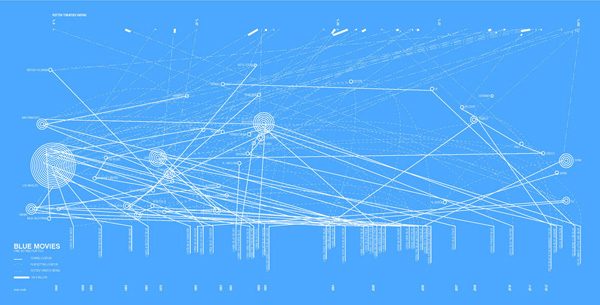 …and poems with the word 'purple' in them.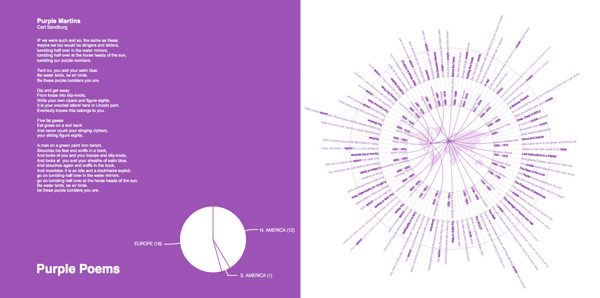 Interesting quotes from artists and figures of all colours (pun intended) are also woven intermittently throughout the text, as thoughtful provocations. Although certain themes repeat across colours (such as mapping subway lines of specific colours, and tracking and categorizing Google hits) there is enough variation in The Visual Biography of Color to make for an entertaining journey for both the eye and mind: one that definitely opens the doors to a greater awareness of the cultural complexity of colour.
***
For more information on The Visual Biography of Color, visit the ORO Editions website.
**
Erick Villagomez is one of the Editor-in-Chief at Spacing Vancouver. He is also an educator, independent researcher and designer with personal and professional interests in the urban landscapes. His private practice – Metis Design|Build – is an innovative practice dedicated to a collaborative and ecologically responsible approach to the design and construction of places. You can see more of his artwork on his Visual Thoughts Tumblr and follow him on his instagram account: @e_vill1.