"To make this course of action clear to my French readers, I must explain that in Italy, a country very far away from us, people are still driven to despair by love."
Stendahl Syndrome can be defined as an emotional anxiety attack that one can be stricken with as a result of looking at too much art in too short a time. Put another way, the human heart can only take a finite amount of artistic endeavour all at once. Such was the plight of the 19th century writer Stendhal, with reference to the emotional breakdown he is reputed to have had in the nave of Santa Croce in Florence, shortly after visiting the Accademia and Uffizi.
And so it was tragic news that my wife and I learned while visiting Florence this past month that a Spanish tourist died in the same church, crushed by a falling stone, around the same time we were climbing the stairs of the Duomo. Safe back in our hotel at the end of the day, our thoughts were with the family of the poor man, providing us a moment of perspective to realize we were not just visitors to Florence, but all of Italy, and to be respectful and courteous of our gracious host.
This is the third travel piece I have now written for Spacing, the previous two being on Barcelona and Holland. Recently rereading those earlier pieces, I could not help but be stricken by the change in narrative since the first feature in 2010. More a survey of Barcelona's architecture, galleries, bookstores, markets, and churches, it seems to me now more a naïve attempt to create an NFT—'Not For Tourists' guide—for Barcelona demanding that one blend in with the locals in order to truly appreciate the city. My traveling companion and I had Italo Calvino as a guide that time, with Invisible Cities a palimpsest of how I experienced Barcelona and helping to tell its story upon our return.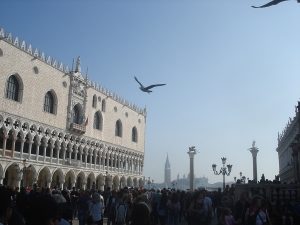 In contrast, my second travel piece was much more extroverted, written to escape the ennui of the day-to-day, with the panacea being a visit to several cities in the Netherlands—the Hague, Amsterdam and Rotterdam—writing about the new and exciting architecture  that had just recently been completed in those cities. For the galleries my guides were the Dutch masters – Rembrandt, Vermeer, Breughel, and Bosch, accompanied by new and old architecture alike, like the new Van Gogh Museum and Stedelijk next to the Rijksmuseum in Amsterdam's Vondelpark.
This time out, however, there was no denying that I was a 'tourist' rather than a 'visitor', made especially evident by my limited Italian speaking skills, along with my seeming inability to properly match my meal to its beverage, for which I blamed being out of sync with the siesta-style business day. And with this visit to Italy being the first for my traveling companion, the two week's itinerary included visits to all the great works of art and architecture in Venice, Florence, and Rome. In marked contrast, we saved a few days for some of the smaller cities and towns, including Ferrara and Siena, which would be a first time visit for both of us. This time would also include four blissful days spent in a Tuscan villa in the Chianti region, miles away from the nearest town, ruins or art gallery.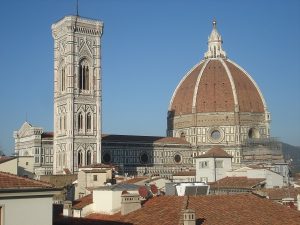 Visiting Italy as a youth in 1994, I could not have imagined that on my return, some two dozen years later, we would be in the midst of such a dramatic paradigm shift. Specifically, one in which travel photos could be viewed and posted online immediately, with city maps and ticket prices for attractions available at one's fingertips, and travellers from all walks of life and all corners of the earth easily able to travel to see the usual suspects of the country's history, whether Imperial, Medieval, or Renaissance.
When we remark in casual passing on how much our world has changed in such a short time, nowhere does this seem more evident I think than Italy, where large city buses navigate narrow streets, Venetian gondoliers text on their smartphones, and old medieval cities like Ferrara have shifted from horse-and-buggy to automobiles to bicycles in the space of one generation.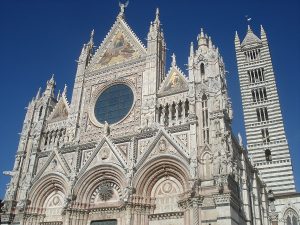 Meanwhile, Rome and Florence have fully and completely been transformed from an ecclesiastical phenomenon to one entirely driven by the tourist industry, with walking tours of its great monuments being pumped out each hour for the masses. Where in the past one would travel to the great cathedrals and churches to read the gospels in the architecture, one now travels there to witness that time as an artifact of the past, a fragment like a saint's relic preserved in some church crypt, now commodified and captured by the ubiquitous selfie.  I couldn't help but marvel while I was there, how never before in art history has there been so vast a personal photographic record of all the treasures of the Vatican, Uffizi, Accademia, and more.
With all this in my mind, perhaps the biggest difference traveling to Italy this time out was my overall sense of purpose. As an older traveler one realizes how precious ones time away is, and understandably ought to do one's best to make the most of it. And this journey did not disappoint, visiting five cities in fifteen days, with stops at several hilltop towns, wineries, churches, with the requisite visits to the Pantheon and Colosseum in Rome, along with the MAXXI by the late Zaha Hadid.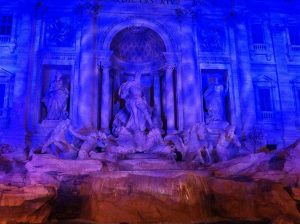 Beginning in Venice, my wife and I worked our way south – some 525 kilometers – over the course of two weeks, traveling most of the distance by train, with one shorter 120 km leg of the journey traveled by car, rented along with an indispensable GPS. Landing in Venice, flying over the Alps from Munich on a sunny Saturday afternoon, we found Venice partially hidden by a late-Summer heat haze, blanketing the city in a sort of mid-day yellow miasma. And despite it being late October, we also discovered it was still high tourist season, with St. Mark's Square packed to capacity on the Sunday afternoon we were there.
With only one full day to spend in the city, we headed first to Santa Maria dell Salute, closely followed by a visit to the Peggy Guggenheim gallery. By midday, we found ourselves in St. Mark's square, and finding the line too long to get into the cathedral, we instead went in the Doge's Palace, complete with audio tour, and a trip over the Bridge of Sighs to the old prisons. Another highlight was dining at Trattoria alla Madonna close to the Rialto Bridge, while later at another restaurant, we sat amazed eating our dinner while watching a local Venetian 'park' his boat in a neighbouring building—raising it up and out of the water with a winch and storing in an above water garage.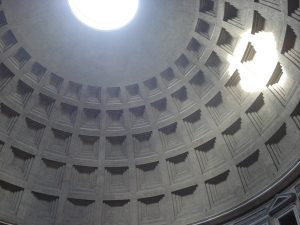 And yet as astonishing as Venice is without its cars, the city we visited next equally amazed us with its wholesale adoption of the bicycle for its day-to-day city life. With Ferrara behind walls like so many other Italian cities, the castle and cathedral flanked plaza at its centre has benefited from a relative car-free existence, and today is thriving as a pedestrian and bike friendly realm. We quickly discovered our hotel offered complimentary bicycles, and so while in Ferrara we did as the Ferrarans do, easily finding our way around its historic town centre on two wheels.
Next was Florence, which is in the midst of building a direct train between the airport and the central train station, itself situated almost right next to San Lorenzo and Santa Maria Novella. Very soon, one will be able to fly into Florence and be surveying the Galleria dell'Accademia within a hour of clearing customs.
And the treasures of Florence did not disappoint. It occurred to me while we were standing in line to get in the Uffizi that when I visited the city in 1994 the massive gallery was closed, as a car bomb had exploded in an adjacent street and badly damaged the gallery some months before. This time out, I made a beeline for the gallery (in one gallery they are even showing a painting damaged in the car bomb explosion). Its greatest treasures – the Botticelli's, Michelangelo's, Raphael's and Leonardo's – are fine, and need to be seen. But as Stendahl noted, best not to think too much about it, lest you be overwhelmed the moment you find yourself there and gazing upon it.
Other highlights in Florence included visiting the gallery of the Accademia, walking the arcade at Brunelleschi's Ospedale degli Innocenti, climbing the 465 steps to the top of the Duomo, and walking over the Ponte Vecchio at sunset. And then there were the markets and squares, filled with the leather goods that have been there for centuries. Lastly, there was the Opera Duomo Museum, a new museum just opened in 2015 that highlights many treasures of the Duomo, including the reconstruction of its early Gothic façade in its main three-storey high gallery space.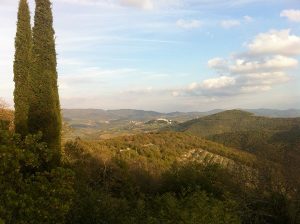 Leaving Florence in our rental car, I couldn't help but feel there was still so much to see. The feeling lasted just as long as it took for us to get immersed in the beautiful Tuscan countryside, the campagna. Within an hour we were checked into our little hillside villa at Vescine, called Il Borgo. We discovered the charming town of Radda right away, and would return to it a few times over the course of the week. We were in complete awe of the green hills, vineyards, and terracotta roof lines, occasionally interrupted by a thousand year old walled town.
Over the next three days we visited Castellina, San Gimignano, Volpaia, Volterra, and Siena. In each, a different town square, with a different cathedral, with those of Siena and San Gimignano being standouts. In the latter, we discovered its small and unassuming church to contain breathtaking 14th century paintings on its inner nave walls, with the whole interior of the church like a great book.
We also discovered that the Chianti wine produced in our region was accompanied by some startlingly amazing history, including one winery that had connections to Leonardo da Vinci, with another reputed to have been started by the 11th century monk who brought the Sangiovese grape vine to the region: the key ingredient in Chianti wine.
This particular winery, called Badia a Coltibuono, was run by Benedictine monks until the Napoleonic wars, at which point the church and winery were closed, converted into a villa for one of Napoleon's generals. Afterwards, a Polish nobleman acquired the land and reopened the winery.
With the villa now a bed and breakfast, and the original monastery church reopened, the tour of the winery also included a visit to the original cloister, along with a visit to its restored inner hall, where the monks would meet under the watchful eyes of the founding monks, all of whom are painted on its four walls.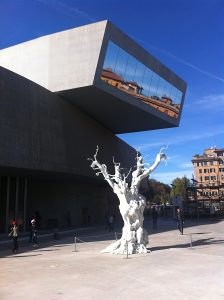 Leaving Radda and heading to Rome, a bit sad to leave the peace and quiet of the countryside, we were soon on a train to The City of the Seven Hills after dropping off the rental car in Chiusi. Within a couple hours, we were checking into our last hotel of the trip on Via Veneto, a few blocks from the Spanish Steps, and easy walking distance from the main train station. While the regular suspects of the city were on our to-do list—the Vatican museums, St. Peter's basilica, Trevi Fountain, the Pantheon, Colosseum and Forum—the main event for me this time out was to be the MAXXI museum by Zaha Hadid.
And so we found ourselves on the last day of our trip in a quieter part of Rome, within walking distance of the Piazza di Popolo, experiencing Rome's new gallery dedicated to both art and architecture. On the ground floor, there is currently an amazing exhibition on the architecture of the new metro stations in Naples. And on the top floor of the gallery until January, one can find an exhibition on Zaha herself, with a focus on her Italian projects.
Italy is a country of immense beauty, both natural and cultural, and now more than ever a mecca for those who would seek to experience in person this rich tapestry of civilization.
***
Sean Ruthen is a Metro Vancouver based architect and writer.