Spacing and Evergreen proudly present The Future Fix: Solutions for Communities Across Canada, a special podcast series.
THIS EPISODE: Mapping Arctic Sea Ice
Not all technology has to be disruptive, it may actually be most useful as an extension of our ways of life, instead of as a replacement. In the arctic, the Inuit have extensive traditional knowledge of traversing sea ice for hunting, gathering supplies, and travelling between communities. SmartICE is a social enterprise which uses technology to build on this traditional knowledge and map the ever-changing sea ice, so people can make informed decisions about how and where to travel.
Andrew Arreak is SmartICE Regional Operations Lead for Qikiqtaaluk Region, and explains the benefit this technology provides to northern communities.
"Every year the ice conditions are different… if we knew what was coming in terms of ice conditions, I don't think we would need a SmartICE at all up in the north. It is a great adapting tool that we are able to use so we can provide the information for our local people.  Since I've started working there has been less people falling through the ice, less search and rescue callouts, and people are more confident on how long they should be out at certain times of year before the ice starts to break."
Listen to the episode to hear more about SmartIce. "SmartQAMUTIK run" image by Michael Schmidt, courtesy of SmartICE.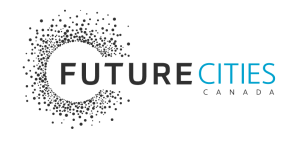 The Future Fix is a partnership between Spacing and Evergreen for the Community Solutions Network: a program of Future Cities Canada. As the program lead, Evergreen is working with Open North and partners to help communities of all sizes across Canada navigate the smart cities landscape. The Community Solutions Network is supported with funding provided by Infrastructure Canada.