Interview by: Ilana Altman
Jennifer Marman and Daniel Borins have been making large-format sculpture, mixed media, installation and electronic art since 2000. Jennifer Marman is a graduate of the University of Western Ontario. Daniel Borins is a graduate of McGill University. Both Marman and Borins are also graduates of the Ontario College of Art and Design in 2001 – where they first began collaborating together.
Amongst their recent public art projects is a newly installed commission The Water Guardians for the Toronto's West Don Lands, a pedestrian passageway SFC Bridge in Toronto's Southcore Financial Centre, and an animated video sculpture Speech Bubble on Toronto's John Street.
In the spring of 2016 they have a solo show with Cristin Tierney in New York, and the final installment of their touring exhibition, The Collaborationists at the Art Gallery of Windsor. Marman and Borins are represented by Cristin Tierney Gallery in New York.
Ilana Altman: You have a diverse and far-reaching practice including painting, sculpture, electronic and video work. At what point did this practice extend into public art projects? What was your motivation to work in the public realm?
Daniel Borins: As artists around 2004-2005 we thought to imagine some large format projects. One of them was a tri-vision rotating billboard (the In Sit You installation at the Toronto Sculpture Garden (TSG)). Rina Greer of TSG was very encouraging. We were wondering, "Is this a way for us to work?" We met with a couple of consultants, and asked them, "What would it take?" They quite simply said that you have to do some work in public. We completed In Sit You for the TSG and then the following year we did a piece for Nuit Blanche. It was a start in public projects.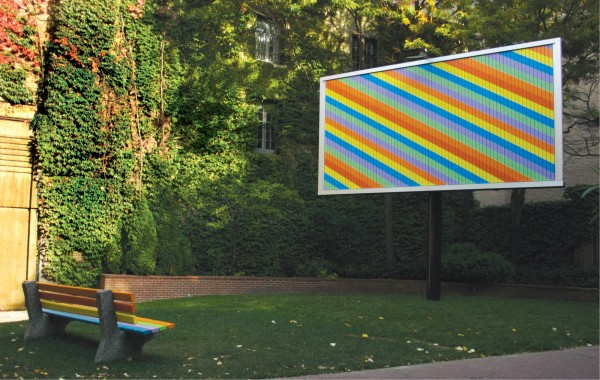 Prior to 2001/2002, the possibility wouldn't have even been there. It was much more of a patron-artist scenario. Somebody would get a direct commission from a developer. It was more traditional. But public art became a City-led policy initiative around 2008.
Jennifer Marman: Rebecca Carbin was also instrumental. At the time she was working with the City. She had come back from England and had the perspective that public art projects should be integrated and responsive. It wasn't necessarily about the perpetuation of the artist's authorial style. This approach happened to dovetail well with our practice.
Sometimes it's about timing, having the right work at the right time, but we also have an institutional practice and a commercial gallery practice. Public practice is about improving quality of life in an urban social context. You have to work in all of those fields in order to draw from a logic for public concepts. You can't just leave school and say, "Hi, I want to be a public artist." And you can't just make a style in the gallery space and then enlarge it for the public space. Public art now includes precepts about urbanism as a larger whole.
IA: Do you think it's necessary to differentiate between modes of practice? You speak about your practice as generative, where each work feeds the next. How does your public art practice influence and inform your studio practice and vice versa?
DB: It is more interesting to be involved in various practices. Do they feed into each other? Yes. We often re-contextualize previous works, and mine our own practice to find new expressions – so different modes of practice can be reflexive and cause new works to arise. Public art encourages us to distill our studio ideas, not just scale them up.
Public art has been good for us because the kinds of commissions we usually win are the one's that are problem solving based… daunting site conditions, major engineering challenges, or those that require an understanding of architecture and materials. For us, some amount of prior experience in a wide range of materials, a basic understanding of engineering, physics, and fabrication has been important. What's right for a site, how's it going to play to the audience, and so on. Indeed, they feed into each other. It is important to note that projects are also a process involving planners, key stakeholders and dialogue with a local community.
IA: Two of your early public art projects include In Sit You for the Toronto Sculpture Garden in 2007 and the house installation for the Leona Drive project in 2009. They were both temporary pieces. Can you speak to these projects and programs? What did you learn and how did they influence your subsequent public art work?
DB: We have been told that our practice has a lot to do with confrontation. As well, we set up scenarios where visuality and agency factor into the composition of our works. We imagine our viewer looking at the work. What are they experiencing?
Both projects (In Sit You and Leona Drive) are perplexing at first. In-Sit You caught people off-guard. A knee jerk reaction was "How could you put a billboard in a park!" But when viewers saw that we had also placed a park bench that matched the billboard, they saw a sort of symbiosis at play. What ensued was a challenge of complicity, combined with confrontation and intervention.
JM: In the case of In Sit You I suppose we learned about site and context and the tonal intricacies of intervention. We also learned about our audience, that symbiosis really worked – people enjoyed the bench – sitting in it – and completing the scene. We could see that from how worn out the grass was in front of the bench. At that time it was the start of web based viral image sharing – there were many digital images circulating of the project. We learned that our culture had moved toward sharing public art through social channels as well.
DB: With Leona Drive we were trying to portray sculpture as an event or narrative. This car has gone into the house. Literally combined with it, as some form of a crash. The idea was that we were making a commentary on the car. There's this strange instance where every two or three weeks, a newspaper somewhere runs a story, "Car Crashes into House," and I don't think newspapers are even aware of the frequency of it. It was an interesting commentary on suburbs, commuting, car culture, house design, suburban design, built form and different areas of the city, how the city is defined by arterial roots, and so on. Unbelievably, Toronto would be mired just after this project in ridiculous discussion about the 'war on the car'.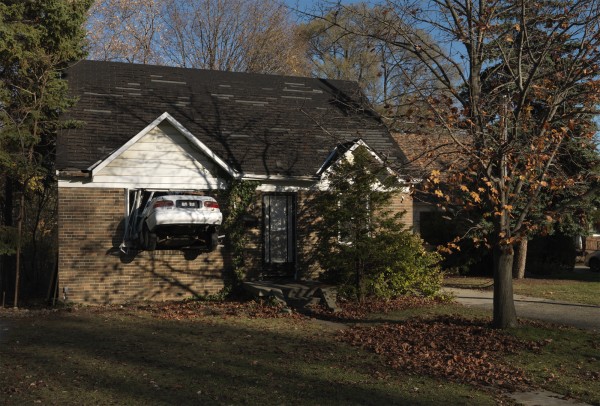 JM: All together, both projects highlight a continuing understanding we are attempting to build about confrontation, symbiosis, site, site responsiveness, and scale. We are interested in narrative, and we think about making the right choices about place and what art should go into it. For permanent public works we think a lot about our greater audience first, and how to balance artistic precepts with the public good.
IA: Your work is very informed by architecture, and architectural traditions. Do you think there is enough dialogue between artists and architectures during the design process? How could this relationship be improved?
DB: No. It should be improved. The two disciplines don't understand each other well enough. For whatever reason, the two fields are not integrated enough in our visual culture curricula. They're separate schools. That needs to change. The push for specialization occurs too early in creative disciplines.  That is one of the reasons that we have sought to work with architects.  Our ongoing collaboration with James Khamsi has made the point that artists and architects can work together.
On a municipal administrative level, we have raised the issue that the public art process should start earlier in the application process. Yet, under the 1% for Public Art policy there is definitely a lag as to when the sculptural element is introduced. The order is developers, then architects, then landscape architects, then art consultant, and lastly the artists.
A professional in our field said: "You really expect artists could have a valid opinion at any other stage other than the very end." I just said dryly, "Of course, artists are always last to be valued for their opinion."
JM: It is an administrative issue. We know that everyone involved is doing their best professionally, but we wonder if sociologically there are some patterns in how projects are handled that could benefit from some new ways of thinking. Artists are enthusiastic urbanists, they have a lot to offer to how our urban setting should be inspired.
IA: I also want to talk about your most recent works. Speech Bubble, Water Guardians and SFC Bridge were all completed within the same year. They are vastly different projects – from video to sculpture to infrastructure. Are you actively working to push new media, new techniques in your public art practice?
JM: As you can see, responsive, project-specific, site-specific art is what we think is most relevant. The repetition of signature style is on the wane, and that is probably a good thing. We do not require this kind of plop-art. What we need is place-making, locale defining gestures that identify neighbourhoods. Toronto has entire areas that are new, not just new buildings – but new neighbourhoods of several square blocks. So, in the case of each of these projects, we were trying to say something about place.
John Street is ostensibly going to be entirely redesigned as a pedestrian friendly cultural spine from the Front St. all the way to the Art Gallery of Ontario. It is a media corridor, and calls for multimedia projects that provide excitement. The mini plaza surrounding Speech Bubble, has become a major social hub.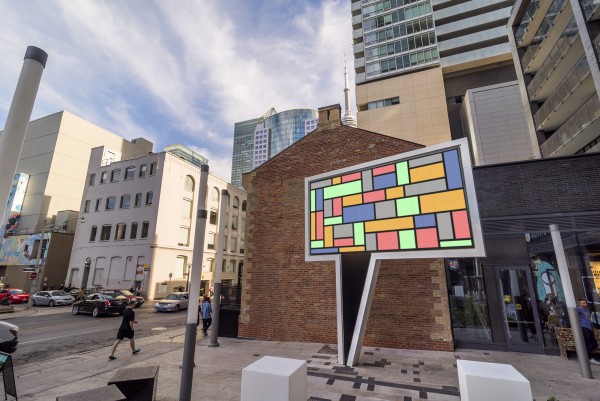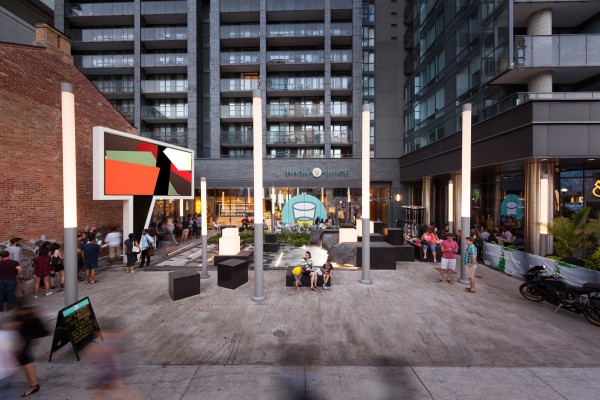 SFC Bridge, is about mobility and pedestrian focus. Our train tracks, and the Gardiner Expressway historically have limited pedestrian movement. The architectonic exterior, and tessellated interior of the bridge expresses a zig zagging, yet moves the pedestrian into a time where we have realized the need for greater individual mobility.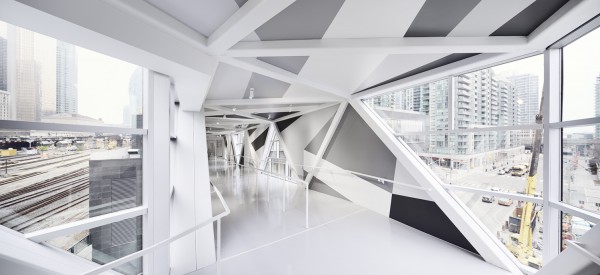 DB: The Water Guardians imposes some of our ideas about symbiosis and confrontation into a child friendly scheme. It is not a playground, but it is a social space. The Water Guardians acts as a warning as well: that we are a Great Lakes city defined by water ways – the guardians are the sentinels of the Don River, but they also greet the new-comers to the new West Don Lands neighbourhood.
Overall, part of these recent works is about us answering in an artfully versatile manner, but also in a socially aware stance. And with regard to new media, yes, we think the public will see more new media projects in Toronto. Understanding of new media is lagging a bit right now as a whole, but definitely we are interested in this kind of an approach. New media is much more common in Europe and Asia.
IA: What is the role of public art for the city?
DB: Public art represents a holistic urban vision from the macro to the individual level. When people hear of walkability, or public transport, or parks and plazas – they are receiving information about a new way of thinking about urbanism. Discussions about our city are now about livability and quality of life. In the way that we think our citizens have the right to clean air and a clean environment, we also think they have a right to culture and a well planned integrated and beautiful city. On a systematic level, public art in Toronto represents the results of this sort of thinking.
Torontonians could benefit from more thinking about the city within an international context. Our city should be an idea that inspires other cities, and we should invite people from different cultures to come here, to visit with us, to exchange ideas. Building a great city, one that sets an example, is way for Toronto to grow in an intelligent manner.
JM: Public art is just one factor, but it is a major one. By thinking about development from a planning perspective that has precepts, the scope of our planning has become more intelligent. By encouraging exemplary architecture, landscape architecture, public art, and then a whole host of ideas about accessibility, functionality, uniqueness, and the inspired, we are beginning to sow the seeds of good contemporary ideas about urban life. The public art program in Toronto has given artists the opportunity to identify with the public. It has provided artists with the opportunity to play a role in designing public space. It is no secret that anywhere artists have lived in Toronto has become a desirable community. Public art extends the artist community to the city and vice versa.
DB: But public art is not just a local concept. Toronto has by far, the greatest amount of public art by international artists compared to the rest of Canada. This is indicative of a new cosmopolitanism in Canada. By inviting internationally acclaimed artists to complete works in our city, we are welcoming an exchange of ideas and opening up trade winds with the rest of the world. So while there is strong support for local artists, we have recognized that Toronto is a world player too.
We have also recognized that public art plays a role in defining place, and making a place. While these terms are 'buzzwords' they are not without significance. Just think of places like the West Don Lands – what comes to mind? Probably nothing, because you haven't been there, or seen it yet. But you will. Hopefully Corktown Common will become one of your favourite parks. Maybe The Water Guardians will stand out from far away. Maybe people will realize that the site is on a former wasteland of brownfields, remediated and cleaned up into a model of what our city should look like, with huge sidewalks, green space, and public places of culture. Public art has a way of defining place and embodying its values.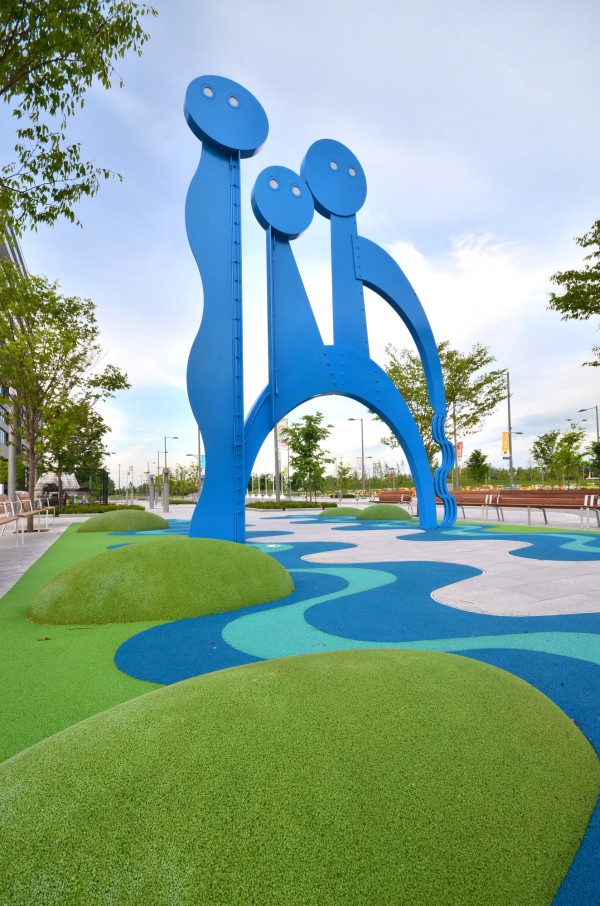 JM: We think The Water Guardians will make people realize that the Don River is just about 30 seconds walk from the site of the sculpture. And in the next several years the mouth of the Don River will be reclaimed and restored. As you can see, public art can represent more than just an authorial artistic gesture. More likely is about place, the reflexivity of activating a place, and an awareness of building the new kind of city that we want to live in.
Image credits (top): Marman & Borins in collaboration with James Khamsi, SFC Bridge, 2015. Photo by Andrew Rowat
Ilana Altman is a curator, designer and editor based in Toronto and founder of The Artful City initiative.
The Artful City is a bi-weekly blog series exploring the evolution of public art and its role in the transformation of Toronto, both the city fabric and the community it houses. For more information about The Artful City visit: www.theartfulcity.org