With Canadian Music Week taking place just in clubs throughout Toronto, the historic Masonic Temple concert hall on Yonge Street — which has hosted the likes of Zeppelin and the Stones — was home to a celebration of the folk music heritage of Yorkville last Friday night. Being unveiled were three new plaques from Heritage Toronto: two celebrating historic venues — the Purple Onion and the Penny Farthing — and one commemorating Yorkville's contribution to Canadian music history.
"Yorkville was the birthplace of Canadian song," said music historian Nicholas Jennings. "It's very important that we don't forget that history."
A large crowd gathered in the Temple, filling the lower dance floor (and a large chunk of the upper balcony) to celebrate what was, for many guests, a cause to celebrate their youth. Though many are now older, members of the crowd seemed to embrace age as just a number. Many came dressed in tie-dye, leather jackets, and classic rock band t-shirts; guests shared with each other stories of concerts and dances they attended as teenagers; at one point, the crowded lobby smelled faintly of pot smoke.
The venues being celebrated — the Penny Farthing and the Purple Onion, both of which once stood just blocks away from the Masonic Temple — were important players in Yorkville's 1960s music scene. The Penny Farthing, founded by John McHugh in 1963, was best known for its backyard swimming pool and bikini-clad waitresses, and was a popular coffee shop for both musicians and their fans. Many classic blues and jazz acts graced its upstairs stage, while folk acts played in the basement (McHugh was not, in fact, a fan of folk music, and at one point banned it from his hi-fi stereo system).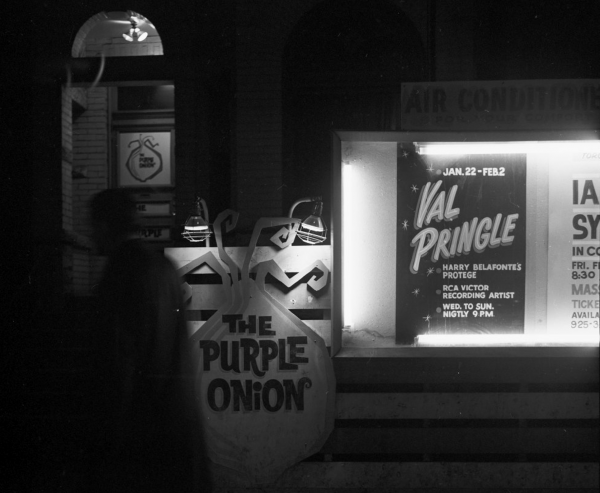 The Purple Onion, which operated between 1960 and 1966, boasts a more familiar and star-studded lineage: legend has it that it was on the Onion's stage that both Gordon Lightfoot and Carly Simon first played, and it was in the basement that Buffy Sainte-Marie (winner of the 2015 Polaris Music Prize) wrote the classic Vietnam War protest song "Universal Soldier."
"There's so much history here," said Margaret, one of those attending the event. She didn't grow up in Toronto, having immigrated from China, but has come to love the folk music of the 1960s since moving to Toronto. She was excited that one of her favourites — Gordon Lightfoot — was on hand to help celebrate. "I hope Gordon plays," she said, excitedly. "I hear he plays impromptu sometimes."
Lightfoot didn't perform, but did give an entertaining speech about his memories of the Yorkville music scene and how important it was to his own musical career. For Lightfoot, the Yorkville coffee shops were a second home. "We used to play until your chops were nearly falling off," he said, pointing to his hands. Lightfoot teased the current state of Yorkville, which he said he doesn't go back to anymore: "Look at it now!" he said, to a laughing crowd. "Goodness gracious. You can knock out ten million on a condo, easy."
City councillor Kristyn Wong-Tam was on hand, and spoke fondly of her memories of the Masonic Temple in the 1990s, recalling her days organizing pro-LGBTQ dances in the venue (called Rhythms of Resistance) and praising Yorkville in general. "The musical legacy embedded into the DNA of Yorkville is something we've all had some experience with," she said. "For those of us who didn't always fit in, you could find your space." Yorkville, she said, had "a unique vibe that didn't exist anywhere else in Canada." Jennings couldn't resist poking fun at the councillor after this. "It wasn't always this way," he said. "There was a time when Yorkville wasn't as popular with City Hall. Joni Mitchell said: 'you don't know what you've got 'till it's gone.'" (A photo slideshow, which played as guests filed in, showed pictures from Yorkville's hippie past, including newspaper headlines like "Police Beat Up Hippies During Yorkville Raids.")
Before closing the night with a performance by Luke & The Apostles — who got their start at the Purple Onion and went on to tour North America and play venues like Maple Leaf Gardens — Jerry Gray of The Travellers led the crowd in a vibrant banjo-and-voice rendition of the classic Canadiana folk song 'This Land is Your Land' — which, judging by the volume of the crowd, was a clear favourite.
Yorkville's days as a hippie haven and folk music mecca may have waned, giving way to luxury condos and high-end department stores, but if the crowd at the Masonic Temple is any indication, the rich history of the area (and its contributions to Canadian musical history) are far from forgotten, and live now in the youthful hearts of the children of the '60s.
Top photo courtesy of York University Archives; middle photo courtesy of York University Archives