For a lot of city dwellers, knowing their neighbors names is a rarity, let alone knocking on their door to ask to borrow an egg or a cup of sugar. Co-housing could cure this household isolation by planning neighborhoods around community involvement long before they are even built.
Co-housing is a type of development where the residents plan to build a community in which neighbors know and engage with each other on a regular basis. A group of like minded people pool financial resources to design and build a complex similar to a low rise condo or townhouses. In short: living in a village within a city.
"Co-housing means that the community and the initiative starts with the people that are going to live there." explains Kai Millyard, a founding member of Canopy Cohousing. Established in 2009, Canopy will be the first co-housing development in Toronto.
In addition to the individual dwellings, the development also includes a "Common House" where residents gather and prepare regularly scheduled community meals in a communal kitchen. The development can also include any number of other shared amenities: A greenhouse, a workshop, or a children's playroom, to name a few common examples.
Being part of the design process also allows residents to incorporate eco-friendly elements into the buildings. Jessica Park, a member of Canopy, explains that being involved in the design of the development means you can implement designs  that take into account "energy efficiency, gardens, water use, and all that good green building stuff that is talked about a lot but doesn't seem to be implemented as much as it should be." Since the future residents are designing and building the development from the ground up the possibilities are only limited by their imaginations and their budget.
Not a commune
One thing Canopy wants to make clear is this is not some form of commune. "You have your own fully self-contained unit; your own kitchen, your own bathroom. You have private space, "Park says. "You get to choose when you want to participate in the community. It's not something that you're forced into doing.
"The buildings tend to be designed so that there's a higher chance you'll run into your neighbour when you're coming home from work and going to your front door. But there is no sharing of your private space. And in that way it's like a typical condo."
These types of planned community developments can have benefits to both those who live within them and the surrounding neighborhood."They often end up becoming the social hub of the whole neighbourhood because they hold events and they welcome people from outside the cohousing development." says Millyard. "It's one of the great benefits that I think municipalities, for example, will end up really appreciating."
The inclusion of the common house also has the possibility to enrich the neighbourhood as a place "where you can have meetings or other things that foster elements of community life," say Park, "whether that's the arts, social justice meetings, or all sorts of other things."
This type of placemaking fosters better community involvement, opens up opportunities for a shared economy to flourish. "The possibility to share tools, to share resources, leads to a kind of micro economy where co-housing inhabitants could buy various supplies in bulk, they could share snow shoveling equipment or lawn mowing equipment," says Marcin Kedzior, a professor of interior design at Humber College. "So many things can be shared amongst people that leads to a different way of living."
These benefits are not speculation, they have been proven by real world examples. Co-housing originated in Denmark in the 1960s and 70s, coming to North America in the  1980s. There are hundreds of co-housing communities across Europe, over 100 in the U.S. and, and 11 completed communities in Canada. Canopy would be the first co-housing community in Toronto.
Canopy's goal is not only to build their own community but to inspire others to build similar communities in the city and province. This includes not only raising people's awareness of co-housing as a viable housing option, but also laying the groundwork in planning and policy. Millyard says that many municipalities have never heard of co-housing, let alone worked with a community through the construction process. However, while he would appreciate them having an understanding of the concept, he doesn't think it should pose any difficulties."These tend to be infill smallish condominium developments. There is nothing unusual about that aspect of it for the municipalities. What co-housing brings which is unusual is that the people that are going to live there are already part of the project, and that doesn't hold any difference for the municipality in terms of planning."
Financial obstacles
The real hurdle for Canopy and any other future co-housing communities will be high land costs. "This is not some form of affordable housing," says Millyard, "it's high amenity housing." While tax credits and land allotment in Denmark and Germany can make co-housing the most affordable form of housing, there are no such programs in Canada. However that's doesn't mean that Canopy will be prohibitively expensive either. Their plan is for the units to cost market rate with the inclusion of a certain number of affordable housing units on the development.
Co-housing is not simply a way to physically design communities. Success of the community is reliant on the participation of the residents as much as how the community is designed, if not more so. "It doesn't start with private developers. The community comes together, decides what it wants to do and then goes out and hires the professionals it needs," says Millyard. "It's designed to facilitate community period, and that's primarily to facilitate community among people who are living there, but it ends up facilitating community for more than the people living there." Because of this leaching effect into the surrounding community a handful of co-housing communities spread throughout the city could inspire a return to community values and inspire a new way of thinking about what it means to live in the city.
illustration courtesy of Ravens' Roost
---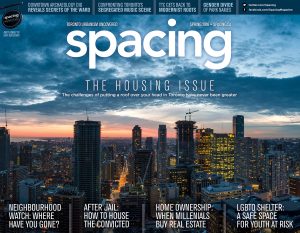 The new Spring 2016 issue of Spacing is out on newsstands now. Check out our cover section on Toronto housing issues. You can also find a feature-length profile by senior editor John Lorinc on Canada's largest urban archaeology dig happening right beside Toronto City Hall.
Don't miss an issue of Spacing by subscribing for four or eight issues. You an also pick it up in Chapter's, Book City, and of course, The Spacing Store.