By: Ilana Altman
Over the course of the last year Boston-based photographer Matthew Monteith has been working with The Artful City to produce a photo essay tracing the rise of public art in Toronto. His ongoing series explores the way in which this work animates the city's unique canvas, dissolving traditional distinctions between public and private, home and institution, natural and urban, high art and daily life.
If public art was once a foil to a rational city, Monteith's images capture a new reality – a far more integrated and immersive public realm where art, architecture and landscape partner to produce total environments. His photos foreground the public's consumption of and engagement with the work, capturing chance encounters across the city and revealing Toronto's multiple publics.
Urbanization and the New Natural
Canada's history and identity is intimately linked with the country's expansive and ostensibly uncultivated landscapes. The rapid densification and urbanization of Toronto has challenged this identity and its inhabitants' relationship to the not so distant natural features beyond the city's edge. It is therefore not surprising that artists working in the public realm return time and time again to the theme of the natural world. Public art projects throughout the city employ landscape structures and motifs to honor, reframe, and in many cases, challenge our understanding of natural phenomena; especially as it relates to the urban environment and to our contemporary collective identity.
Anish Kapoor's monumental sculpture in Simcoe Park, titled simply Mountain is a strong civic symbol evoking the rugged rock faces of the Canadian West. Water-jet cut aluminum plates are stacked to create an imposing and imperfect construction that appears to be formed by the process of geological erosion. Nestled within a courtyard of fir trees that conceal neighbouring building facades, Mountain is a seemingly natural refuge in the heart of the dense city centre.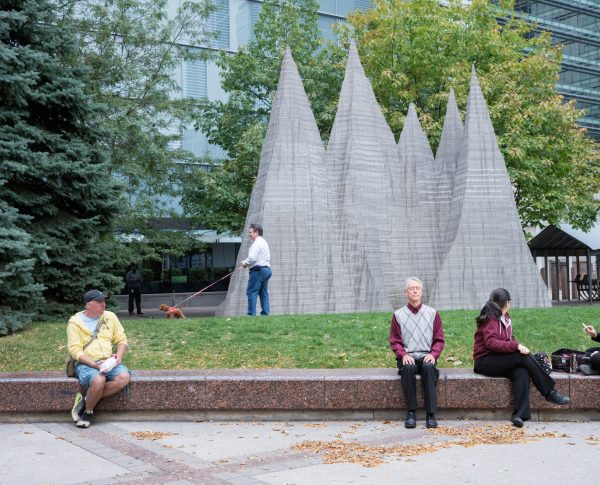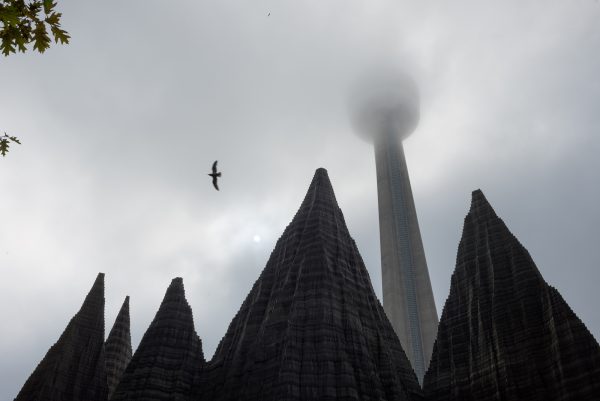 Yet, upon close approach Mountain reveals its true depth and the illusion is broken. The stacked plates are readily evident and the sculpture is revealed to be disconcertingly flat, standing as an extruded image of mountain rather than a three-dimensional replica. Kapoor celebrates this double reading and the man-made technology used to create his work, forcing us to question our own constructed notion of nature.
Monteith's photos, much like Kapoor's sculpture, look closely at how artists have appropriated landscape elements and symbols to probe our understanding of both nature and artifice. In addition, he looks at the way in which the two superficially distinct environments have begun to merge. From Stacey Spiegel's rural insertion in the Sheppard-Yonge subway station, to Douglas Coupland's canoe perched atop the endless sea of cars on the Gardiner Expressway, Monteith's photos expose the way in which artists have recast the city fabric as the new natural and how their works are informing a hybrid Canadian identity.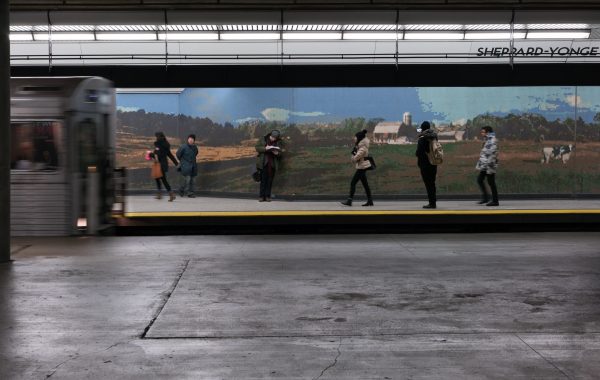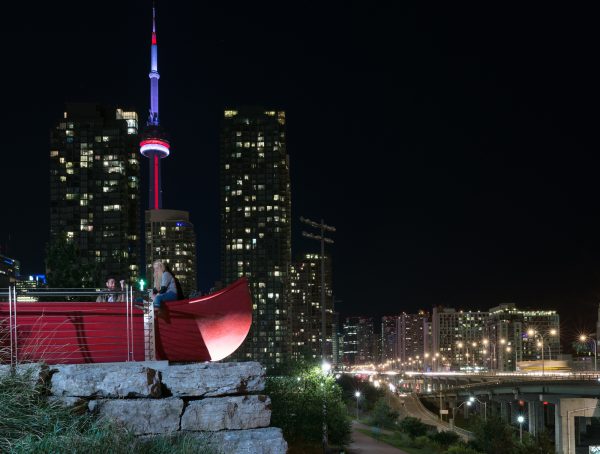 Living With Art
The changing nature of city has also resulted in a new type of domesticity. Suburban single-family homes are no longer the norm, nor the ideal. In their place we see the rise of condo living and shared public space. Since public art commissions are often tied to development policies, and the vast majority of development throughout Toronto of late has been residential, a new phenomena has emerged – public art is now asked to frame and animate domestic life.
Vong Phaophanit and Claire Oboussier's sculpture titled Dream House for the ICE condominium complex confronts this new domestic reality directly. Perched precariously atop a three-pronged stilt the artists have created a three-dimensional image of the perfect home, complete with a pitched roof. Though the sculpture can be viewed from both above and below it is always beyond reach, hovering amidst the sea of new residential condo towers. Dream House employs the archetypal image to confront our notions of the idealized home and along with it, our collective image of the city.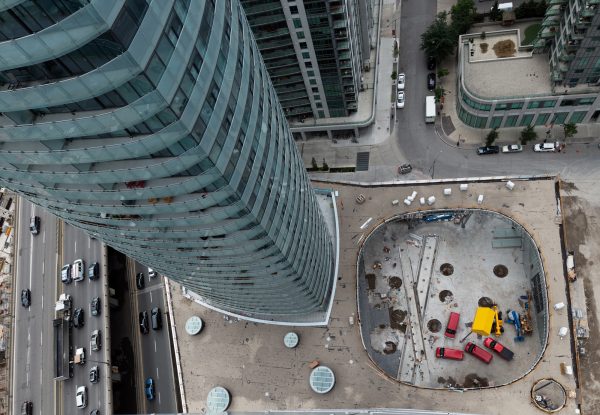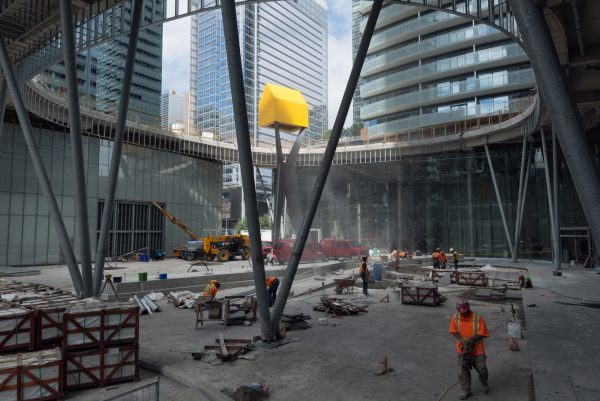 Monteith unveils compelling images of Toronto's new domestic landscape – densely packed soaring towers that have resulted in instant communities. Looking at these living spaces from both inside and out, Monteith's photos illustrate the point of confrontation when public art and private life come into direct contact. His photos demonstrate how public art is being embedded into daily routines, and how it unites distinct and diverse domestic experiences. Collectively the photos present a fundamental question – how do we live with public art?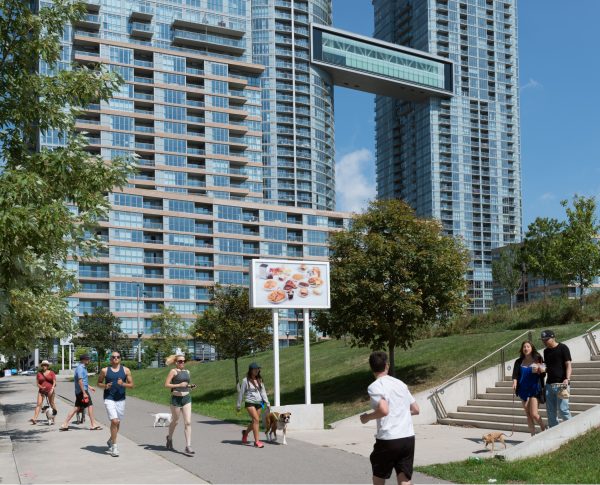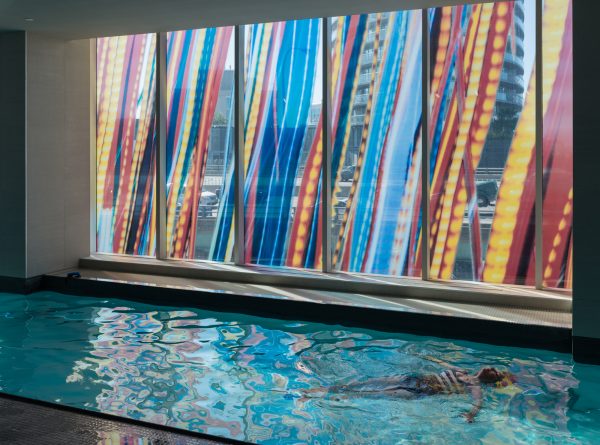 The Distracted Glance
As art has moved out of the gallery and onto the public streets the viewing experience has shifted as well, moving from contemplation to distraction. Toronto is a vast and varied context, experienced in different ways and at different speeds. In order to communicate with a broad audience, artists working within the public realm have had to consider their relationship to multiple modes of transportation and their associated infrastructure.
Artists, developers and the City alike have embraced this challenge, identifying utilitarian infrastructure as a prime site for cultural investment. As a result our highways and underpasses have are being converted into new artistic corridors. Some artists, such as Matt Mullican, have even chosen to appropriate the tactics of highway advertising as a public art strategy. His work titled The Combination of Two, that surrounds the Bremner Blvd. parking lot, reuses billboards to display a unique mix of Toronto signs and symbols to both parked cars and passersby on the adjacent Gardiner Expressway.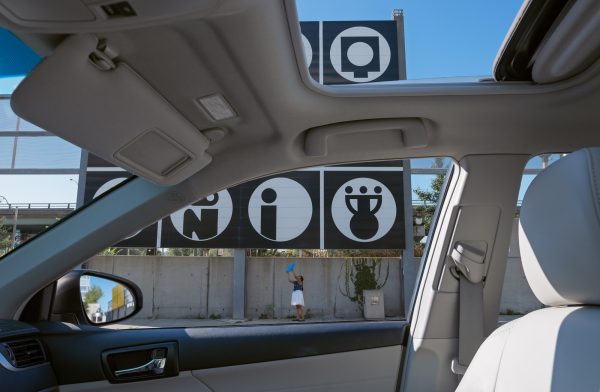 Recognizing the importance of these distinct perspectives Monteith has chosen to explore Toronto's public art landscape from two vantages – by foot and by car. The fleeting moments he captures through the car window and in the rearview mirror are eerily still and hyper focused. Once again his photos place public art firmly at the intersection between the private space of the car and the public space of the city beyond. Looking over the steering wheel down the gun barrel of Douglas Coupland's toy solider or at Katherine Harvey's glass painting juxtaposed with the distant CN Tower in the rearview mirror, Monteith's images suggest a future where driving is converted into curated aesthetic experience and public art has far greater reach.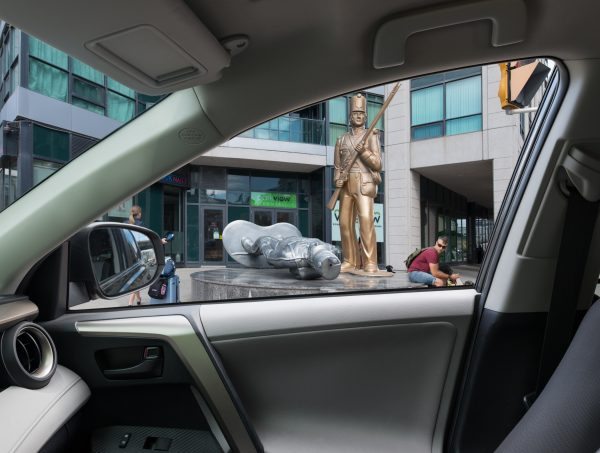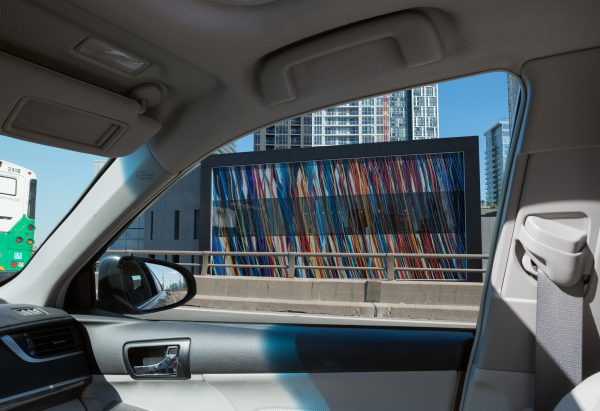 Collectively, Monteith's images capture Toronto at a key moment in the city's evolution, a moment when art is actively intensifying the urban landscape as well as changing our perceptions of the public sphere. Increasingly, public art is an integral part of Toronto's new civic image and collective identity. As its reach extends beyond our parks and streets into our homes and cars it gradually infuses all aspects of our daily life.
To see more of Matthew Monteith's images from The Artful City's series please visit our online gallery.
The Artful City photo project was made possible by the support of our generous sponsors:

Matthew Monteith studied at the International Center of Photography before earning an MFA from the Yale School of Art in 2004. He was a Fulbright Scholar in the Czech Republic from 2001-2002 and the resulting work was published as Czech Eden by Aperture in 2007. He received the Abigail Cohen Rome Prize in Photography from the American Academy in Rome in 2008. His work has been exhibited in solo exhibitions in New York, San Francisco, Kyoto, Paris, Arles, and Cherbourg as well as in group exhibitions in New York, Charlotte, Miami, Washington D.C., Rennes, Ljubljana, Prague, and Rome. He is currently Assistant Professor of Photography at the Massachusetts College of Art and Design in Boston.
Ilana Altman is a curator, designer and editor based in Toronto and founder of The Artful City initiative.  For more information about The Artful City visit: www.theartfulcity.org
The Artful City is a bi-weekly blog series exploring the evolution of public art and its role in the transformation of Toronto, both the city fabric and the community it houses. For more information about The Artful City visit: www.theartfulcity.org