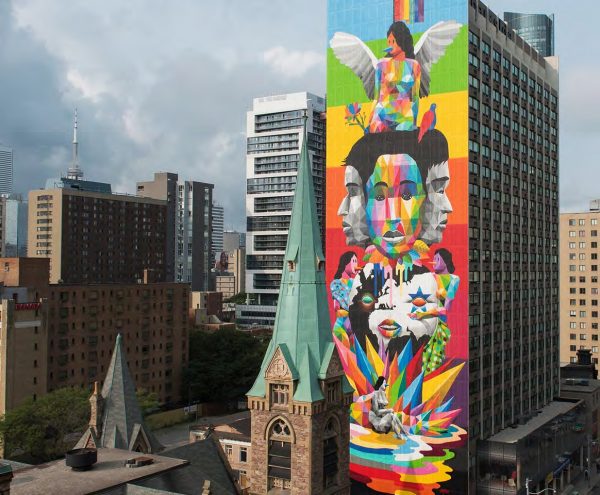 Welcome to The Power of Place: Artists as City Builders. This series emerged out of my strong interest to share with you the incredible work that is happening across the city by artists supported by our StreetARToronto team, with a focus on highlighting the work being done by diverse Indigenous, Black, and Peoples of Colour artists throughout Toronto.
---
For ten years, StreetARToronto — a City of Toronto public art initiative — has helped instigate and provide space for individual and community expressions to come alive in public spaces through street art, using the art itself as the catalyst to bring communities together, stimulate discussion and advance diversity, equity and inclusion. Working with the artist community and equity deserving groups, StART has innovated deep engagement processes that foster trust and meaningful relationships. Together, we have created world-class street art, helped build artist careers, and perhaps most importantly, the murals and the processes used to develop these works of art are deliberately designed to strengthen the sense of belonging, pride of place, and understanding among communities, neighbourhoods, and individuals with diverse backgrounds and lived experiences.
If the pandemic has taught us anything, it's that a vibrant public realm is necessary in good times and essential in more difficult times. Street art is a form of expression "marker" in our public spaces that feeds our soul and stimulates points of connection, dialogue, and belonging. In this way, public art is critical to our health and well-being during the pandemic and our hope is to bring more of this public art to more residents, businesses, and visitors. And I, in turn, want to bring more of it to YOU each week.
Today's video features Anishinaabe Knowledge Keeper Andre Morrisseau of Fort William First Nation. Andre is an enthusiastic advocate and ambassador for Indigenous arts, culture, and public affairs. He is a former Chair of the Ontario Arts Council and is currently the Communication Manager for the Ontario Native Women's Association. Andre has been involved with StreetARToronto for more than seven years, and the virtual experience he co-created with StART in High Park to bring the Cherry Blossoms in peak bloom to Torontonians and the word during the 2020 pandemic lock- down remains one of the most viewed online events in the city of Toronto's social media history. I urge you to view and reflect on Part 1 of my 3-part conversation with Andre:
In part two, Andre and I talk about the transformation of graffiti from a misunderstood underground movement to a sought-after public art form and economic driver.
Andre also speaks about the impact of the mural he sees each day out of his window, by Spanish artist OKUDA on Carlton Street at Parliament Street, produced through the StART Partnership Program in 2018 in partnership with the Steps Initiative. He describes it as a giant embrace each day from the public realm that makes him feel seen, that says "somebody cares".
My conversation with Andre emphasized for me once again that, as important as the art is, it's the last step in an intentional process that leads to the co-creation of a vibrant, inclusive city where residents and visitors feel a sense of inclusion and belonging. In the final video, Andre talks about the important role that street art advisory committee members play in the public art ecosystem. Andre believes convening the committee is an artform in itself, and highlights the importance of having a diverse committee — diverse in age, cultural backgrounds, gender and identity backgrounds, life experience, and vocational backgrounds — in order to ensure a robust discussion that results in a selection of artworks that people from all backgrounds can see themselves and their experience and identity represented in their surroundings. Andre is a member of the Fort William First Nation (Thunder Bay) situated on the traditional territory of the Anishinaabeg on land that is covered by the Robinson-Superior Treaty.
Videographer & Video Editor: Denizen Productions