The Ontario government's proposal to cannibalize Ontario Place by building a monstrous, for-profit spa on public land will destroy a waterfront ecology that has matured over the last half century. Yes, Ontario Place deserves to be revitalized after years of neglect, but how can this process be conducted in an equitable and democratic manner? In response to this question, true leadership is needed to ensure that Ontario Place is protected as the vital piece of a grander vision for our public waterfront.
In 2020, the Future of Ontario Place, an organization of designers, activists, and academics, hosted a design competition, driven by similar concerns, to solicit counter-proposals on how to conceive of Ontario Place differently than the ideas coming from the current provincial government. Implicit in the brief was a criticism of plans to privatize the site and, instead, create an aspirational and democratically envisioned public place. Invigorated, we offered a counterproposal with a simple premise: Ontario Place is a successful public park and the participatory principles that govern its design should be applied to its surrounding context.
Our initial analysis of Ontario Place determined that it is segregated from its wider urban fabric by both Lake Shore Boulevard and Exhibition Place, which is also segregated by an archipelago of isolated buildings and inhospitable parking lots used by the Midway for only two weeks of the year. Furthermore, transit connections via streetcar, GO Train, and the forthcoming Ontario Line are all north of the Exhibition and disconnected from Ontario Place.
Connections are better to the east and west via the Martin Goodman Trail, but have enormous potential for improvement towards unifying our waterfront lands into a cohesive whole. Trillium Park, newly built on the east side of Ontario Place, is hugely popular and shows the promise of this potential, but it is currently too small. What is needed is a comprehensive design and a participatory framework of governance that envisions the entire landscape south of the Gardiner Expressway, from Humber Bay to the Port Lands (and beyond, to the Beaches), as one integrated waterfront of parks.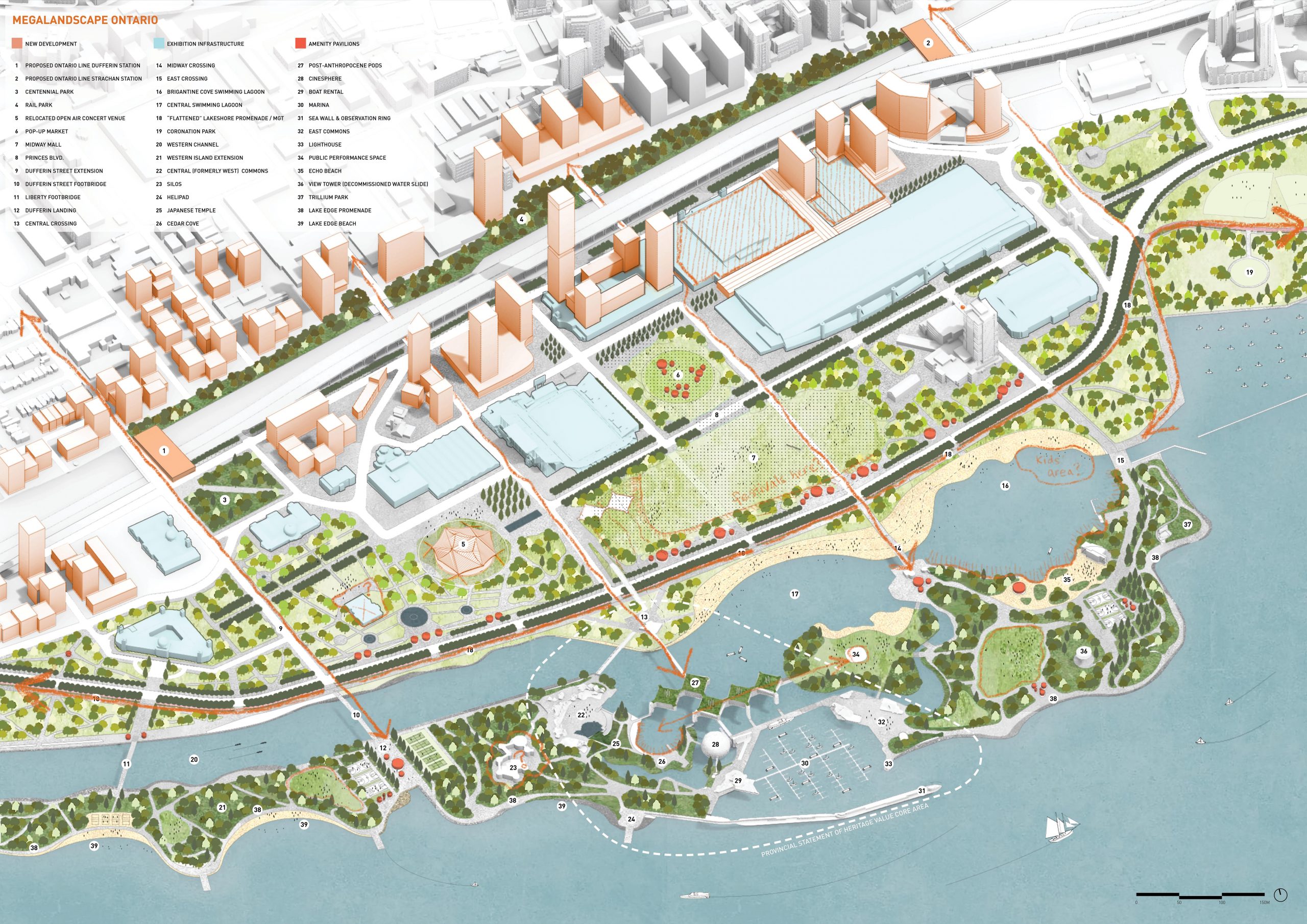 Our counter-proposal, titled "Megalandscape Ontario," proposed a flexible, phased, long-term framework that can allow for an inclusive process of community empowerment. Through this framework, the innovative approach to landscape that permeates the original Ontario Place site could be scaled up and applied to its wider context. Informed by the topography of the land and the ecology of the water, a coherent megalandscape could be developed slowly over time to act as a dynamic, yet stabilizing, binder between disparate neighbourhoods, infrastructures, and ecosystems. Its dynamism would emerge from its incremental evolution through bottom-up community participation and empowerment rather than top-down planning. Its stability would stem from its governance by a non-partisan body like Waterfront Toronto, holding a long-term lease agreement with all three levels of government.
Calls from various politicians and advocates to consider Ontario Place in its wider context have been heard before — notably by Ken Greenberg, David Crombie, and Joe Pantalone, all of whom have also proposed the physical integration of Ontario Place and Exhibition Place. What requires more discussion is a means by which competing interests surrounding Ontario Place can engage equitably. Currently, the provincial government is leaning on its jurisdictional claims to the Ontario Place lands, but other actors, such as the City of Toronto, the Canadian National Exhibition, and significantly, Indigenous Peoples, must also have a role in its governance. With Waterfront Toronto as a successful model for public engagement, our counter-proposal calls attention to a proven methodology that could facilitate slow and thoughtful revitalization, unencumbered by the timeframe of election cycles and partisan politics.
In this spirit of embracing slow development, our key interventions are proposed through a series of phases. Phase 1 re-designs Lake Shore Blvd. to reduce its size and to slow its traffic, and also "flattening" it to allow for a comfortable pedestrian experience at grade with multiple crossings. The existing Ontario Place parking lots are converted into expansive public beaches, creating a swimming lagoon along Lakeshore that is easily accessible from the city. The iconic pods, which have deteriorated to a point where extensive investment would be required to make them usable once again, are re-conceived to accommodate non-anthropocentric, ecologically symbiotic uses.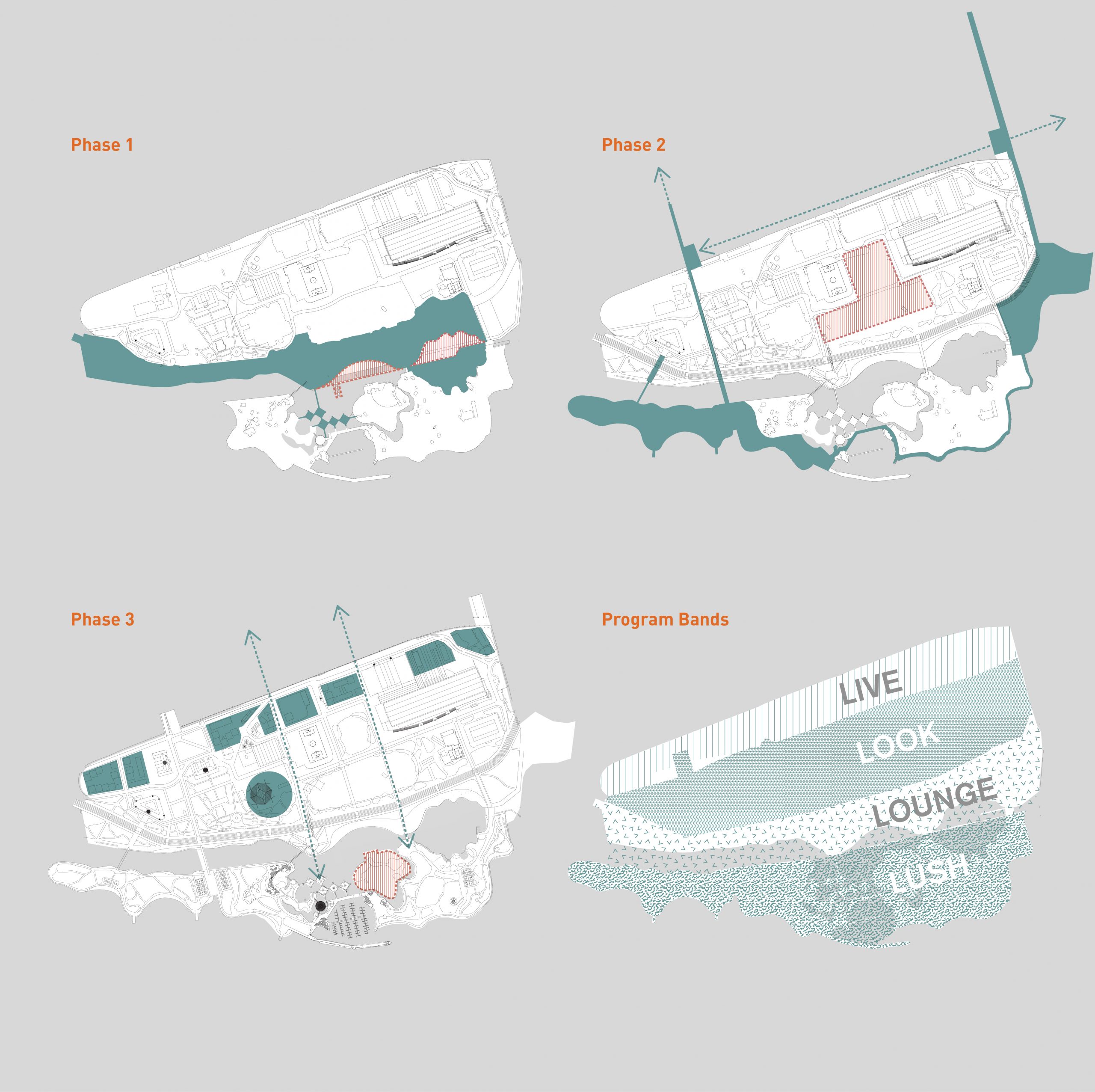 Phase 2 envisions a southwards extension of Dufferin Street and a westward extension of the West Island, allowing for a connection to the Dufferin 29 bus. North of Lakeshore, the Exhibition lands are slowly transformed into parkland, tying this part of the site to the Ontario Place islands and creating a landscape framework that binds the various scattered buildings together. This landscape would be designed to accommodate the Midway during the last two weeks of August.
Phase 3 relocates an all-season amphitheater to a more accessible location on the Exhibition grounds, while still allowing for an outdoor performance venue on the islands similar to the original Forum. The northern band of the site is rezoned to allow for affordable residential development along the Ontario Line transit corridor, with new stations book-ending the neighborhood at Dufferin and Strachan Ave. Development here would help fund this megalandscape while connecting north across the Gardiner and rail corridor to Liberty Village and beyond.
Most importantly, these proposed interventions are not conceived of as autocratic schemes to be imposed on the site, but are instead offered as stimulants for public conversation and collaboration, encouraging transformation and evolution over time. Crucially, we recognize the importance of the site to Indigenous histories, cultures, and futures, such that a robust engagement with Indigenous Peoples by the Ontario government must occur prior to any re-development of Ontario Place. Indeed, a different future is possible; one that builds on the original conception of Ontario Place as a forward-looking yet respectful public place. This counterproposal is an invitation for all Ontarians to build something, together.
Catherine Howell, Ramsey Leung, and Joe Loreto are graduates of the John H. Daniels Faculty of Architecture, Landscape, and Design at the University of Toronto. Their counterproposal, Megalandscape Ontario, won the Jury Prize in the Future of Ontario Place design competition.