VHF would like to thank our guest writer for this weeks article Paul Nursey, Vice-President, Strategy and Corporate Communications at the Canadian Tourism Commission
Defining Granville Island is a matter of perspective.  I turned to the crowdsourcer of all crowdsources, Wikipedia, which clinically describes Granville Island as a peninsula that was once a major manufacturing area, but today is a major tourist destination and working neighbourhood.  It is also lauded for its award in 2004 by the "Project for Public Spaces" which named Granville Island "One of the World's Great Places."
Whe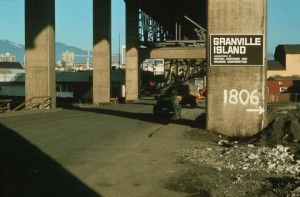 n Granville Island was redeveloped over 40 years ago by the Federal Government, it is very unlikely that those that put pen to paper and then executed the redevelopment could have expected the outcome that has materialized in creating a catalyst for human creativity.   What is special about the place from an architectural point of view is that Granville Island successfully, cleverly and creatively preserved and re-used buildings from its industrial past. This is most notable on the northwest side in the peninsula that now serves as a dignified home to the public market.
What is even more special about, and unique to the place, is the careful cultivation of its use as a place of public interaction, and a platform for creative expression and talent -whether that expression be across performance, design, culinary arts, organic cultivation, artisan crafts or any of the other talent on display by those who now ply their trade in the context of Granville Island.  This platform for creativity has added a deep human and social dimension to the cleverly re-designed space.  Granville Island is now creating its own second generation of unique and very meaningful cultural history.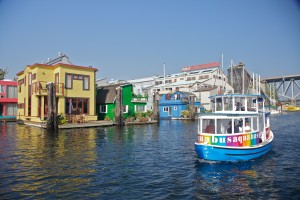 Granville Island is a local, meaningful icon but also a central draw for tourists because of its authenticity. This seems to be a strange statement about a place that experienced massive and master-planned re-development.  But the re-development has aged gracefully. The vibrancy and authenticity is pulsing and very real. It is a well-researched fact that tourists are attracted to places where locals spend their time.  In our age of over-connectivity there is a longing among travellers to return to their basic senses. In today's travel economy, built attractions like Knotsberry Farm are out, and deep connectivity to the place that one is visiting is in.   Granville Island as a platform for authentic creative talent  and expression mixed with its beautiful natural setting delivers on all that today's experientially focused traveller could want and more.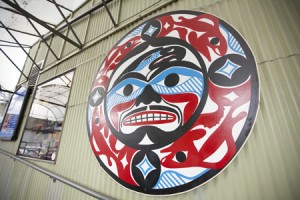 Forty years on from its re-development, Granville Island continues to delight and amaze in subtle but very human ways.   It is a very rare place in this world where one can be delighted with hand crafted jewelry and then five minutes later be watching harbour seals playing in False Creek while sipping on artisanal coffee.  The place is all cradled in the context of a well-planned adaptive re-use where history is featured prominently.  Even its faux bits, the tin and metal buildings that came along with the 1970s redevelopment seem to be aging gracefully.   Forty years on, they seem authentic now.

About the author:  Paul Nursey is a rare fourth generation Vancouverite. Paul hangs out in Bentall Four as Vice-President, Strategy and Corporate Communications at the Canadian Tourism Commission and serves as a Director at Vancouver Heritage Foundation.  Paul studied Urban Studies and Land Economics at Simon Fraser University.
Curious about where Granville Island is heading? Join us at the BCIT Downtown campus, Wednesday February 27th at 12pm as we discuss the future of Granville Island with Joost Bakker (Architect, Dialog) and Dale McClanaghan (Granville Island Trust).
Visit our website for more information or to sign up for the talk
Photo Credits (in order of appearance)
Granville Island. 1931. City of Vancouver Archives AM54-S4-: Dist P172.2
Entrance to Granville Island. 1976 City of Vancouver Archives CVA 1135 – 37
Remaining images, Canadian Tourism Commission