In 2010 CBC Radio-Canada, JJ Bean Coffee Roasters, and Vancouver Heritage Foundation entered into a partnership to bring public art to the CBC Plaza. Utilizing an 30' x 40' concrete wall, and funding from a percentage of sales from the JJ Bean CBC plaza location, the WALL features installations that respond to and reflect upon Vancouver's built history. If you have found yourself near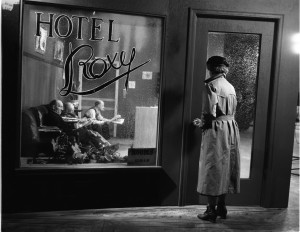 Hamilton Street lately you will have seen a great CBC archival film still from the 1957 studio shot drama, "Room at the Roxy" (pictured right). If you haven't seen it, get there soon! We are penciled in for a street closure on March 22nd, so a giant crane can put up a new work by Vancouver-based artist Paul de Guzman. Between the massive scale printing, the crane and the city permits, the installation itself is almost a work of art!
Paul was selected from a fantastic list of submissions, vetted by the VHF public art committee comprised of VHF Directors, community curators and artists.  Paul, originally from The Phillipines, is a self taught artist whose conceptual work deals with the institutional nature of architecture.
His to-be-revealed work, "The People are The City" is a large scale reproduction of an archival photograph taken at the Vancouver Vocational School in 1963. The image features a carpentry class with several young men learning how to create a basic wood structure. In the window behind the students you can see the roofline of a Victorian home with its ornate mouldings, and the side of the Van Horne building, an interesting juxtaposition of Vancouver's changing architectural landscape in the 60's.
Paul has pasted multiples of the phrase "the people are the city", taken from a CBC radio program about the practice of local democracy. Paul repeats the phrase as a nod to his own practice of repeating something three times to make it stick. Paul's work is an excellent representation of the impact of Vancouver's citizens on its development and built history, as well as the importance of remembering our own influence on the city. The men featured in this photograph most likely went on to build many a Vancouver structure, possibly even those that replaced the structures watching over the students through those great windows.
Paul's work highlights that for better or worse, a city is shaped by the choices of its citizens. Our streets are full of infrastructure, demolition, and rebuilding, the bricks and mortar of a neighbourhood. However it's the people who instill those changes, and the people have the ability to choose what their city looks like for future generations.
Keep in touch with VHF through Facebook and Twitter to hear about the finalized plans for the installation and details of the launch party which will be at the CBC Plaza, 700 Hamilton. We will officially reveal Paul de Guzman's work, and hear from representatives of the WALL project as well as Paul himself, who will talk further about his inspiration and process. We will also have music and entertainment.
Don't forget that a percentage of every drink sold at the CBC Plaza JJ Bean location goes towards this great art project. So if you're near Hamilton Street, get your caffeine fix at JJ Bean and also help support public art in Vancouver.
Special Thanks to JJ Bean Coffee Roasters and CBC Radio-Canada
More on the WALL and previous installations
More about Paul de Guzman: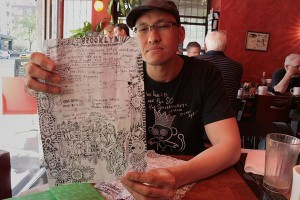 Born in Manila, The Philippines where he studied Engineering, Paul de Guzman immigrated to Canada in 1986.  Currently living in Vancouver, his self-education in art was achieved by reading texts on art, theory and architecture.  For the past few years, his nomadic artistic practice has been characterized by a conceptual and linguistic approach toward the institutional nature of architecture through the creation of transient and temporary structures using linguistic and architectural strategies.  His work has been shown widely in Canada and abroad, and has participated in artistic residencies at Stichting Duende in Rotterdam, The Netherlands and the Darling Foundry in Montréal, Canada.