Steps from Vancouver's Downtown Eastside police headquarters, stands a former jail that once haunted the community even beyond its days. But 250 Powell Street ultimately stepped out of its shadow in 2015, when it was redeveloped into an affordable housing project. Today, this residence is an unsung leader in its eclectic neighbourhood.
The seven-storey structure was originally built in 1981 as a remand centre for prisoners awaiting trial—the 1985 Air India bomb suspects among them. By design, the prisoners' sleeping quarters were concrete pods protruding out of the building to symbolize the uncertain status of detainees. The building—as a jail in the middle of the city—faced negative sentiment that persisted long after its eventual closure in 2002. Even six years later, when the Downtown Community Court moved into the ground floor and basement, its largely vacant existence continued to maintain a gloomy presence.
In 2015, however, the building was finally able to move on to a new identity. Various community and government partners, including architect Gregory Henriquez, converted the structure into The View, a residential project containing 96 units of affordable living space.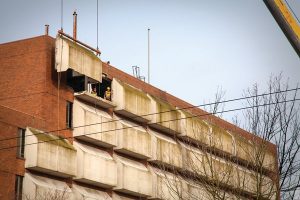 Henriquez recognized it as a readily available resource—one that could house people relatively quickly and affordably. He was familiar with the property since his father Richard Henriquez had originally designed the building. Supported by the late Jim Green—a community activist who sought affordable housing for at-risk youth—the vision ultimately came together with a multi-level government investment of $18.5 million and non-profit social housing operator The Bloom Group.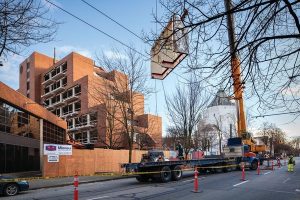 Henriquez's work reinvigorated the once dreary detention centre. The jail elements and the 11,000-pound concrete pods were replaced with studio and one-bedroom homes with floor-to-ceiling windows and expansive views to Downtown and to the North Shore mountains. Terraced balconies on the north and south sides of the building create communal outdoor space void of cage coverings. The reconfigured inmate gymnasium is now a multi-purpose room complete with a basketball court and shared kitchen. The former exercise yard features an area for sculpting totem poles and a well-tended garden—with sunflowers 10 feet tall.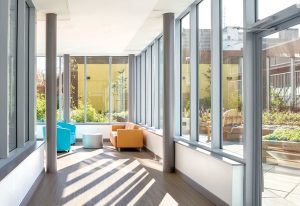 Today, the View supports community members in transition who previously resided and/or work in this area of change. Twenty-four of the 96 units are assigned at shelter rates, 38 are committed to the BladeRunners program championed by Jim Green, and 16 are designated for women leaving emergency and less secure housing facilities. To maintain the building's affordability mandate, rental rates are set based on income maximums ($45,000 for a 1-bedroom), and residents pay no more than 30% of their income toward housing. It's a second chapter for the building, and a new beginning for its residents.
"Not only are people housed", says Gregory Henriquez, "but the [building]—which was a source of great pain and negative feelings for the community—has transformed into a hopeful and positive place."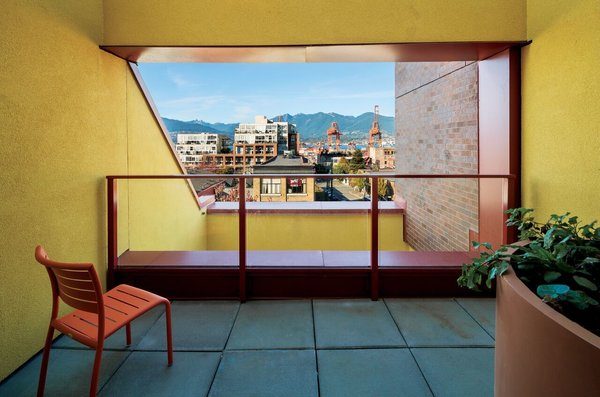 ***
Curranne Labercane is an urban planner, freelance writer and fashion model. She draws her planning experience from six years of private and public sector work–at the planning firm Brook Pooni Associates, the Urban Development Institute in Vancouver, and the City of Calgary Attainable Homes program. She first developed her passion for cities, urban design, and architecture while working in the fashion industry in metropolitans across Europe, Asia, and New York.