FREDERICTON – Walkable downtown (and downtown-like) neighbourhoods are increasingly popular sites for investment and start-up enterprises.  A recent study – Startup City: The Shift in Venture Capital and High Technology – from the University of Toronto's Martin Prosperity Institute demonstrates this.  This study draws on multiple sources – Thompson-Reuters, Dow Jones, and the National Venture Capital Association – to show the increasing attraction of urban neighbourhoods for high tech start-ups and venture capital investment, with – for example – urban San Francisco now exceeding suburban Silicon Valley in venture capital.
The results of this study are worth heeding in Fredericton, with tech start-ups in the city gaining national and international recognition, with start-up incubators such as Planet Hatch providing office space and mentoring to start-up enterprises, and with the Pond-Deshpande Centre at the University of New Brunswick providing links between the university and entrepreneurial community.  Fredericton also boasts a rich arts culture, with the New Brunswick College of Craft and Design, and popular festivals such as Harvest Jazz and Blues.
Fredericton is increasingly becoming a site of creativity and innovation.  The city's population has experienced significant growth over the past decade as well – with the population hovering around the mid-40,000s during the 1970s and 1980s, increasing modestly to 47,510 by 1991.  However, from 2001 to 2011, the city's population grew from 48, 560 to 56,224.
A growing city raises a whole new set of questions, about the type of growth.  It's important to consider what makes Fredericton an appealing place to live and work, and to preserve and enhance these advantages rather than lose them.
A key issue in all of this is sprawl.  Fredericton holds appeal as a small city – really, a large town – with a unique and distinctive downtown, with dense and mixed-use neighbourhoods such as Queen Street which is especially vibrant on Canada Day and during the Harvest Jazz and Blues festival when it is closed to cars.
The city boasts an excellent trail system which offers ready access to green spaces and nearby rural areas (by my own measure, one can travel along the trail from downtown to rural farmlands in half-an-hour by bike).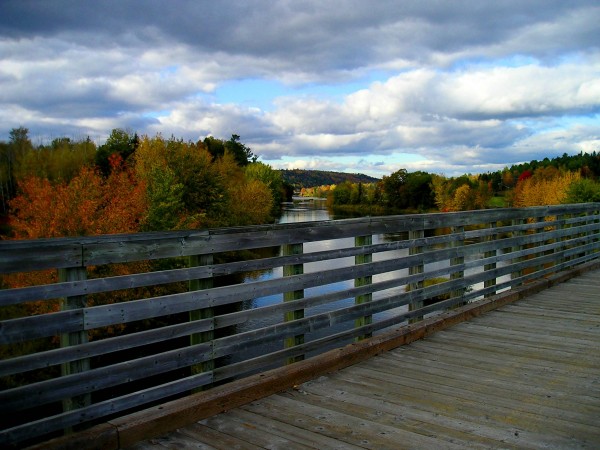 The attraction of natural landscapes and forests is documented by Elizabeth O'Brien's qualitative study of Vermont where she found people who opted for lower wages to live in the state and enjoy forests and outdoor activities.  Thus, Fredericton's proximity to nature is a clear advantage in attracting people, in making the city a desirable place to live.
However, Fredericton does have significant (and growing) car-dependent sprawl.  There is a threat of this becoming a more dominant mode as the city grows – with a landscape of generic box-stores, vast parking lots, and pedestrian-unfriendly thoroughfares becoming more common.  This is where a serious discussion about the city's future is needed.  There are good initiatives – such as the revitalization of Main Street on the city's northside from a semi-sprawl landscape to a genuine town centre with mixed-use zoning and walkable streets.
With development of the old rail lands near downtown, there is potential for a vibrant "midtown" Fredericton neighbourhood, although it cannot just be apartment blocks.  What is also needed are residential buildings with commercial enterprises on the first floor, framing a walkable streetscape.
A vision for the city as a whole is needed, a move away from car-dependence and towards greater walkability, towards a greater sense of community and neighbourhood, and towards unique neighbourhoods which residents can take pride in.
A couple of examples of neighbourhoods in Fredericton which could use walkability and streetscape improvements are provided below.
Fredericton's Northside: The Brookside Mall
The area in and around Fredericton's Brookside Mall – on the city's north-side (the city is bisected by the Saint John River creating distinct north-side and south-side areas) – offers density and a variety of options for housing (with apartments, townhouses, and single-detached homes). These residential developments are in close proximity to the Brookside Mall – a mall that has often been anemic in business compared with its southside counterpart, the Regent Mall.
Brookside Mall is an amalgam of mega-parking lots and box-like architecture that inhibit walkability, encourage car use, and providing an inhospitable and uninviting environment for pedestrians, as well as a bland and generic landscape. The photos below show a large and windowless wall facing the residential developments across the street, separated from the street by a lane for cars entering and exiting the parking lot.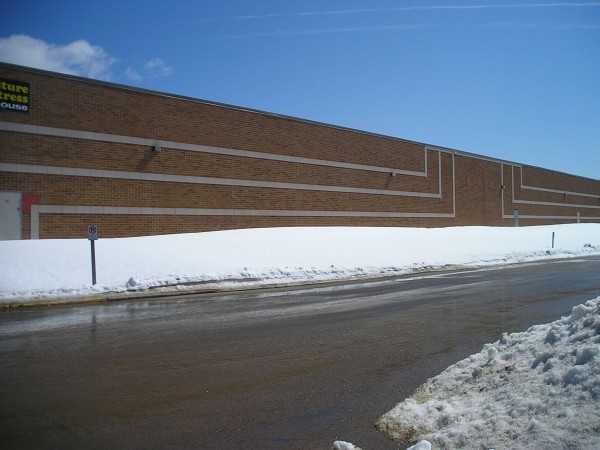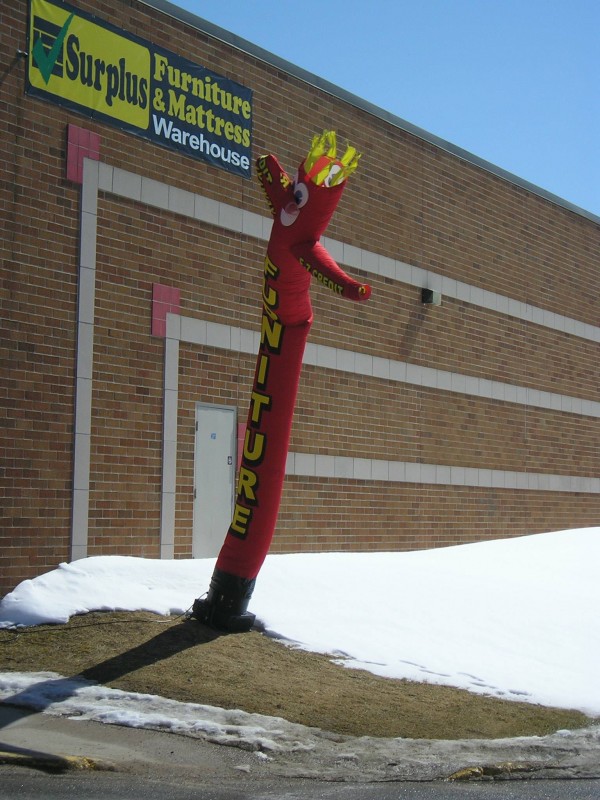 The sights above are uninviting for the multi-unit residential dwellings across the street.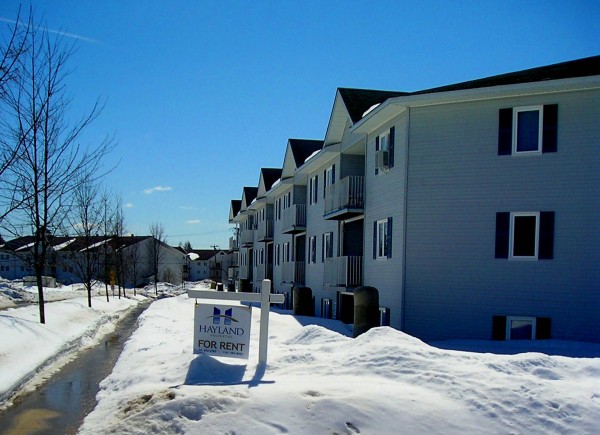 The next photo, from another part of the Brookside Mall property, shows the separation induced by a large parking lot.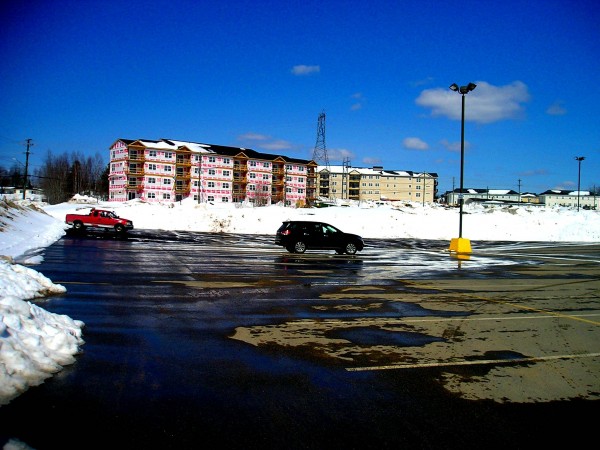 Fredericton's Southside: Prospect Street
The next example is from the neighbourhood I grew up in, the Parkside Drive area of the city's southside.  Like the Brookside Mall area, it is a mixed-density neighbourhood of single-detached homes, apartment buildings, and duplexes.  The homes and buildings in this neighbourhood were built in the 1970s.  It is a neighbourhood that contains a range of income-levels, with lower income people in close proximity to middle-class residents.  It is also in close proximity to the commercial Prospect Street.  However, again, parking lots, architecture, and streetscapes are barriers to walkability and a true sense of community.
From the photos below, one can see classic "third-places" – a neighbourhood coffeeshop and an neighbourhood pub – along Prospect Street, though the pub (the Hilltop) shows a clear parking lot/strip-mall style and while the Second Cup is somewhat better architecturally (outdoor patio and relatively close to the sidewalk) it still is strip-mall style architecture.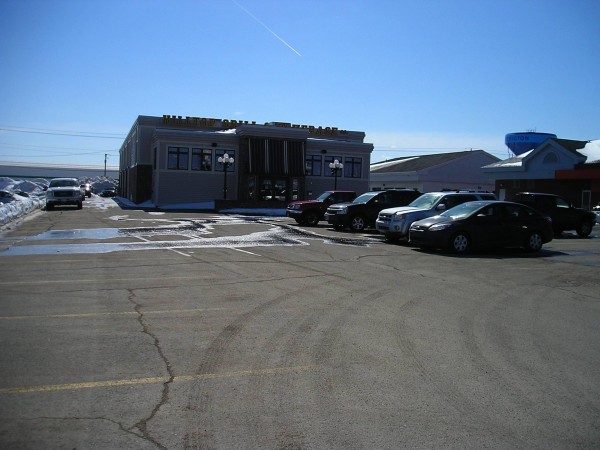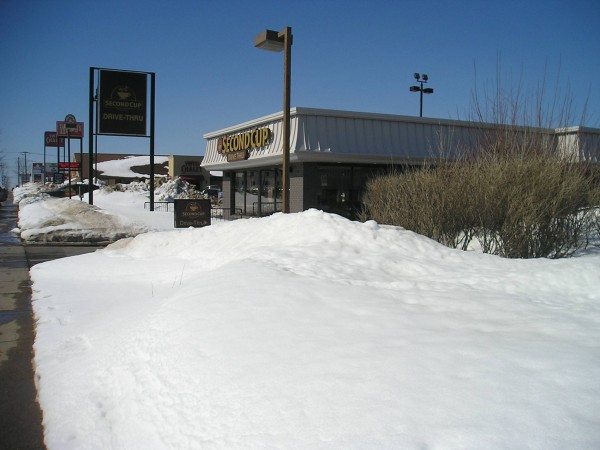 Along the back of the strip of chains and fast-food restaurants are residential apartment buildings on Parkside Drive, but again, they are separated by a parking lot, with no proper facilitation of walkability or connectivity between the residential and commercial areas.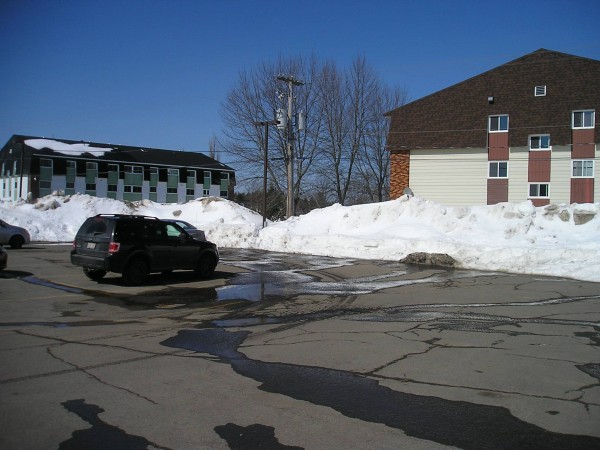 One can see below an example of mixed-density in the Parkside Drive area, singled-detached homes near apartment buildings.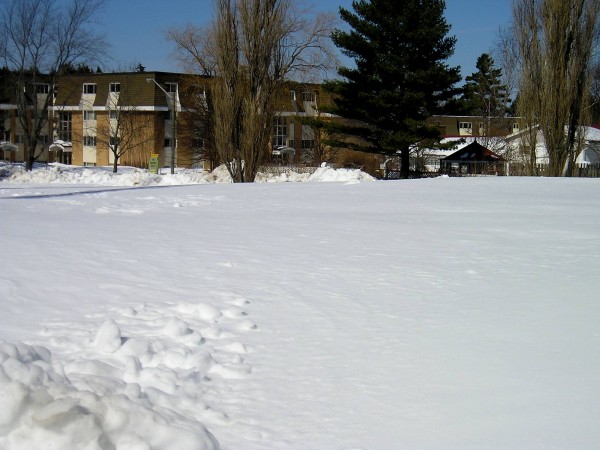 As well, I wanted to include this random shot from the neighbourhood which shows a "quirk" (even if maybe not a particularly unique one) where a dumpster provides a public service message.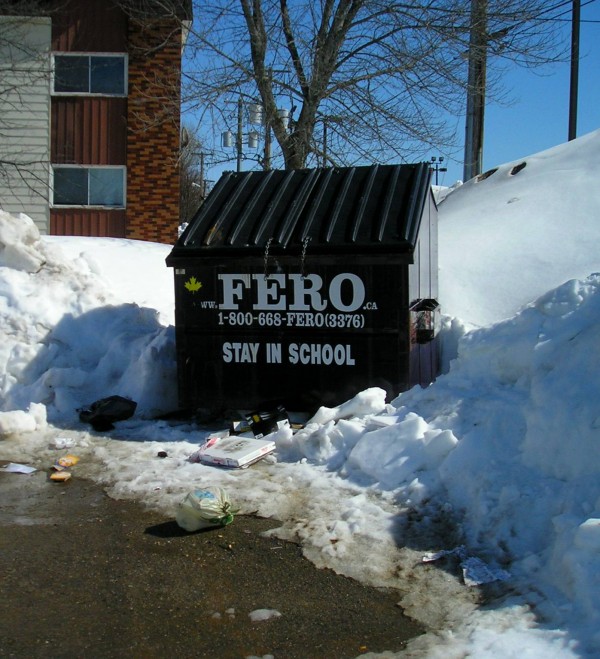 Simple Improvements
Both these neighbourhoods – the Brookside Mall area and Prospect Street/Parkside Drive – offer potential for redevelopment into true town centres.  However, even simple property improvements could improve the situation greatly.  For example, walkways so pedestrians – especially in adjacent residential areas – are not forced to dodge cars in the parking lot, and architectural improvements to provide more uniqueness and sense of community, and an appearance that is more inviting.
Erin Mills Mall in Mississauga offers examples in this regard, walkways connecting the sidewalk (and nearby residential areas) to the mall entrance and architectural improvements (glass wall and clocktower) providing a less generic feel than the mall-block mode.  Of course, Erin Mills Mall is still very much a mall, and it contains a large parking lot.  However, these improvements – simple property improvements – do make a difference.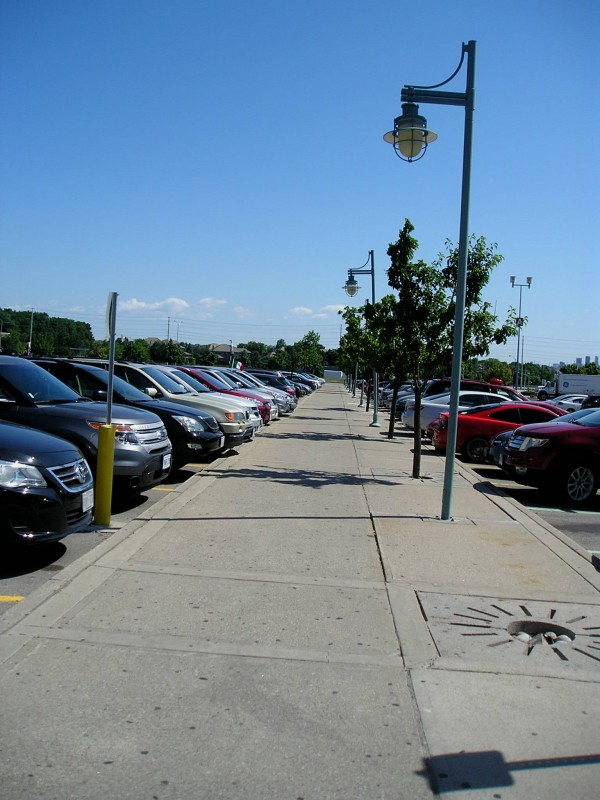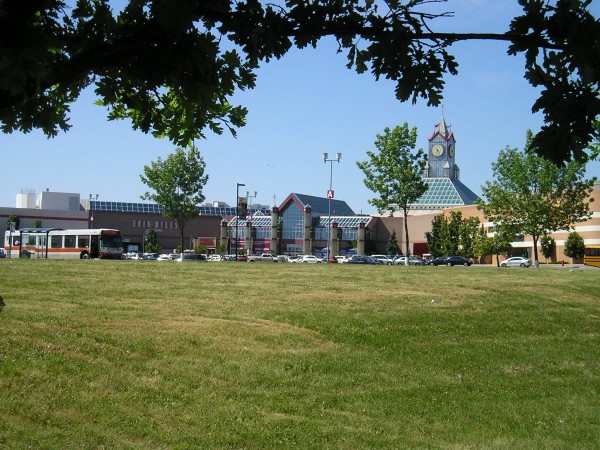 Fredericton's Full Potential
Fredericton has a lot to offer – a vibrant downtown, an excellent system of walking trails, close proximity to nature and rural areas.  It has become an important site for the creative economy – start-ups, including tech start-ups, and a rich arts and festival scene.  Fredericton offers a lot of attractions to entrepreneurs and potential residents that have likely contributed to the city's recent growth.
However, it is not just about "growth" per se but the "kind" of growth that is best for Fredericton, best for preserving and enhancing the city's unique advantages and character, rather than subsuming it in a sea of generic and car-dependent box stores, strip malls, and thoroughfares.  A real discussion about the city's future – the whole city – is needed, about the nature of new development, and what can be done to improve existing developments to foster walkability and community, and to build on the advantages that have made Fredericton an attractive small city to live and work in, to do business in.
In a city of creativity and innovation, there is much potential.