This post, using Toronto's Ward 25 as a case study, by researcher Trudy Ledsham is part of Spacing's partnership with the Toronto Cycling Think and Do Tank at the University of Toronto. Find out more about the think tank, and the series, here.
As the transit funding discussions in Toronto grow increasingly heated should we be thinking a little more about the humble bicycle, as well as high stakes subways and LRT? Transit investment is necessary. In fact, it is critical that Toronto start to build more effective methods of moving people.  Traffic congestion is strangling the region, an experience all too common in urban areas across Canada.
But will transit solve all of Toronto's traffic woes? 45% of all trips in Toronto were less than 5km long and 65% of these short trips were made by automobiles. Three of Toronto's most congested intersections are along the Sheppard Subway line. These are not the trips pictured in lines snaking along expressways, for which there are few good alternatives. These are trips, within neighbourhoods, that create enormous street congestion for which, with some relatively minor infrastructure changes (in comparison to subways and LRT) there are excellent alternative choices.  Studies show bicycles are often faster for trips under 5km and have added health and financial benefits.
In some neighborhoods, such as Ward 25 Don Valley West, which abuts the Yonge Street subway line on its western edge, and lies 2km south of the Sheppard subway line on its northern edge, 80% of all trips originating in the ward are taken by automobiles. Like the rest of the city, 45% of all trips originating in the ward are less than 5km. Automobile trips less than 5km long account for almost half (47%) of all automobile trips in the ward. Remarkably, 84% of trips less than 5km long are taken by automobile.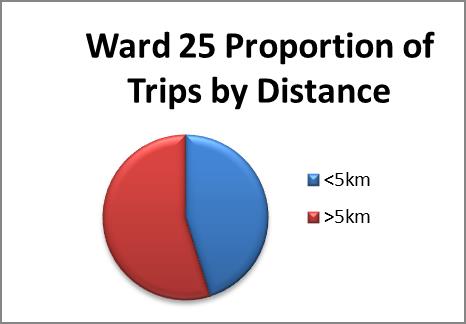 This is a ward with subway access along its entire western boundary. The Eglinton LRT will increase transit access along its southern boundary-but more transit will not likely solve this neighborhood's congestion problem. It will reduce some of the arterial traffic along the Bayview, Leslie and Eglinton but it will not likely address those automobile trips which are less than 5km.
For the city as a whole, transit use declines from 23% to 17% for trips less than 5km. This makes sense; more people will walk and bike for shorter trips. But in Ward 25, transit use dropped by two thirds for trips less than 5km: 22% of trips > than 5km long were by transit while only 7% of trips <km long were by transit. And, while walking and cycling increased for trips less than 5km, residents were even more likely to use cars than for longer trips.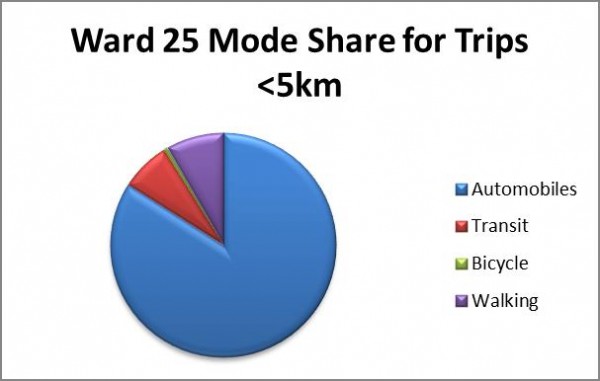 That may be because these shorter trips are within residential neighborhoods where transit does not exist and is unlikely ever to exist. 68% of trips in Ward 25 were not work related. The area lacks any cohesive cycling facilities and most of it is rated fairly poorly for walking by Walkability. Walkability will not likely be improved in the short term in this ward, for while its boundary aligns the subway system it is a fairly large, low-density wealthy, older, suburban residential area.
But, could the bicycle have a role to play here? At present there are essentially no bike lanes. Yet, the area has a number of important destinations including Sunnybrook and Bloorview Hospitals, York University's Glendon Campus and the Yonge Eglinton employment hub. Three major shopping destinations (Shops at Don Mills, Fairview Mall and Bayview Village) are either in the ward or just over the edge of the ward. The traffic line-ups to drop children at the schools in the area are remarkable, if only for their length.
If even 10% of these short trips were taken by bicycle, congestion in the area would be dramatically improved. Many streets would be suitable for cycling infrastructure. Combined with behaviour change support, a shift in mode for short trips in the area could have a real impact on congestion.  A behaviour change campaign in Bellingham, Washington, directed at these short trips, produced a 22% increase in walking trips; a 35% increase in bicycling trips; a 10% increase in bus trips; and a 13% decrease in vehicle trips. These are stunning numbers for a behaviour known to be difficult to impact.
The Big Move –which is Metrolinx's plan to improve transportation in the Greater Toronto and Hamilton Area (GTHA) – includes money for cycling. It proposes $20 million per year, be invested, across the entire Greater Toronto and Hamilton Area (GTHA). At the same time, funding discussions for transit under The Big Move are in the neighborhood of $50 billion over 25 years.  But, does this $50 billion fully address the 45% of automobile trips less than 5km long, where walking and especially cycling offer efficient and cost effective solutions? An investment in cycling infrastructure and behaviour change programming proportionate to its potential to reduce congestion is well worth considering.
The bicycle is an elegant, reasonably priced solution to short trip congestion.
Trudy Ledsham is the Project Coordinator at the Toronto Cycling Think & Do Tank.
For more information on the Toronto Cycling Think & Do Tank please visit their website www.torontocycling.org  or email them at info@torontocycling.org