Author: Robert Kanigel (Knopf , 2016)
Eyes on the Street: The Life of Jane Jacobs is the first significant biography of the woman who changed the way many of us view and live in cities. And just like Jacobs and her writing, Robert Kanigel bucks the status quo and takes a unique approach in telling the back story of the iconoclastic urbanist.
Rather than a staid, scholarly review of Jacobs' advocacy and writing, Eyes on the Street provides a more intimate "behind the scenes" story of how she developed her thinking about how cities worked. Perhaps a bit too earnest for some, Kanigel's writing style is one that Jacobs fans will be familiar with—conversational in tone, but backed by meticulous research. The result is perhaps the most comprehensive understanding of, not only Jacobs' professional development and achievement, but also her personal story.
"Second, there must be eyes upon the street, eyes belonging to those we might call the natural proprietors of the street."  ― Jane Jacobs, The Death and Life of Great American Cities
It is no surprise that this book is titled Eyes of the Street. Perhaps Jacobs' most famous adage, it also succinctly illustrates her approach to life, both personally and professionally. While the passage that the phrase comes from refers to the importance of a safe and thriving street life, it also reflects Jacobs' approach to the study of cities. Never one to follow the status quo—the book explains how she was expelled from 3rd grade for standing up the her teacher—Jacobs found much more relevance in her own observations and experiences than she did in the academic theories or professional plans of many of her adversaries.
The book punctures the myth that Jacobs was a "housewife" who arose from nowhere to take on City Hall. Quite the contrary, she was a professional journalist who honed her writing and research skills at publications including Iron Age, Architectural Forum, and Fortune. It was this experience, as much as her "prescient observations" while cataloging the knowledge she would draw upon to write her most famous book, The Death and Life of Great American Cities, that led to her status as a beloved author.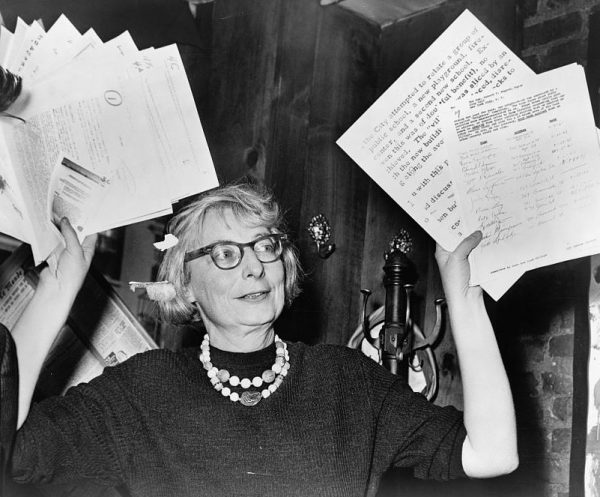 However, Eyes on the Street provides a much more complete picture of Jacobs as not only a writer and activist, but as a daughter, wife, mother and friend. Writing paradigm shifting books, saving neighbourhoods and stopping expressways were only part of her life story. This biography tells the stories of how Jacobs challenged her school teachers, wrote award-winning poems, raised three children, was arrested twice, and built meaningful relationships with her friends and neighbours. Each of these roles and relationships played a part in the development of her ideas and outlooks on life, that in turn affected her thinking on how cities worked.
While Eyes on the Street will definitely resonate with fans of Jacobs' writing, the book will appeal to a broader audience, as it is as much about how she thought as about what she wrote. For those already familiar with Jacobs and her work, Eyes on the Street fills in the gaps and adds a personal layer to a women whose influence is still felt in any discussion of urban planning today. For those new to Jacobs, the book will introduce how one of the most curious and tenacious minds of the twentieth century was able to transform how we look at, and engage with, the city around us.
***
For more information on Eyes on the Street: The Life of Jane Jacob, visit the publisher's website.
**
Yuri Artibise is an experienced community and digital engagement specialist with a passion for urban planning, public participation and social media. He is the Executive Director of the Vancouver City Planning Commission, and is the principal at Yurbanism, a strategic communications and urban engagement consulting practice.