This weekend, you are invited to Play the Walk – a neighbourhood project for curious citizens, featuring a mobile gift shop in collaboration with Spacing.

Play the Walk is a story of a neighbourhood played out and retold by those who explore it. Awaken all your senses to play the walk and adventure your way through nooks and crannies of your city.
In collaboration with Spacing, Play the Walk will feature a mobile gift shop. The Spacing Bike will pop up around the neighbourhood, loaded up with handmade crafts and found/forgotten artifacts relating to the neighbourhood, such as rail spikes, limited edition postcards, seed bombs, and even a "secret in a bottle". Prices start at 25 cents.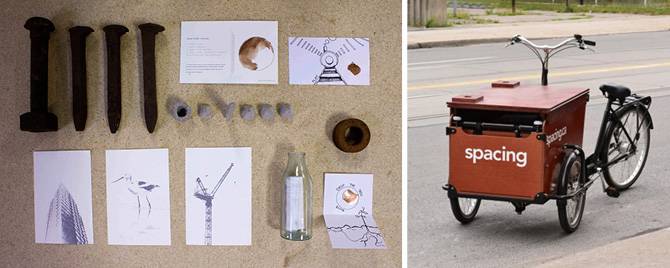 Plan your walk
Pick up a map at the Gladstone Hotel and then head out at your own pace to discover Play signs in the West Queen West Triangle. This project is part of Gladstone Grow Op 2013: Exploring landscape and place, a four-day event to celebrate innovative ideas and conceptual responses to landscape and place across a broad range of creative practices.
April 25 – 28, 2013
Thursday: 6–10 pm • Friday/Saturday/Sunday: 11 am–5 pm
Opening reception: Friday April 26, 7–10 pm
Gladstone Hotel, 1214 Queen Street West, Toronto
Free to experience Play the Walk. Entry to remainder of Gladstone Grow Op is $10.
Play the Walk is a project by Gelareh Saadatpajouh and Talayeh Hamidya, in collaboration with Jay Wall, JAM Media, Wyatt Clough, and Elizabeth Violante.