On a recent walk along Eglinton just east of Bathurst, I noticed that several blocks are lined with beautiful Art Deco apartment buildings. The apartments — most of them rental units — aren't tall. At five to seven storeys each, they're mid-rises. And they make for a very attractive, human-scaled streetscape.
With intricate brick-work and distinctive fonts carved into stone that spell out the apartments' names (there's The Crofton and The Forest Hill Manor and The Roycroft), Forest Hill's Art Deco apartments feature quintessential characteristics of the international style-movement.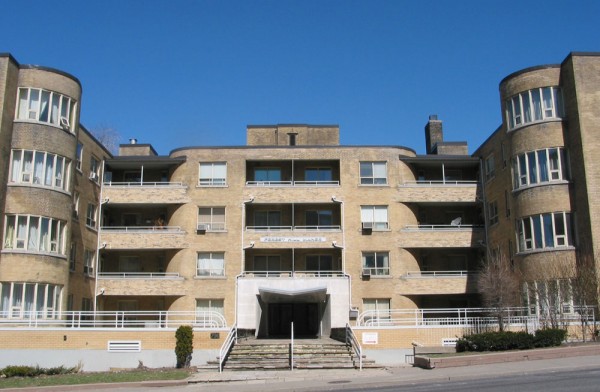 According to the excellent building database TObuilt.ca, Forest Hill's Art Deco apartments date from the 1940s — the height of Art Deco design internationally. The style, known for its whimsical, rounded and striking forms, represented a period when modern ideas were being expressed in traditional building materials, like stone, brick and wood.
Other cities' mid-century experiments with Art Deco continue to define their contemporary identities. Gaudi's Modernisme in Barcelona, most famously captured by the dripping stonework of Sagrada Familia, will forever stand as a symbol of Barcelona. The origins of Chicago's smoky allure can be traced back to its Film Noir-Art Deco heyday. South Beach is Art Deco, Florida style. In Amsterdam, major swaths of the city are distinguished by expansive brick "Amsterdamse School" social housing complexes.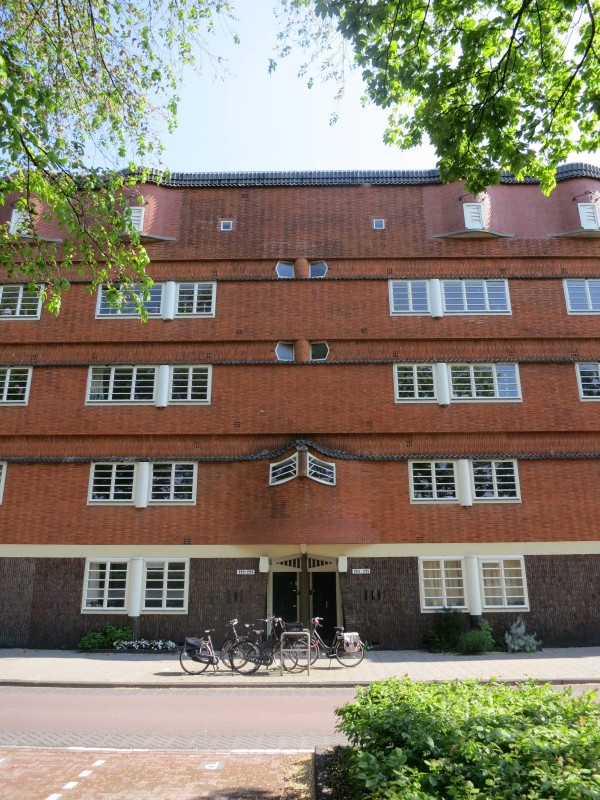 Not surprisingly, with its 1940s building boom, Toronto has its own abundance of Art Deco architecture. Think of the short apartment buildings in Parkdale, and the sturdy office towers that line St. Clair east and west of Yonge. (For more, check out Art Deco Toronto, or get a copy of Tim Morawetz's book. Also keep your eyes open for exhibits like Smart Address, which just ended at the St Lawrence Market Gallery.)
Typical Toronto: this city can't be defined by its abundance of Art Deco. Even though there are many striking examples,  most of Toronto's Art Deco is less dramatic than its international counterparts. Toronto's version plays more of a background role in the city's landscape, as we can see in the genteel apartment buildings that line Eglinton east of Bathurst.
Strolling along Art Deco Eglinton, I can understand what Toronto Chief Planner Jennifer Keesmaat has in mind when she speaks of the importance of building mid-rises along Toronto's avenues. Mid-rise population densities wouldn't overwhelm the city's infrastructure the way towers do, and their scale would promote walkable and strong communities. Building avenues of mid-rise apartments would put Toronto on the map with other beloved mid-rise cities like Paris and Berlin.
Keesmaat's mid-rise Toronto would look and feel very much like Eglinton east of Bathurst does today. Based on my walks along Art Deco Eglinton, I agree with her. Eglinton's mid-rise apartments make for a very functional and attractive cityscape.
Daniel Rotsztain is the Urban Geographer. After six years of formal and informal education in Montreal, Halifax and Amsterdam, he is happily back in his home-city of Toronto and ready to respond to it with words and art. Check out his website, or say hello on Twitter!
Leading photo by Robin Pope