Welcome to The Power of Place: Artists as City Builders. This series emerged out of my strong interest to share with you the incredible work that is happening across the city by artists supported by our StreetARToronto team, with a focus on highlighting the work being done by diverse Indigenous, Black, and Peoples of Colour artists throughout Toronto.
View my previous interviews with Anishinaabe Knowledge Keeper Andre Morrisseau of Fort William First Nation here, Leyland Adams here, Caitlin Taguibao here, and Jessey Pacho here. 
---
This video showcases diversity, equity, and inclusion in action through StreetARToronto's massive Water Hoarding project at Ashbridges Bay. Through late Summer and early Fall of 2020, co-curators Adrian Hayles, Johl Whiteduck Ringuette and Angel Carrillo (Cruz1) safely came together on StreetARToronto's biggest mural jam to date — inviting 90+ muralists and artists from diverse backgrounds and levels of experience over a three-week period to bring life to Toronto Water's newly erected hoarding wall in Toronto's East-end by empowering amplifying community voices. In celebration of this large-scale project, filmmaker Dustin Traballo, muralist Flips, and community organizer Alathea Milne-Hines worked together to create this short documentary highlighting the diversity of artists, the success of StART's biggest mural jam to date and the great impact that these types of projects can have on their surrounding communities. This video premiered at the 20th National Mural Symposium produced by Mural Routes on the theme of Representation. I urge everyone to make time to watch this meaningful Inter Divisional collaboration.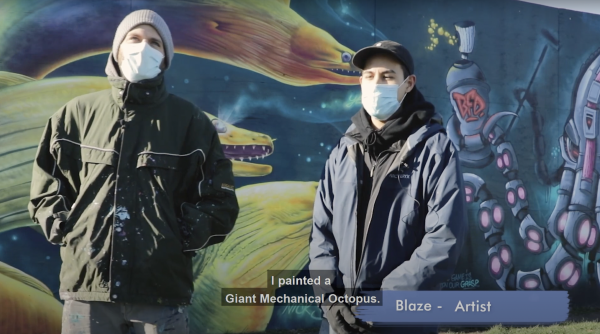 A collaboration between Transportation Services and Toronto Water
Photo by: Lisa MacIntosh