On Thursday, April 4th, The Common hosted a capacity crowd of urbanists, planners, architects, and inquisitive Edmontonians to celebrate the launch of the first Spacing franchise in the prairie provinces, based in Edmonton.  Partners Progress Unlimited, M.A.D.E. in Edmonton and Edmonton NextGen helped bring the event together, while support from Urban Systems and Dialog provided the wine and tasty Common catering.
Following some words from Spacing founder, publisher, and creative director Matthew Blackett, Edmonton editor Paul Giang took to the microphone to introduce Adam Bentley's short film iCUP which explores new public washrooms in the Old Strathcona neighbourhood of Edmonton.  Adam also designed a full set of magnets and pins based on each LRT stop in the city.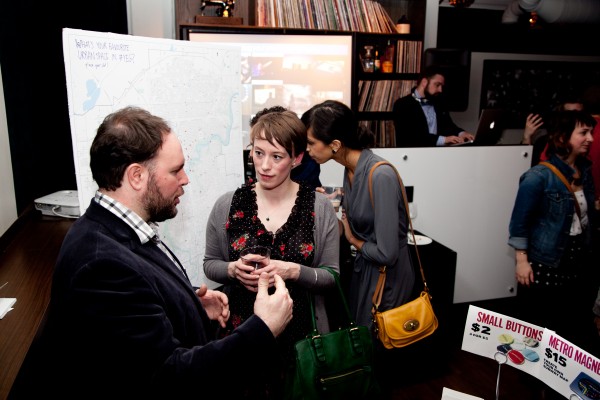 DJ Thomas Scott provided a brilliant soundtrack, and thanks to North Street Creative and their Social Pulp digital media app, we were treated to a dynamic mosaic of local imagery- a collection of user submitted photos of their favorite Edmonton spaces, as well as a live feed from Twitter and Instagram posts tagged #spacingyeg.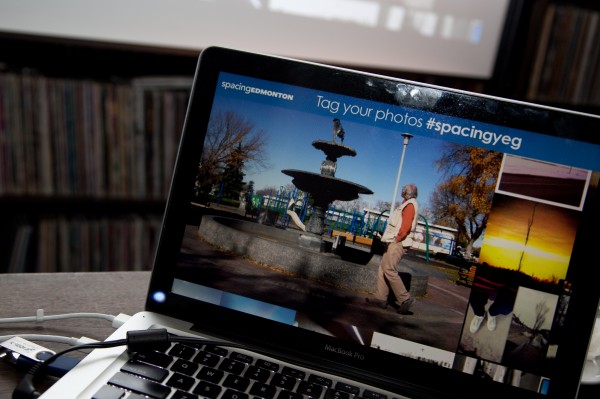 By the end of the evening, the attendance and conversations that were had demonstrated why Edmonton is the logical point of entry for Spacing in the prairies.  The young, discipline-diverse crowd made it clear that our interest in our city lies beyond what you may see on a map or tourism guide.  We love our city for the spaces which we find; whether new, old, forgotten, or undiscovered. 
Check out more photos on our facebook page by Rachel Foley.